Women's tennis beats No. 46 ranked Long Beach State 4-3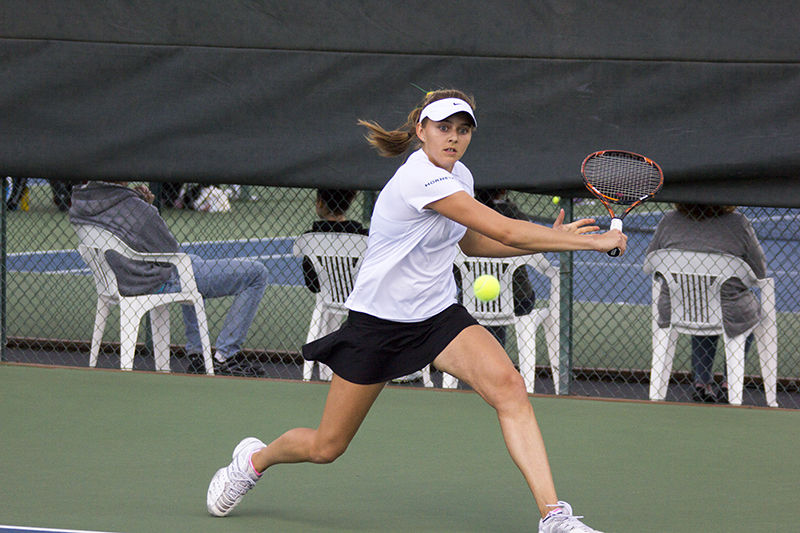 The Hornets were able to reach a 5-5 record as redshirt freshman Anna-Maria Nau clinched the match point for Sacramento State women's tennis in their 4-3 win over No. 46 Long Beach State. The 49ers were undefeated heading into the match with a 6-0 record.
Nau played No. 2 singles for the Hornets and beat the 49ers' Ebba Unden in three sets (6-3, 4-6, 6-4) to get the program's first win over a ranked opponent in three years. Their last win came against No. 66 UC Irvine on April 12, 2012 (5-1).
The redshirt freshman spoke after the match about how important it was to get this victory for the women moving forward into the rest of the season.
"It was really important for us, because they're a ranked team, so it was good that we might have a ranking now too," Nau said. "It felt good because they're a really great team. I felt confident in my match today, because my footwork was better and I have more experience now."
Nau is 4-5 overall in singles and 3-2 in singles position No. 2 for the Hornets.
Coach Dima Hrynashka was ecstatic to beat Long Beach State for the first time in his nine-year career at Sac State and hopes they'll be able to use this as motivation to take down future ranked teams.
"The women showed their best game today," Hrynashka said. "It was perfect doubles and excellent singles. Everyone fought and the results show it. It worked really well today for us and we hope it continues. It's the first time in my history working for Sac State that we've beat Long Beach, so it's a really good feeling."
The women were able to pull out the doubles point for the second time this year in the 10 matches they've competed in.
Junior captains Olivia Boija and Jennifer Ong were the first to finish their doubles match in position No. 1 with a commanding 7-4 win over the 49ers' Laura Eales and Karolina Rozenberg.
Daria Savchenko and Ana Loaiza Esquivias were partnered up in doubles position No. 3 for Sac State and won the first point of the match as they dropped LBSU's Julie Gerard and Maeva Razakasoa 7-4, putting the women up 1-0.
Boija said the doubles portion was an influential factor for the Hornets' success in securing their win against the 49ers squad.
"That was probably the reason why we won, so that was really important and a great win," Boija said. "Hopefully we can continue to finish this way the rest of the season. It's always awesome to win at home and everyone is super happy and excited."
In the five-hour long contest, the women went deep into three of their six singles matches in positions No. 2-4.
Gerard downed Sac State's Boija in the first set 3-6 in position No. 4, but the junior came back in straight sets (6-2, 6-2) in a dominant performance to award the Hornets their third point, giving them the 3-2 advantage.
The 49ers' Hayley Thompson was able to outlast sophomore Deimante Bulatovaite 7-5, 5-7, 6-4 in position No. 3 to put the overall score at 3-3, but Nau's clutch play in singles handed the Hornets the match as it was the final contest to conclude.
The women never trailed the 49ers as freshman Loaiza Esquivias clinched the second point with her straight sets victory in No. 6 singles against Eales (7-5, 6-2).
Junior Savchenko lost her first singles competition of the season to Rozenberg (3-6, 4-6) and the 49ers' nationally ranked singles player Razakasoa (No. 93) defeated Alina Soltanici 6-4, 6-1. This tied the contest up at 2-2.
Sac State did have two of its players go down as Boija's left ankle had to be tended to during a break in her second singles set, but the junior said she was fine afterwards.
"My ankle is not too bad and I shouldn't complain when I see Jennifer struggle," said Boija, jokingly referring to Ong recovering from her ACL injury.
Soltanici suffered a right ankle injury during her second singles set after chasing down a right line shot made by her opponent. She had to have her ankle and foot taped by one of Sac State's trainers and continued to play out her match.
With the nagging injuries to Ong and Savchenko, the last thing Hrynashka said he needed was to have his already thin lineup get hit by injuries again, but he assured Boija and Soltanici will be ready to compete on Sunday, March 1 as they face No. 64 Saint Mary's College on the road.
"We have some other women who can play, but tomorrow we do have a day off, so they'll get some rest before their next match on Sunday against Saint Mary's," he said. "I think it's good for them to rest and see how they feel."
He commented that Soltanici has had ankle problems since her time playing in juniors competition for tennis. Last season, she had to retire in her second set in singles after rolling her right ankle on April 12.