Women's basketball opens season with a pair of losses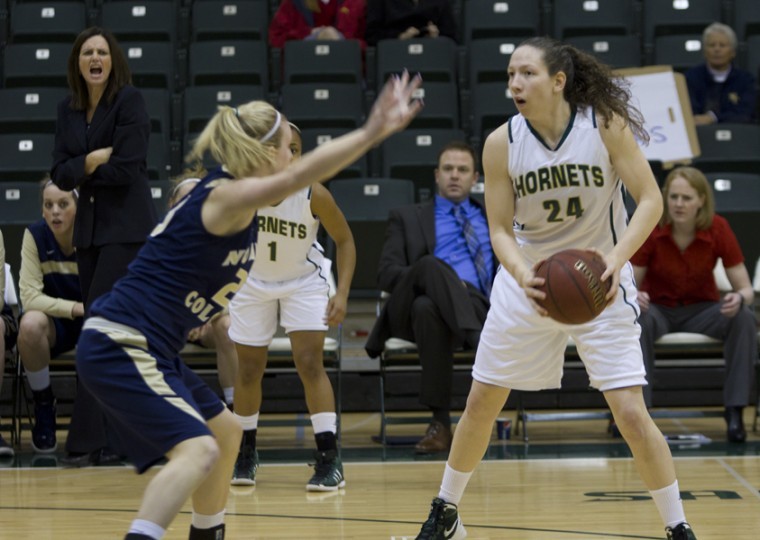 State Hornet Staff
November 12, 2012
Sacramento State's women's basketball team could not stop the three-point scoring attack from a pair of Big West schools this past weekend.
The Hornets started their season on the road in Southern California losing to Long Beach State 77-74 this past Friday and then Cal State Fullerton 94-75 on today.
In both games, Long Beach State and Fullerton shot above 40 percent behind the three-point line.
Long Beach State started the first half hitting six three-pointers to give the 49ers a 13-point lead going into halftime
"Against Long Beach we had defensive miscues where not everyone knew who the shooters were and we were not playing accordingly," said senior forward Kylie Kuhns.
After scoring only 24 points in the first half, Sac State worked its way back to tie the game at 69-69 with 2:37 left, but a pair of missed free throws cost it the lead. The Hornets had a chance to tie with one second left, but came up short, losing their sixth straight season opener.
Junior guard Allie Moreno led the Hornets with 15 points from five three-point shots. Senior forward Kylie Kuhns also finished with 11 points and seven rebounds.
Two days later Sac State traveled to Fullerton, but the Hornets could not overcome first half struggles. Sac State shot 36 percent from the field and only 16 percent behind the three-point line.
Although the Hornets' shooting improved in the second half and cut the Titans' lead down to 77-68, a 12-1 run ended any hopes of a comeback and the Hornets lost their second game in a row.
"We just ran into a hot team," Kuhns said. "They shot the ball really well even when we contested them."
Despite the losses, Kuhns said her team now knows what it can accomplish.
"I think last year we realized our potential, where as this year is actually our opportunity to reach our potential," Kuhns said. "We are all a year older from last year's team, but we still have a lot of areas we need to improve."
Sac State will travel to Cal State Bakersfield on Friday before returning home Nov. 20 for the first home game against Utah Valley State. Tip offs are 7 p.m. and 5 p.m. respectively.