State Hornet Staff

December 21, 2013
FULLERTON, Calif. – What was once an 8-point halftime lead, ended in a 59-51 loss. Sacramento State's men's basketball team took on a Jekyll and Hyde persona Saturday against Cal State Fullerton at Titan Gym. The Hornets made 44 percent of their shots, including five 3-pointers in the first 2...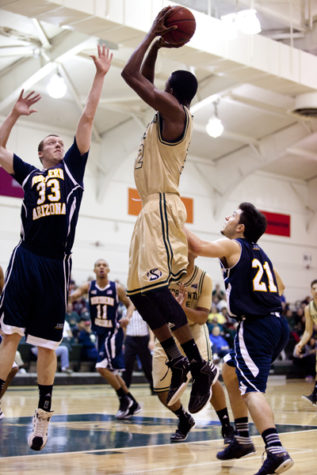 February 5, 2013
For the second straight game, the Sacramento State men's basketball team failed to secure a victory after going into halftime with a double-digit lead falling to Northern Arizona 62-61 on Monday at the Nest. Lumberjacks' leading scorer Gabe Rogers was fouled in the key on a drive to the basket by Horn...
September 1, 2012
The Sacramento State women's soccer team lost against the University of San Francisco 4-1 after a three-goal second-half run put together by the Dons on Friday night at Nogesco Stadium. Sac State is now riding a two-game losing streak with the loss. The Hornets (1-2-1) went into halftime tied 1-1 with...