Sheeva Farahani walked into the "Seen Iranian Woman" exhibit, overwhelmed with emotions, and teared up at the sight of the art that lined the walls. As a half-Iranian girl, she couldn't comprehend the heartbreaking cruelty Iranian women face as a result of their dress, sometimes to the point of death.
In September of last year, 22-year-old Iranian woman Jina Mahsa Amini was arrested for the improper wearing of her hijab. She was severely beaten in Iran's capital Tehran by morality police. Her suffering and arrest led to her death.
"It is heartbreaking but seeing this being brought together just makes me feel great to see the representation and all that's happening here," Farahani, a fourth year exercise science major, minoring in nutrition said.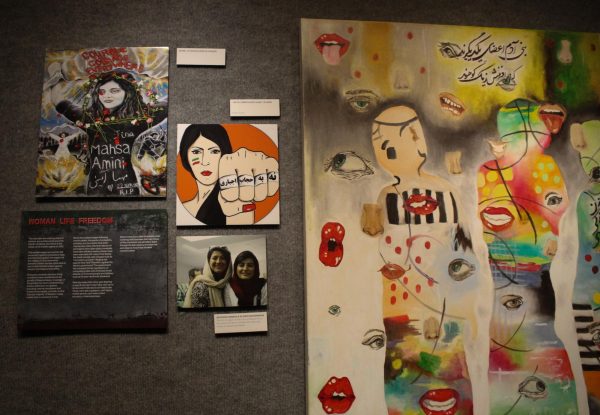 The exhibit opened Thursday night in Sac State's Hinde Auditorium with a lecture and performances by Iranian artists, followed by a ceremonial gallery opening on the second floor of the University Union. According to curators, this historical art exhibition has been a year-long creative process fueled by emotion, anger and overall hope for change.
The gallery was collaborative and interactive; invoking sentiment towards the Women, Life, Freedom movement in Iran and surrounding countries.
RELATED: See Hmong New Year through the eyes of Hmong students
Speakers at the opening lecture detailed how, for decades, women have been significantly oppressed in Iran. They explained how women's rights have endured immense societal change and pressure under Iranian law, as their clothing choices have been heavily criticized over the past century.
Fashion merchandising management professor Jaleh Naasz used her experience as an Iranian immigrant and a member of the Sac State community after she realized there was not as much outreach in the U.S. towards the Iranian crisis against women's dress. Naasz was dedicated to the culmination of this collaborative display connecting local Iranian artists, students and community members.
"My priority is change," Naasz said. "I would love for there to be change. I want there to be access to information and news."
Sac State is home to Naasz, and there was a significance in her curating this event on campus rather than in the general community.
This exhibition is a dynamic environment for students and faculty to understand Iranian culture through fashion, art and music.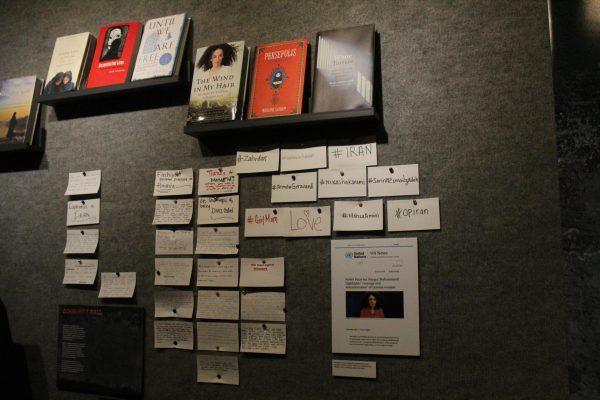 Music serenaded attendees as they walked around to admire and discuss unique portraits, paintings, old photographs, newspaper article clips, hats and fashion pieces that adorned the walls of the gallery.
Ajia Khan, an undeclared first year student attended the exhibit to learn more about Iranian culture. She said she was excited to see the representation on campus through the gallery.
"I think that this art helps express the importance of this to people who didn't know anything, which is a good thing because I don't see Iranian women represented as much," Khan said.
As part of Naasz's interactive exhibit, there was an open wall space titled "Community Wall" where attendees could write statements about their experiences, suggestions for change or write testimonies about their lives and pin them on the wall for others to view.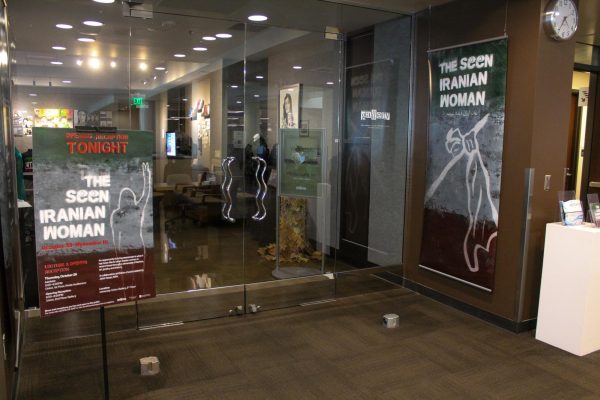 Another interactive feature of the gallery was the audio recording experience on a TV placed toward the back of the gallery. People could pick up headphones to listen to an interview with Naasz about the exhibit and a TED Talk by Golshifteh Farahani, an Iranian actress to further enhance their gallery experience.
Naasz's friend Shelley Joyer was excited to support her passion and production regarding Iranian women and culture. She said the gallery is a unique spin on sharing culture and hopes Sac State will host more events like this in the future.
"I think it is fascinating to learn different things about people's culture," Joyer said. "There are certain things I didn't know about Jaleh's background in Iranian culture and I think it is important for younger college kids to learn as well."
The gallery will be on display on the second floor of the University Union gallery until Nov. 16.