The designs and style of Y2K fashion are everywhere you look on I and 11th street at The World's Worst Expo.
Customers and vendors decked in vintage brands of Juicy Couture, baby phat, Xtreme Couture and more cover the streets with almost everyone representing this iconic fashion era.
"Y2K is more than just an era, it's a style," Sophia Lopez, owner of Butterfly Effect Vintage said. "They had the low waisted, wide legs, the mesh and fun prints."
Y2K, standing for "Year 2000", is so much more than just a style of fashion. Like all designs, Y2K has become an art that many modern companies try to copy.
"Tags on Y2K clothes are very unique and different from clothes now," Lopez said. "All Y2K tags are gonna be brands but tags will have pictures of things like faces and lips. These tags are specifically unique to this era. I will buy a basic piece of clothing just for the sick tag."
RELATED STORY: Gallery Recap: Explore Stinger Expo's clothing galore
This reoccurring expo happens every third Sunday of the month and highlights many different vendors and their clothes.
The World's Worst Expo started with a dream and since then has been an ongoing event for the last four years.
Originally, the event took place in a small parking lot on the corner of where the expo currently takes place. Over time it has become the giant event you see today that takes over almost two whole streets.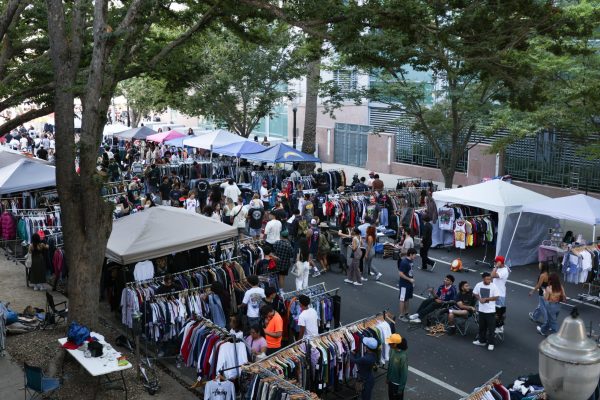 Casey Mann, one of the event organizers, along with his team curates each event by specifically choosing and placing vendors. With over 350 applications each month, the event organizers choose only the most unique vendors to sell.
"We started the expo at a time where there wasn't really a vintage market in California yet," Mann said. "Most antique fairs were 99% antiques and 1% clothing. We wanted to create a space where it was just clothes."
Baggy pants, baby tees and low rise jeans are staples of Y2K and all the rage in today's market.
The staples of men's and women's Y2K fashion, however, are vastly different.
"Women's staples in Y2K would probably be flared jeans, tube tops, and lace camis," World's Worst Expo vendor, Alejandro Chamorro said. "But men's [clothing] have a lot more of a baggy look. They have a long length and a wide fitting style with all over graphic print tees."
Destiny Flores is a unique vendor at the World's Worst Expo who specializes in female Y2K fashion. Her booth covered with miss me low rise jeans, gothic corsets and mini denim skirts had customers flocking to see her clothes.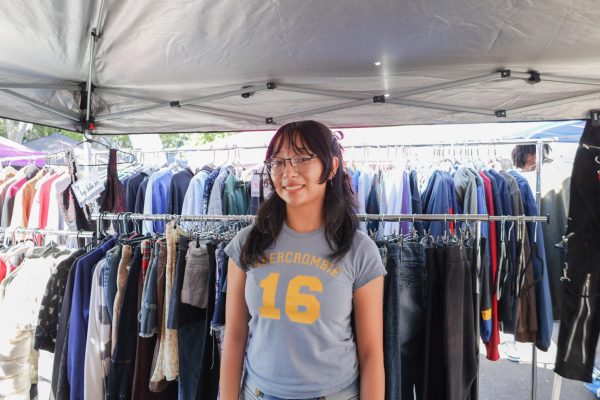 With as broad of a style as early 2000's fashion is, a good way to understand Y2K is by its subcategories.
"Y2K involves a lot of subcategories," Flores said. "One subcategory is mall goth, which is alternative brands like Tripp, wild bones, plaid, bondage pieces and chains.
"I was seeing a lot of waste and I wanted to give life to pieces that were stained or ripped up," Chamorro said. "I would try and fix them up, instead of sending them to the trash. I wanted to give them another life."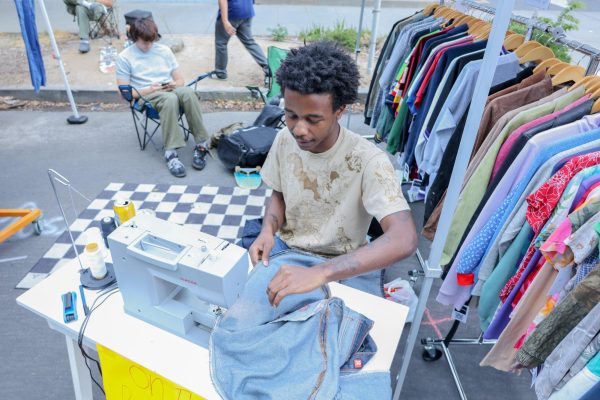 Vintage items each come with a history and as vendors collect and sell these items the clothing gets to live on.
"I started thrifting in my hometown a few years ago and I started finding a lot of girl Y2K stuff," Lopez said. "I thought it was all so cute, so I started buying things that didn't even fit me… I started selling them and we met all these people and it just became an environment."
At World's Worst Expo vendors who specifically sell vintage Y2K have a booth set up along the street with clothing of all sizes.
"We try to always project what's going to pop off next," Mann said. "The Y2K stuff we saw about two years ago and at this point it's mostly almost transitioned to a more like 2008 and 2010 aesthetic."
With no entrance fee, World's Worst Expo is a large and popular event. It has food, drinks, and a variety of vintage vendors. What makes this event unique is the passion the vendors have for their clothes.
Every vendor has a story and a dream. Not all vendors dream of creating their own vintage store and brand. Some just truly enjoy the art of fashion, the unique styles and life vintage clothing can bring.
"I'm using this as a stepping stone right now," Chamorro said. "I would like to pursue something with fashion but I'd like to do more than just vintage. I'd want to do modern too."
Be sure to check out the next World's Worst Expo on Oct. 15.