The Big Picture – 'Guardians of the Galaxy Vol. 3'
Marvel's best effort since "Avengers: Infinity War"
Disclaimer: Light spoilers for the film are included in this review.
As the sun begins to beat overhead, the summer's horizon is chock-full of blockbusters ready to raze the wallets of audiences everywhere.
James Gunn kicks off the season right with a superhero masterclass in "Guardians of the Galaxy Vol. 3." 
It's been no secret that Marvel content has dropped in quality since "Avengers: Endgame."
Story continues below trailer
In a movie market saturated with franchises and fan service, Marvel has struggled to match the quality of the films fans fell in love with. "Spider-Man: No Way Home" and "Black Panther: Wakanda Forever" were solid sequels that garnered incredible audience reactions, yet lacked quality in areas Marvel movies used to be known for, such as performances, writing and spectacle. 
With no shortage of charm or wit, Gunn yet again delivers a sonically vibrant rollercoaster of emotion by testing our heroes' greatest weakness: their humanity. Weaved between humor and horror is a mature story of friendship and the resolve that we have to cling to those we love. 
The galaxy's most heroic hoodlums have grown into a fully dysfunctional family ripe with trauma. Each performance contributes to the family dynamic so well that, no matter what scene they are in, it feels like they've known each other forever. 
Dave Bautista as Drax, the Destroyer is a stellar highlight as he embraces the role of the kind-hearted brute and exemplifies brilliant comedic timing. Karen Gillan's Nebula is a cold, broken critic stuck solving other people's problems, yet blends right into the group's likeability. 
Story continues below photo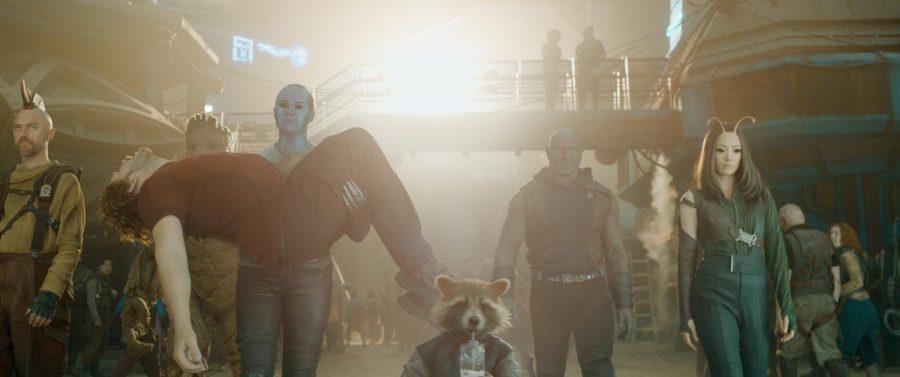 Chukwudi Iwuji as villain the High Evolutionary is a sadistically obsessive geneticist with bone-chilling methods brutally depicted through an array of horrific visuals unseen in any Marvel project thus far. Gunn uses elements of body horror and the audience's love for animals to aid Iwuji in creating a most hateful villain.
Adam Warlock, played by Will Poulter, is used quite sparingly as a result of the character's immense strength, yet his arc by the end of the film feels complete and understandable.
A staple in the trilogy has been a polarizing soundtrack representing various time periods depending on the technology available to Chris Pratt's Starlord. This time around, the soundtrack is less captivating than the first two, yet still engages audiences through head-bobbing and foot-tapping.
Story continues below photo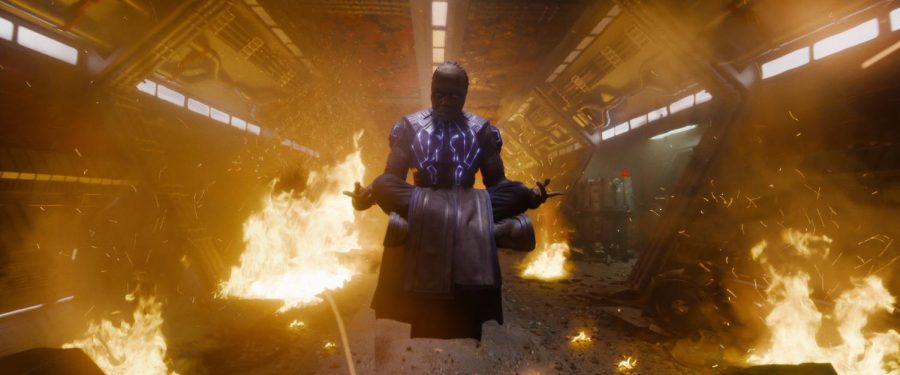 A few jokes are called back more frequently than needed and the exposition explaining what occurred since the last film is dealt with, but brings the pace to a halt when addressed. Though the exposition is dealt with in jest, it's the consequence of Gunn putting his trilogy before the Marvel franchise (something more Marvel films should do if they wish to have longevity).
"Guardians of the Galaxy Vol. 3" is an enchanting 8.5/10 and is the best Marvel film since "Infinity War;" it forces its heroes to face the music and wraps up the most consistent trilogy in the MCU.