Grim gallery shows haunting future for generations to come
Inside the Smog Collectors Gallery
As the world grapples with the impacts of climate change and the need for more significant action to reduce emissions, exhibits like "Smog Collectors" are a powerful reminder of the importance of protecting our environment and health.
Internationally acclaimed artist Kim Abeles unveiled her latest "Smog Collectors" exhibit Jan. 31, 2023 at Sacramento State University's Library Gallery. 
The exhibit features various sculptures, installations, and photographs all created using smog particles collected from multiple locations around the world.
"I place cut, stenciled images on transparent or opaque plates or fabric, then leave these on the roof of my studio and let the particulate matter in the heavy air fall upon them," Abeles said. "After a period of time, from four days to a month, the stencil is removed and the image is revealed in smog."
Story continues below gallery.
The gallery at Sac State creates a somber tone in each of the pieces. Abeles creates stencils on her canvases, allowing the pollution from various locations to compose her artwork. 
Still black-and-white photographs of factories and other contributors to pollution are displayed in the gallery. A gas mask is even hung on a wall with colored photos in each eye and the filter has a poem written on it.
Abeles has been creating art for over thirty years. Her work is known for its unique approach to social and environmental issues.
She often uses unconventional materials to create her pieces, and her art has been exhibited in galleries and museums worldwide.
One example of Abeles' art making a political statement comes from her "Presidential Commemorative Smog Plates," in which she created a stencil for various United States presidents, letting them collect smog particles based on their environmental records.
Story continues below photo.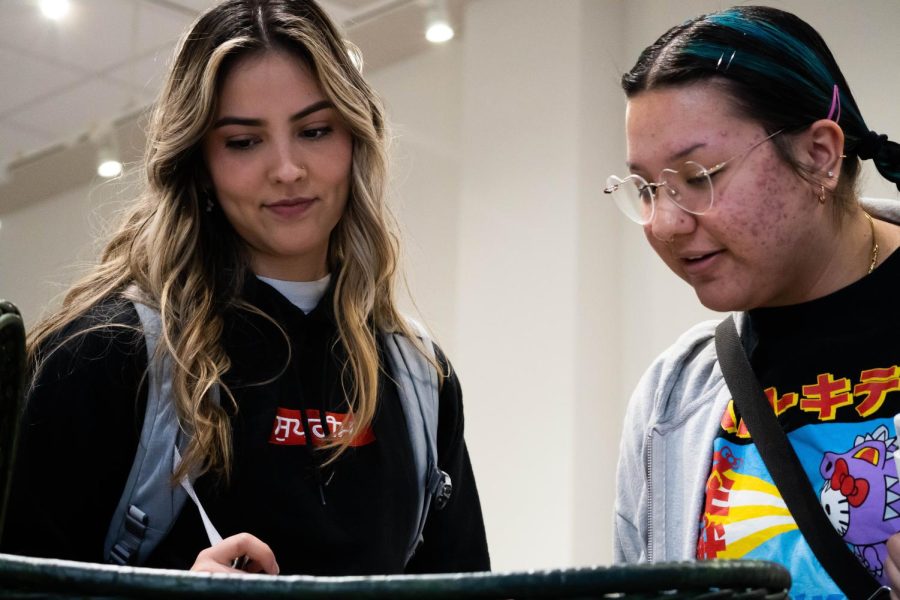 "The art is beautiful, but it also makes me sad," environmental studies major, Caitlyn Wilson said. "The impact of air pollution is an injustice toward future generations. We can do so much better."
The exhibit will be on display in the Library Gallery until May 20, 2023.