Diary of a Bookworm: 'Iron Widow' offers female rage as something to admire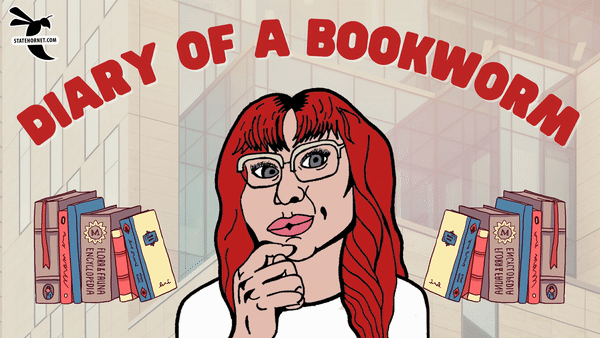 Disclaimer: Spoilers for the book are included in this review.
Dear diary, female rage is presented as a weakness in most modern media. But female rage is more than a few tears and raging hormones. 
It's strong, powerful and sometimes terrifying.
"Iron Widow" by Xiran Jay Zhao is a young adult, sci-fi novel that presents the lead heroine as determined and ruthless in her rage.
I've briefly mentioned this novel in another diary entry, but I feel the need to take a deeper dive into the message it can bring to young women who are sick and tired of being seen as "weak little girls." 
In the fictional country of Huaxia, young women are selected to partner with male soldiers as concubines to pilot giant magical mecha's, to battle against the monsters beyond The Great Wall. However, it is rare to see a woman strong enough to survive one fight with her male pilot, leaving the men with a new female pilot in almost every battle. 
18-year-old Wu Zetian is ready to offer her life in order to avenge her sister's death while piloting with Yang Guang. 
Wu Zetian's closest companion, Gao Yizhi, tries to convince her to not join the military, but Wu Zetian doesn't let Yizhi's love keep her from doing what is the most important thing to her — getting revenge on the man who killed her sister. 
When she survives her first battle as a concubine, killing Yang Guang in the process, Wu Zetian is partnered with the most powerful male pilot: Li Shimin, the pilot of the Vermilion Bird.
The story of "Iron Widow" is heavily inspired by the story of the only Chinese female emperor, Wu Zetian, who entered into the Tang empire as a junior concubine to Taizong. 
Gao Yizhi is a representation of the many "pretty boy lovers" that Empress Wu was known to have while Li Shimin is inspired by Emperor Taizong of Tang, according to Jay Zhao. 
Jay Zhao's writing focuses on ensuring readers understand where the root of the protagonist's anger comes from by referencing a multitude of real-world issues of patriarchy and misogyny. 
Wu Zetian is a ruthless young woman determined to get what she wants, but not without difficulty.
Story continues below photo.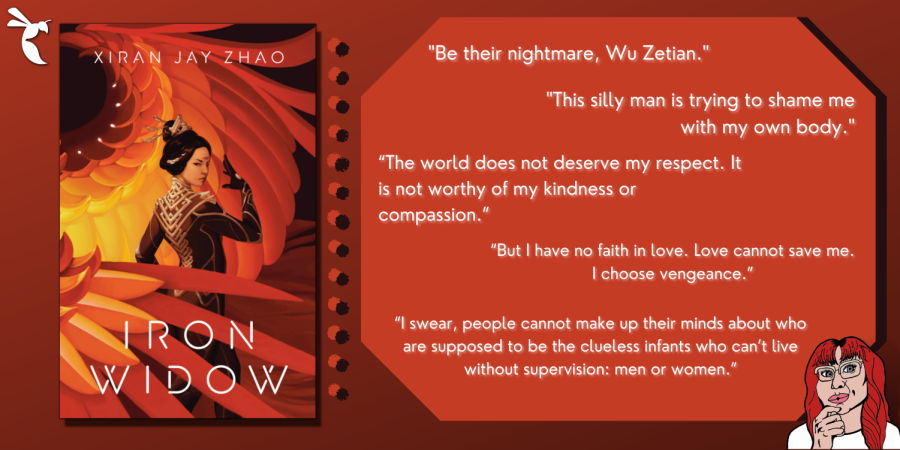 Beauty and virginity standards
Women are trained from the start that their beauty is their entire worth. For Wu Zetian, it meant following the beauty and patriarchal standards of her time.
In ancient Chinese history, women were pressured to bind their feet with the notion that the smaller your feet were, the more beautiful you were. 
Wu Zetian despises her feet binding from the beginning.
"When I was little, I used to buy into this fear of becoming those women," she said, referring to the women in the tribes outside of their country who don't follow the Huxian beauty standards. "But the older I got, the more confused I became about what's so bad about them."
Unwrapped feet are just as scandalous as a woman's purity. Of course, the traditional notion of a woman's virginity is also touched upon in "Iron Widow."
Gao Qiu, the richest man in Huaxia and Gao Yizhi's father, blackmails her into recording a video reading a contract while she's naked. She doesn't let shame get to her. 
"This silly man is trying to shame me for my body," she said. "Well, guess what? I have a fine body. He can get it from any angle he wants, but the video will have no leverage over me. I don't give a s— if he might release it to the public."
Higher spirit pressure
Yan Guang's spirit pressure, a mental power also known as qi, was over six thousand but Wu Zetian was still able to overpower him in the Chrysalis.
The minimum spirit pressure needed in order to activate a Chrysalis is five hundred. Wu Zetian's spirit level is six hundred and twenty-four, almost three times the amount of the other women in her testing group. 
"If I were a boy, I'd be living the dream," she said. "But I am not a boy, and this value only means I'd survive a few more battles than most concubine-pilots." 
The women are assumed to be lesser than the men in Huxia but in reality they are actually stronger than the men, but the government was so worried about losing their male pilots — because they were so worried about the thought that a woman could be stronger than a man — they never paired a strong man up with a stronger woman. 
"
"It's hilarious. Men want us so badly for our bodies, yet hate us so much for our minds."
— Xiran Jay Zhao, Iron Widow
The entire novel is based on a woman who uses her rage as leverage to overcome the set standards a woman must follow and proves she is both mentally and physically stronger than men.
There are too many moments of pure feminine power for me to name without spoiling the entire novel. 
This novel is for those who want to experience a sci-fi, young adult novel that has a touch of polyamory, a female heroine and a vibe that will make you want to say "f—-k the patriarchy" altogether.
"Heavenly Tyrant," the second novel in the series, will be released Aug. 29, 2023, and a movie adaptation of "Iron Widow" is in the works.
Rated eight out of 10
Sincerely, a bookworm.