PREVIEW: PRIDE Center in search of a new coordinator
Selection committee hosts candidate forum
Sacramento State students, faculty and staff gathered for the PRIDE Center Coordinator Candidate Forum in the Folsom Room of the University Union Thursday, held only a year after appointing the previous coordinator. 
The coordinator hiring process is serious. The candidate to be hired will go through a multi-level process to achieve the position, including an evaluation conducted by the position search committee and multiple rounds of interviewing.
Three candidates are chosen to participate in a forum, answering questions on how they would handle situations relating to LGBTQ+ issues on campus. In the forum, they address concerns brought up in a Q&A to give a perspective of what they will bring to the table if offered the job.
The incoming coordinator will be expected to do more than host a safe space for LGBTQ+ students in their role, they'll have to seek external funding and engage in fundraising efforts.
This forum was introduced by Brittney Dinelli, one of three candidates being considered for the position. Dinelli emphasized building stronger community ties and a plan to prioritize making the PRIDE Center an approachable space for all. 
"People want to feel like they have a community here," Dinelli said. "Particularly, LGBTQ+ students want to know who their allies are. My first goal is getting to know the people that use the center every day."
Story continues below photo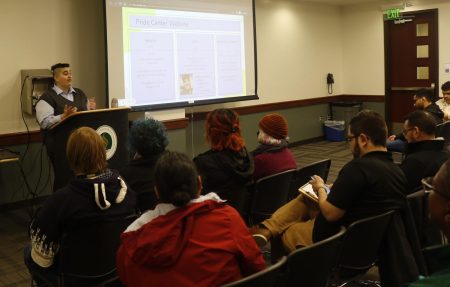 Students used the forum as an opportunity to express their concerns regarding current LGBTQ+ issues. Many students expressed their desire to appoint a candidate who will understand intersectional issues within the community, while others articulated their need for a coordinator to advocate for students experiencing hostility from university faculty and staff.
Emmi Vargas, an engineering student, attended the forum and discussed their personal encounters as a transwoman at Sac State. 
"I often get talked over," Vargas said. There's this essential apathy in everything that is non-engineering related. I've had experiences with certain faculty who will use respectability politics to essentially exert their power over students. You don't have to patronize me." 
Visibility and being acknowledged with effective change is an ongoing concern of queer students on campus. Until the problem is addressed, students mainly want to feel that the experiences they face here matter to those who enact change, according to students attending the first forum.
While many individuals are involved in the process of recommending a candidate, Director of Equity and Affinity Centers Erik Ramirez will make the final decision of filling the coordinator position. 
Ramirez will work with the future coordinator to help better implement programs for all who utilize the space. They will work with fiscal operations and general student services to support the PRIDE Center.
The next two candidate forums will be held Monday, Feb. 27, 2:20 – 3:20 p.m. and Wednesday, March 1 from 11:30 a.m. to 12:30 p.m. in the Pacific Suite of the University Union. 
The previous coordinator of the PRIDE Center, Tranh Pham, hasn't gone too far, pivoting to another job on campus, according to music education major Midori Bracy, a colleague of Pham's. 
"This is a position that takes a lot of emotion and mental energy out of you," said Bracy. "You have to be a support [for] yourself [and] for the community."
The demanding responsibility of being the PRIDE Center coordinator is no easy task. The incoming coordinator will need to be prepared for a serious commitment.  
"The next coordinator has their work cut out for them," said Vargas.