'A dream come true': Sac State's Pride Center puts on events to promote inclusivity
Queer Welcome marks the first in-person LGBTQ+ gathering in two years.
Diversity Equity and Inclusion editor's note: The subject of the story goes by they/them/their/theirs and is referred to throughout the story. 
Excited, nervous chatter filled the Redwood Room at the University Union on Sept. 8, 2022, as people gathered for the first in-person Pride Center event in two years. A line of students signed in to receive their pronouns badges in time for the event to start.
The COVID-19 pandemic put a halt to in-person gatherings in March 2020, preventing the center from hosting events, like Queer Welcome, that aim to bring LGBTQ+ students together with an air of acceptance and support.
"How did I feel? I feel amazing! It's been great!" Pride Center program coordinator Tranh Pham said. "Seriously, it feels like a dream come true for somebody who's never dreamed that this was possible." 
Pham said their main goal at the Pride Center is to share institutional knowledge with incoming students as well as returning students. They said they want to provide a chance for students to have a positive and welcoming experience at Sac State.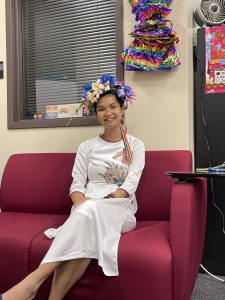 Pham has implemented ways students can actively and passively interact with one another; one example is the addition of a community board where students can have a safe space to write what they feel like sharing in order to build stronger bonds within the community.
Director of Equity and Affinity Centers Erik Ramirez attended Queer Welcome and said that the fact that Sac State has a pride center is transformative for the community. 
"
The sheer fact that we are here is a movement towards justice and so are all of our students that are in this room, you belong here [at Sac State], this is your home."
— Erik Ramirez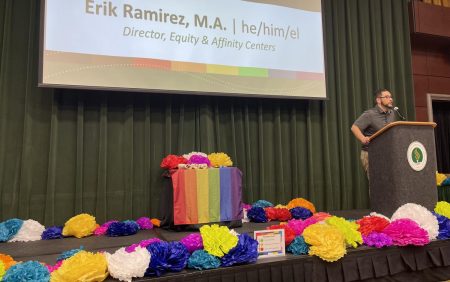 According to Pham, the Pride Center receives resources from campus partners like The WELL and student health and counseling, creating what they say is "not just a safe space but a space for students to be."
"We are one of eight pride centers across the 23 CSUs," Pham said. "That means we have our own space [and] we don't share with other centers." 
Joseph Sais, graduate assistant for the Pride Center, said that it's "amazing" to have individuals understand what the Pride Center does on campus and how it can better help the Sac State community.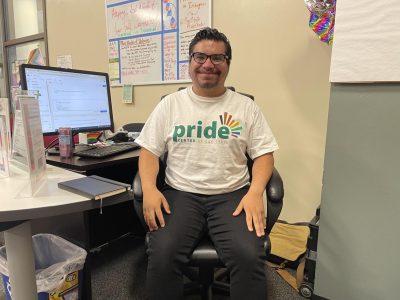 Sais said he hopes the LGBTQ+ community can feel proud about having a room on campus where they can connect when many members may not have had that elsewhere.
He said the opportunity to attend events in person helps with a sense of family and community.
"[Attending events] made me open myself up to where I can express 'yes, I'm gay and my voice is not going to be shut out,'" Sais said.
Second-year psychology major Mason Walker said their experience at Queer Welcome was different from others since they transferred to Sac State during the pandemic.
"It's nice to get acquainted with people," Walker said. "This is my second year here. I transferred in, so I didn't know that so much of the staff was queer– so that was really nice and made me feel really supported."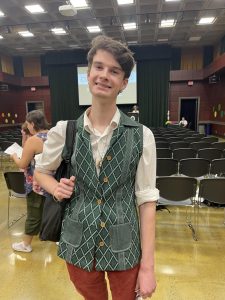 Pham said helping students like Walker feel supported is one of the main objectives of the Pride Center, adding that they hope to host monthly events. They said the next event on the calendar will be held on National Coming Out Day on Oct. 11.
"It's phenomenal to have something in person because we are social folks; especially in our community. Being social is vital to our vibrancy — to be able to thrive," Pham said, adding that Pride Center events are about giving people who attend a platform to come out. 
"They're surrounded by people who are hearing their story with an open heart and mind and [who are] giving them the coming out that they might never have received before," Pham said. 
The Pride Center's coming out event will take place during LGBT History Month– which Pham said is a cause for celebration– giving people within the community a chance to be their "whole, true, unapologetic, authentic selves."
Pham said they plan to expand the Pride Center to allow campus partners to come in– hosting other student clubs and organizations as well as off-campus partners.
"Wouldn't it be great if someone from the Sac LGBT Center could have a space here to talk to students?" Pham said.
Pham also plans to provide support and aid through events during transgender awareness week November 13-20.
They said that all of the work that happens at the Pride Center is not just their doing.
"It is lifted up by the hard work and spirit of students who come into the center and feel like this is their home and [who] want to share that with other students and want to create more safe and vibrant spaces across Sac State and spill into the community," Pham said.