Hornets' center is a force in the interior amidst record season
6'5" women's basketball star averages 9.4 rebounds per game
Two seasons ago, the Sacramento State women's basketball team finished with a pitiful 3-22 record.
The Hornet's needed a reset. 
When head coach Mark Campbell — newly signed April 2021 — reached out two months after settling into his position to recruit center Isnelle Natabou, she wasn't concerned about the lack of success in the team's rear view. Her eyes, along with Campbell's, were looking toward the future. 
The 6'5" Czech Republic native Natabou was transferring from Iowa Western Community College after one season there — her first season in the United States. Natabou was seeking to play a key role for a competitive team. 
"It was a recruiting battle, obviously a lot of people knew about [Natabou]; it really helped our experience coming from the University of Oregon," Campbell said, citing his previous experiences developing unrefined talent into WNBA prospects.
Natabou, in her first season at Sac State, lived up to Campbell's expectations, averaging 15.4 points and 9.4 rebounds.
This season, Natabou is seventh in the Big Sky conference in scoring and leads in field goal percentage by a whopping 19%.
Story continues below photo.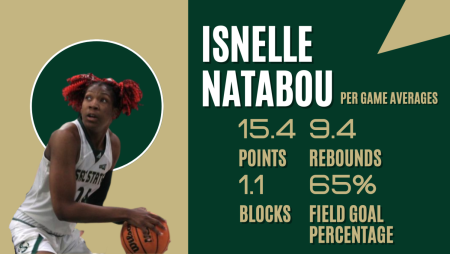 "She's an anchor on both ends of the court," Campbell said. "She gives us a post presence offensively; she's one of the best rebounding players in the country. It's invaluable; it opens things up, especially for what we do." 
While the intimidating Natabou is a frightening sight on the court for Big Sky opponents, when not on the court, she carries a big smile and a humble mind. She was even hesitant about being recruited by schools. 
"I didn't think I had what it takes to play in college here, but most of my friends from national teams were so excited about being recruited and I was a little bit held back, because I was scared," Natabou said. "Then I took a leap of faith [and] started with junior college."
In her one year at junior college, Natabou adjusted to the differences between playing in the Czech Republic on their U-20 national team, then as a practice player in France and Spain. Now in year three in the US — year two at Sac State — Natabou continues to establish herself as a star.
Natabou seemed amused to consider if she expected to have this level of success at Sac State.
"I still do not believe it," Natabou laughed with a playful poke. "I still think that you are part of my dream." 
Coach Xavier Lopez, who joined Sac State with Campbell after spending the previous seven seasons at the University of Oregon, said it's easy enough to teach the game, but the player has to want to learn — those are the players with willpower and work ethic who shine.
"[Natabou] has it, so I think the future is bright for her," Lopez said.
Natabou didn't view Sac State as a struggling basketball program where she would be given playing time, she saw the effort coach Campbell has taken in trying to reshape the culture of Sac State basketball and wanted in.
"I just want to help my team to be the best they can be and I believe that Sacramento State you see like this," Natabou said as she pointed toward The Nest, the smallest arena in the Big Sky Conference. "But if we can work hard, it's going to be so big."  
Just as Rome wasn't built in a day, a new arena won't appear after one season.
"Even if I'm not going to experience it — even if it takes eight years — I don't care. We're going to be great and build a stadium for the future," Natabou said.
It hasn't just been success for Natabou alone; the Hornets have already drastically improved their win total from 3-22 in 2020-2021 to 14-16 last year. Now the Hornets are 21-7.
Story continues below photo.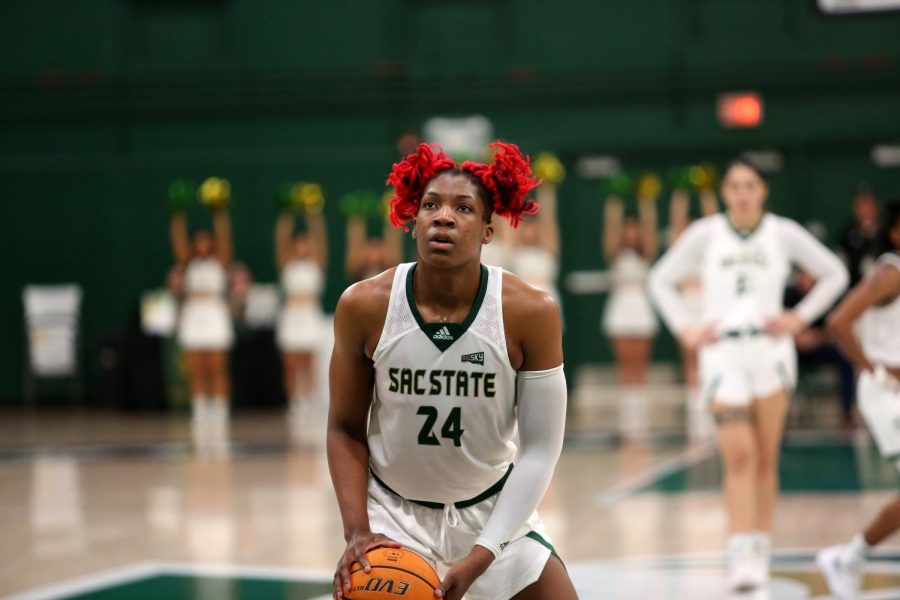 Natabou's former teammate, Lianna Tillman, benefited from Natabou's presence. The former Hornet guard averaged 20.4 points-per-game and 6.2 assists-per-game, topping the Big Sky in both categories. Tillman was honored as the Big Sky MVP in her first season with Natabou as her teammate.
For this season, senior guard Kahlaijah Dean is continuing to carry that lead guard role that Tillman left behind. 
"Our potential is limitless," Natabou said.
Natabou's introduction to basketball was just as unconventional as her path to where she is today. She said her first basketball coach followed her as she walked home from school one day. 
"I was walking with my friend from school and some old man followed us, and he was like, 'Hello, do you want to play basketball?'" Natabou said.
She initially declined his offer, but when her friend offered to accompany her to practice, she decided to try it. Natabou never left; the "old man" became her coach and mentor. 
With Natabou's drive to improve not just her own skill, but the entire program, it's easy to forget that she moved to California just seven months ago. She said she grew up learning about American culture and the English language through Brad Pitt movies and other American films. 
"When I came here, it was like 10% true," said Natabou on her first impressions of the United States. "This is nothing like that. I feel fooled, this is crazy, but so much in a good way."
The difference between living in the Czech Republic and the U.S. is "day and light," Natabou said, almost nailing the English language idiom. She said her home country has more castles and less cars. 
"We walk everywhere and we don't even drop a sweat- that's how small Europe is," Natabou said. "You need a car for everything. I know it may sound dumb, but it's so crazy for me. When I want food, I have to drive. Why?"
The Hornets set their new program record in wins before the end of the regular season and still have a chance at finishing first in the Big Sky in the last week of conference play.
With the Hornets' head coach in place and Natabou having two more years of eligibility after this season, there's reason to believe they'll continue to trend upward.
"We're going to finish it even stronger and get even further so nobody will remember the old Sac State anymore — that's dead," Natabou said. "I don't care that they won three games, I don't know them. It's a new era."