OPINION: Halo doesn't deserve this
Microsoft's flagship gaming IP has been poorly managed for too long
As stress from the fall semester subsided and storms stirred, I set aside some time to go back and beat the colossal Halo: Combat Evolved. Reliving the game that colored my childhood was one of the best things I did over winter break. 
Sadly, we can't continuously relive our childhood. 
On Jan. 18, Microsoft laid off 10,000 employees — the current trend for massive tech companies as of late. The news came exactly one year after their massive $68.7 billion dollar acquisition of Activision Blizzard. 
​​While the Activision Blizzard deal raised concerns from Sony, Nvidia and Google over a potential gaming monopoly, it wouldn't be the first time Microsoft has seen major consequences from expansion. In 2014, they laid off a whopping 18,000 employees following their acquisition of Nokia. 
While a massive amount of unemployed people is devastating enough, the effects of the layoffs are already being felt throughout the Xbox community — namely with their flagship title: Halo.
From the Halo 3 "Believe" advertisement, Master Chief faces an army of Covenant armed with a single plasma grenade. This ad captured the essence of Halo: it's always possible to overcome insurmountable odds. Gif credit Microsoft via GIPHY.
Following the release of Halo: Reach in 2010, the franchise's original developer, Bungie split from Microsoft and left the title in the hands of 343 Industries. Ironically named after the villain of the original trilogy, 343 went on to develop its own trilogy to mixed reception under the leadership of studio head, Bonnie Ross. 
While I still enjoy Halo 4, Halo 5: Guardians completely missed the mark for fans in terms of both gameplay and story, leaving fans weary of the franchise's future. 
2021's Halo: Infinite contained incredible gameplay, but too little in-game time. The campaign hastily retconned most of the previous entry's buildup and built off the success of Halo Wars 2's successful story from 2017. 
The multiplayer was lackluster, with too few maps and even fewer modes to play. Fan favorites like "Infected" or "Grifball" were entirely absent. It was more than apparent that by this point, leadership needed to change. 
The layoffs at 343 shouldn't have happened and Halo Infinite should be in a better state. The reason for both of those things is incompetent leadership up top during Halo Infinite development causing massive stress on those working hard to make Halo the best it can be.

— Patrick Wren (@Witdarkstar) January 19, 2023
This was made especially obvious after the Halo Paramount+ show ended up being considered a failure by fans of the games. I don't know why this has to be stated but, you don't remove the helmet of a character whose face has been obscured for over twenty years; I digress.
Ross left the company Sept. 2022 and 343 Industries production head, Pierre Hintze took Ross' position. By this point, franchise veteran Joseph Staten was the head of creative at 343 and the series' future looked bright for the first time in a very long time.
Until these layoffs. 
Now, Staten is being reassigned to Xbox's publishing division and the future of the franchise becomes bleak once again. 
Halo deserves better. 
As one of the best IPs in all of platform gaming, Halo deserves to remain a top dog in the industry. Newly-former employees have now come out to say how the poor management at 343 essentially doomed the series to failure.
With Halo: Infinite's player base at an all time low despite being a live service game, the franchise is in the worst state I've ever seen. Again, as someone who became the person they are today as a result of a life-long  love of the series, it is incredibly disappointing to see such gross mismanagement of a titan of the industry.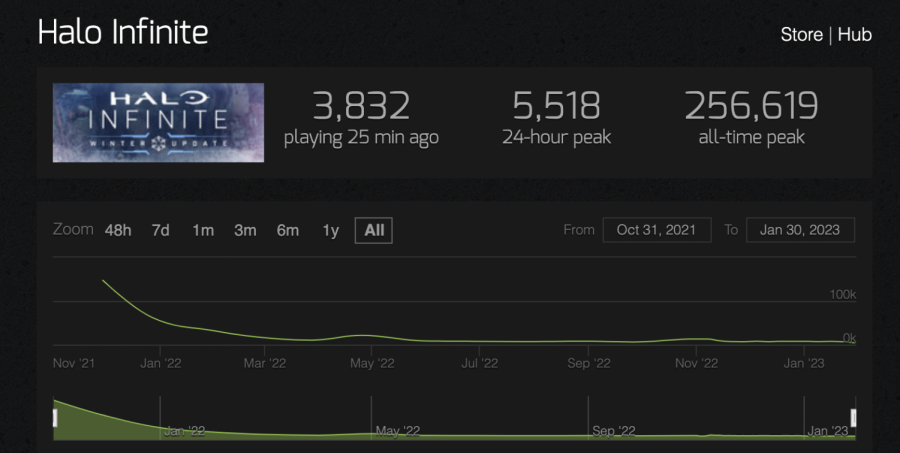 Martin O'Donnell's legendary soundtrack, the game's incredible environmental storytelling, Steve Downes' iconic voice acting as Master Chief, one of the best sandboxes in gaming and some of the greatest multiplayer experiences for any FPS ever; Halo's greatness doesn't deserve to battle obscurity.
People interpreting this as me being sad don't get it. It's been exhausting seeing my favorite science fiction series Weekend at Bernie'd for the last 12 years.

I'm relieved more than anything.

— Chris Ray Gun (@ChrisRGun) January 18, 2023
"
Halo's greatness doesn't deserve to battle obscurity.
— Gavin S. Hudson
My Dad passed the joys of Halo down to me and it was one of the greatest things he's ever done for me. The friends I've made and the experiences the community I'm a part of have shared as Halo players is something that needs to continue to transcend generations. 
Though it will be an uphill battle, 343 needs to keep the original vision of the series alive. If they don't, the franchise is sure to die an early death that will be lamented by gamers everywhere; something I refuse to see. 343 needs to finish this fight.