Preparing Sac State students to vote in the upcoming midterm election
What students need to know before hitting the polls
The midterm election taking place on Nov. 8 is steadily approaching and Sacramento State students are preparing to cast their ballots this fall. However, voting can feel daunting when people lack information on where to vote or what is on the ballot. 
Third-year business administration major Felipe Carrillo has not gone over candidates or propositions yet, but he wants his vote to make a difference. 
"As vague as it might sound, I do want to see a change," Carrillo said. "I want to see ideas represented. Something different. 
Here is information on voting in this upcoming election and the resources Sac State provides.
Registering to vote
Unregistered voters can register on campus Tuesday, Sept. 20, in honor of National Voter Registration Day, according to the Sac State website. Registration will be held in the Library Quad from 10 a.m. until 2 p.m. 
Otherwise, you can register to vote online at registertovote.ca.gov. It is recommended to register at least 15 days prior to Election Day, but same-day voter registration is available at all polling places in California. 
First-year criminal justice major Justin Mason believes that registering to vote is something everybody should do. 
"I just hope that whoever can vote chooses to," Mason said. "I think it's a super easy process. I voted in the recall election and it wasn't a hassle. So I think there's really no excuse not to get registered."
Voting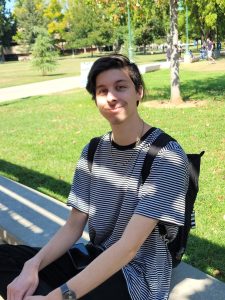 This fall, Sac State will have a public voting center available in the Welcome Center. From Nov. 5 through Nov. 7, students can vote from 8 a.m. – 4 pm. On election day, Tuesday Nov. 8, the voting center will be open from 7 a.m. – 8 p.m. according to the Sac State website. 
According to Welcome Center Event Coordinator Justin Smith, students and faculty will eventually obtain on-campus election information via their CSU emails. 
Any registered voter in Sacramento County can fill out the ballot on-site or submit a ballot in the drop box at the front entrance, according to the Sac State website. The drop box will be available from Oct. 10 through Election Day during normal business hours. 
Smith hopes that as many students as possible go out and vote in this election.
"I think that it's good that we get as many votes out there to actually have a word," Smith said. "It helps a lot better versus letting the people at the top kind of just do what they want."
The Sacramento County website also provides alternate voting center locations. Mail-in ballot drop box locations are listed as well.
What am I voting on?
Many students are registered to vote but might not be informed about what they will be voting on during this election. 
The general election ballot will include candidates for elected positions such as governor and secretary of state, among others. 
There are seven ballot measures listed for the upcoming election. In-depth information on each proposition can be found on the Secretary of State's website.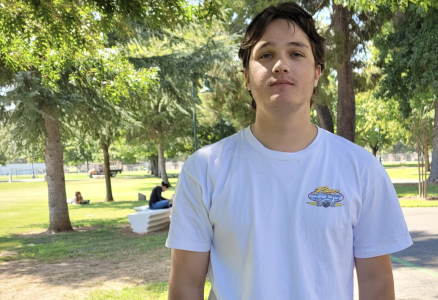 Proposition 1 advocates for the right to reproductive freedom and prevents the state from denying the ability to have an abortion or the right to refuse contraceptives. 
Proposition 26 advocates for in-person roulette, dice games and sports wagering on tribal lands to increase funding for programs that prevent problems related to gambling and mental health. 
Proposition 27 would allow online legal sports betting with a licensing process and accountability measures, proposing that online sports betting would create revenue to fund homelessness and increase mental health support.
Proposition 28 asks for additional funding to be provided towards arts and music education in public schools. 
Proposition 29 requires on-site licensed medical professionals to be present at kidney dialysis clinics and will provide the government information needed to supervise dialysis clinics. 
Proposition 30 desires to reduce emissions of greenhouse gasses from transportation and wildfires through investment in the electrification of vehicles. This would be done by taxing citizens who have an annual personal income of over $2 million. 
Proposition 31 would prohibit the selling of flavored tobacco products. 
Fourth-year design studies major Mitchell Butler is eager to vote because of Prop 31. 
"I work at a vape shop, so I'm kind of against them banning flavored vapes," Butler said. "It would really just hurt the business — possibly put me out of a job."
Many Sac State students want to ensure they are voting on issues that matter to them and make a change in their community. 
Fourth-year business administration major Jessica Chac, interested in laws impacting housing and taxes, wants her vote to make a difference.
"There are some laws and policies I kind of want to change," Chac said. "That's the reason why I'm voting in the upcoming election."
Polls open on Nov. 5 at the Sac State Welcome Center and will be open from 8 a.m. – 4 p.m. Students are encouraged to come out to vote for the upcoming Nov. 8 midterm elections.