Sac State app aids campus community with free item exchange
Hornet Reuse is hoping to change the recycling narrative on campus.
The beginning of the semester is always a stressful time when you need essentials and school supplies. That's where the app Hornet Reuse can help you get the items you need or exchange the ones you're no longer using.
Recently, sixth-year art education major Selena Brown Rios gave away a pair of pants on the app to a student who desperately needed jeans without holes for their laboratory class. She said that the student was very grateful to be able to find a free pair of pants from a fellow Hornet on campus.
In April, the Hornet Reuse app was launched exclusively for Sacramento State students, faculty and staff. This app is used to exchange items like textbooks, dorm furniture and even clothes for free to the campus community.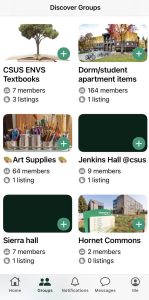 The idea was started by Ryan Todd, director of energy & sustainability and his colleague, waste & sustainability coordinator Laura Gonzales-Ospina when they discussed how the campus community can reuse items. 
"As of September 7, there are 2,000 students using Hornet Reuse," Todd said. "We hope to grow the app this semester to a larger group."
Shortly after, Todd received an email from the app company Good Use wanting to expand their company to a college campus. Good Use is an app based company that wants to put items of clothing, furniture and more into new ownership. 
From the company's perspective, a significant benefit is that students can connect and give an item to someone who needs it, which builds a sense of community on campus. 
Sara Mengesha, the head of community at Good Use, decided to launch its first university based app at Sacramento State because, according to her, Sacramento is trying to get ahead on reusing and recycling. 
"Two-thirds of items given to Goodwill and the Salvation Army will end up in landfills," Mengesha said. 
According to her, Hornet Reuse is trying to help eliminate the burden it puts on the landfills and the U.S.
On Hornet Reuse, everyone is encouraged to join a group where they can exchange items in familiar areas on campus. One of the most popular exchanges is the dorm/student apartment items, with almost 174 members as of Sept. 13 this year.
While using the app, users can create groups. Mengesha noted this is an essential feature for dorm residents.
"Students living in the dorms buy so many items that they will not take back home with them," Mengesha said. "So, for when move out time comes, items are left at the trash bins when they could have been given to someone else."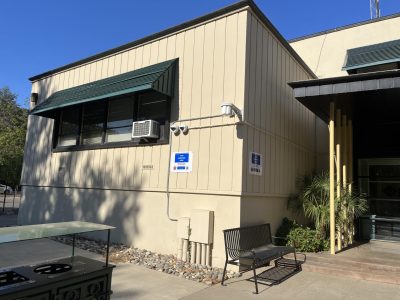 Users are encouraged to exchange their items at the Sacramento State Police Department's "Safe Exchange Zone," located in front of the police department's building. It is equipped with two 24-hour cameras to help increase comfortability and safety in exchanges. 
Brown Rios says she feels completely safe when using Hornet Reuse.
"It is made for students and faculty, we have control and it is on campus," Brown Rios said. "Which is safer than using Facebook marketplace or apps similar to that." 
When asked about the feedback from the app, Todd said that it has been positive. He said he also hopes it could be extended into My Sac State to spread the word on the app.
According to Mengesha, there have been 600 listings created and 2,734 interested in conversations since the start of the fall semester. She said the average time between listing an item and that item being claimed is three hours.
Brown Rios said she came across this app through social media and has many clothes that she wants to give away. 
While using Hornet Reuse, she has received a Funko Pop! and Vinyl on the app to add to her collection at home. 
"Others should use the app since we are all looking for the same textbook and items, especially for the dorms," Brown Rios said.