Sac State residents will not be tested for COVID-19 weekly
10% of residents per week will undergo random surveillance testing
Sacramento State will not perform weekly COVID-19 tests on all students as previously stated, according to Sac State President Robert Nelsen in his spring address.
The university will still administer a no-cost baseline COVID-19 test for students living on campus Jan. 24 in Riverview Beetle and Elderberry Room, Nelsen said. 
After the initial mandatory testing of all residents upon move-in, 10% of residence hall students and students working on campus will then be randomly selected to be tested each week as part of COVID-19 surveillance testing, according to Nelsen.
RELATED: Pfizer vaccine expected to arrive this week at Sac State, Nelsen says
"Compliance with surveillance testing will be voluntary and all the testing is free," Vice President of Student Affairs Ed Mills said via email.
The initial email sent to residents Wednesday from University Housing Services stated that residents will take a second COVID-19 test on Feb. 3, and weekly surveillance testing would be held for all residential students afterwards. Mills said he asked UHS to send an updated email to residents correcting that statement and informing residents of the random surveillance testing for 10% of students per week.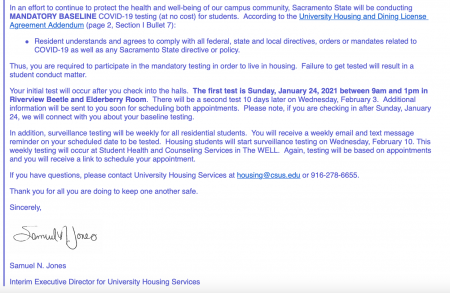 UHS also stated in its email that students are required to participate in testing in order to live on campus, and "failure to get tested will result in a student conduct matter."
In the email, Interim Executive Director for UHS Samuel Jones cited the University Housing and Dining License agreement addendum, which says the "resident understands and agrees to comply with all federal, state and local directives, orders or mandates related to COVID-19 as well as any Sacramento State directive or policy."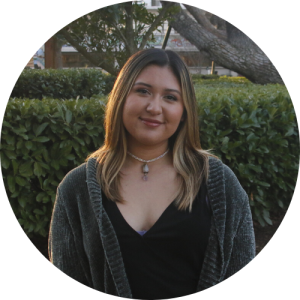 Mercy Sosa, digital editor
San Diego native, Mercy Sosa, is the digital editor for The State Hornet. She is a junior who joined The State Hornet in spring 2020 as a politics beat writer and afterwards served as their news editor for two semesters. Mercy is also the vice
president of Sac State's chapter of the Society of Professional Journalists.
Camryn Dadey, news editor