Sac State athlete runs food drive, opens storefront in hometown of Fresno
Prince Washington talks about giving back, King Kulture Clothing & Cuts
Garry Singh spoke to Defensive back Prince Washington of the Sac State football team about his food drive for the homeless in his hometown of Fresno, California during the early stages of the pandemic.
Prince Washington created a clothing brand and opened a storefront called King Kulture Clothing & Cuts in Fresno in September. Washington's former football coach Damon Jenkins and childhood friend Justin Parker discuss the impact Washington has had in the community through philanthropic work and as a student athlete, business owner and rapper. Washington said if people feel inspired to do something good for their community, they should act and they don't have to wait.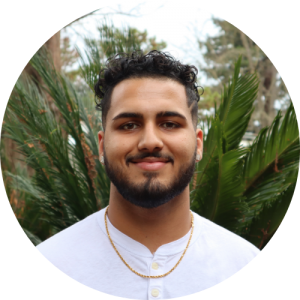 Garry Singh, staff writer
Gurneet (Garry) Singh joined The State Hornet spring 2019 and is now a multimedia staffer, sports beat writer and podcaster. Garry is from Sacramento and is majoring in business and minoring in journalism. He is also station manager at KSSU, the CSUS student-run radio station, where he has his own weekly radio show. Garry received fifth place "Best of Show" award at ACP/CMA 2020 Fall National College Journalism Convention for broadcast news story.