Sac State suspends fall 2020 study abroad programs
Students can either cancel or roll over applications
Sacramento State suspended all fall 2020 semester study abroad programs Monday due to the COVID-19 pandemic, according to an email sent to study abroad students obtained by The State Hornet. 
Paul Hofmann, Sac State associate vice president for International Programs and Global Engagement, said in an email that the decision to suspend all study abroad programs was made last Thursday so students wouldn't be locked with airline tickets, disadvantaged with fall 2020 registrations and sent to destinations that may not be safe.
Students were advised early on in the process to develop a class schedule in the event that programs would not go as scheduled, according to Hofmann's email. They will be assigned registration appointments in Sac State's normal priority order.
Hofmann said Sac State anticipated 69 applications for study abroad programs in the fall. Forty of those planned on participating in Sac State exchange programs, 17 planned for California State University International Programs and 12 planned to participate in the affiliated University Studies Abroad Consortium. 
Study abroad students can either cancel their study abroad applications or roll over their applications to a future term.
Story continues below screenshot.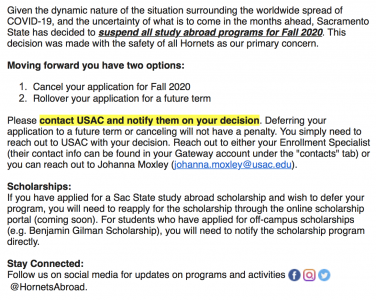 Students must notify the University Studies Abroad Consortium with their decisions by contacting either their enrollment specialist or University Relations & Marketing Coordinator Johanna Moxley at [email protected].
Study abroad scholarships are intended to lower student travel costs and do not cover normal tuition costs.
Students who applied for a Sac State study abroad scholarship but want to defer from their program will have to reapply through an online scholarship portal, which is not yet available as of the time of publication. 
Students who applied for off-campus scholarships like the Benjamin Gilman Scholarship will have to notify the scholarship program directly.
Some foreign educational institutions have decided not to send exchange students to Sac State for the fall and other institutions are waiting to make a decision, according to Hofmann. 
He said the institutions that have yet to make a decision are waiting on Sac State's decision to resume face-to-face classes or continue with online classes.
Sac State previously suspended all non-essential university travel through May 31 in an email from Sac State President Robert Nelsen sent to students in March. Study abroad suspensions began with China and were followed by South Korea in February.
RELATED: Sac State suspends study abroad in South Korea due to coronavirus
Hofmann said IPGE will continue to monitor the pandemic to ensure safety for study abroad to resume.
"Under no circumstances will the university send students into harms(sic) way," Hofmann said.
UPDATE: Tuesday, April 21, 2020
This story was updated to reflect additional comment from Sac State University Communications and Paul Hofmann, associate vice president for International Programs and Global Engagement.