Sac State hosts eighth annual Out of the Darkness walk
School raises $12,561 – donations still open through June 30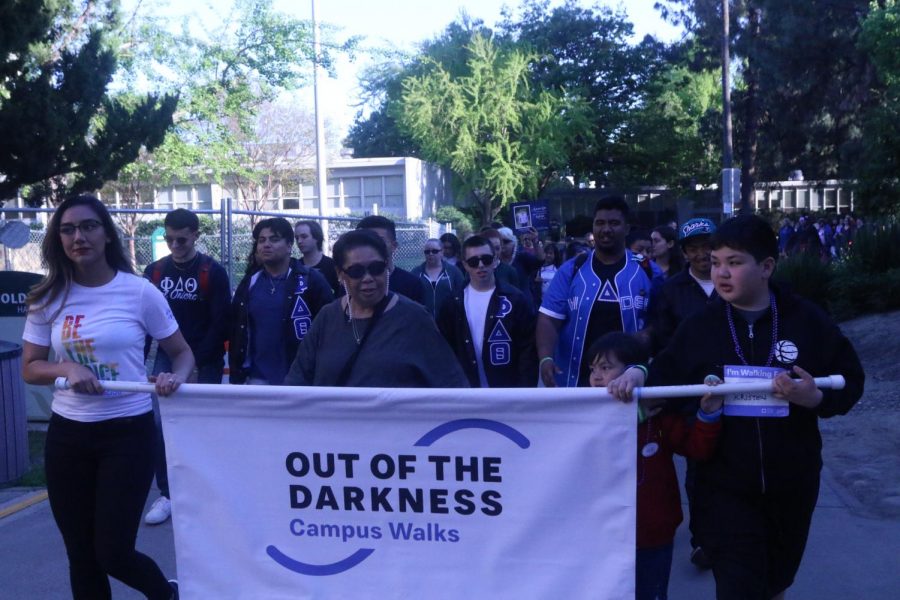 Sacramento State hosted its eighth annual Out of the Darkness walk to raise awareness and money for the American Foundation for Suicide Prevention Thursday evening.
Participants held up posters with names and photos in remembrance of those lost to suicide. The march began at The WELL, making its way to the residence halls on the north end of campus before returning and concluding at The WELL.
The event began at 5:30 p.m. with an opening ceremony, including speeches from Mayor Darrell Steinberg, Assemblyman Kevin McCarty and Sac State President Robert Nelsen with his wife, Jody.
Last year, the participants of Sac State's Out of the Darkness walk raised $16,000. This year, the goal was raised to $22,000. According to the AFSP website, $12,561 was raised this year, but donations will be accepted until June 30.
Students shared stories and gave reasons for participating in the Out of the Darkness walk.
Myles Morton, freshman pre-bio major, shared that participating in the walk meant a lot to him since he lost a friend back in high school.
"It was really sad for her to go, because I felt like we had so much to look forward to," Morton said. "For me to be here means a lot, just to know that although she may not be here, I walk for her."
Kassandra Garcia, criminal justice major, attended the walk to bring awareness to mental health.
"I've lost one (friend) and some are just struggling," Garcia said. "I fear that it's getting to the point where they want to let go."
Garcia formed a friendship on Tumblr with another girl over a shared interest in scenery photography about seven years ago.
"We both exchanged photographs, and the friendship grew from there," Garcia said.
They became good friends after Garcia opened up about her struggles with depression and anxiety. Her friend also began to open up about the problems she was dealing with in her life.
Two years ago, Garcia learned that her friend had killed herself.
"After that it was a whirlwind of emotions. I didn't know what to think," Garcia said, "It's hard to believe that someone you care about so much took their life away and they aren't here anymore. I couldn't fathom it."
Garcia said bullying was something that really affected her friend.
"It's surreal," Garcia said. "I knew that she was having some difficulties with things like that, but I didn't know that it was that far ahead.
"We were a long distance friendship, so I couldn't be there to support her," Garcia said.  "It's not enough to be somewhere that you're not close to them. It's that physical embrace that somebody needs."
Garcia's friend liked to go to the beach and the mountains, particularly loving the sunsets.
"She would send me pictures of the sky with clouds, and every time there's a sky with clouds. That's how I'm reminded of her," Garcia said. " I know she did all she can. She lost her battle and I can't really do anything now."
Michael Boyd Jr., an alumnus psychology major, said that 1,500 people participated in this year's walk.
"You can feel it, the energy. It's everywhere," Boyd Jr. said. "So much support."
Additional reporting by Kelly Kiernan