Sac State baseball team wins 2019 'Best Men's Team'
Hornets remain consistent with seven consecutive 30 plus-win seasons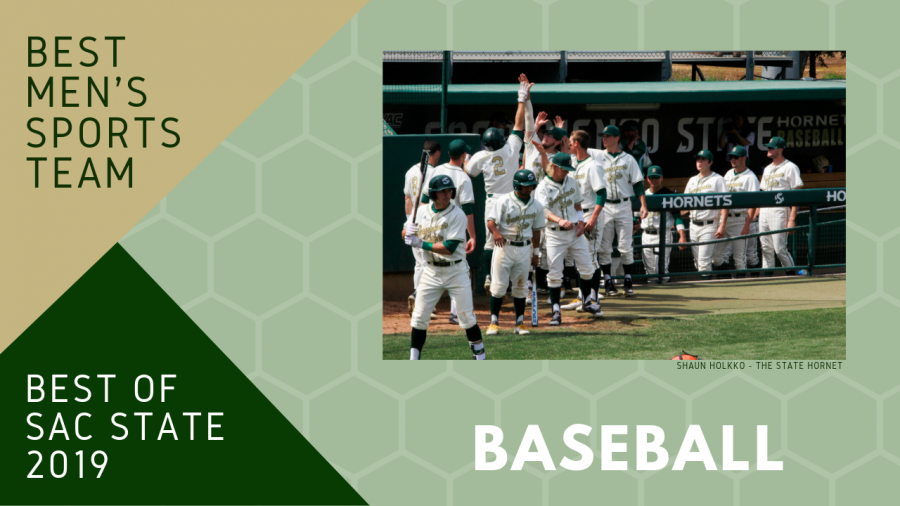 The 2019 Sacramento State baseball team are young, full of potential and have been voted "Best Men's Team" on campus in The State Hornet's annual Best of Sac State poll.
The Hornets (21-10, 7-2 WAC) are well on their way to an eighth consecutive 30 plus-win season, having already won 20 games with 24 remaining regular season games.
RELATED: Sac State baseball enter 2019 season with young team
Head coach Reggie Christiansen said winning the "Best Men's Team" award is a great honor.
"It certainly feels good for our players to be recognized that way," Christiansen said. "It feels good to know that (the community is) recognizing the performances that they have done on the field. They are going to be grateful and humbled by it as well."
Junior outfielder Matt Smith shared similar sentiments about his team's latest achievement.
"It shows what we've put in over the preseason and what has carried on into this season is paying off and the people in the community have noticed that," Smith said.
Sac State began the 2019 season slowly with a 3-6 record after nine games. On Feb. 3, the Hornets got the biggest win in franchise history, beating then-No. 3 University of California, Los Angeles on the road 2-1.
In the next game, Sac State played at Saint Mary's and lost 10-1. Following the tough road loss, the Hornets won 11 games in a row, falling one game short of tying the longest win streak in the Christiansen era.
RELATED: Sac State baseball team continues dominant 9-game winning streak
Since beginning 3-6, the Hornets have won 18 of 22 games with wins over schools like University of California, Davis, San Jose State and University of California, Berkeley at home. Christiansen said the key to the Hornets' success in 2019 has been team chemistry.
"This may be the closest team that I have had here at Sac State," Christiansen said. "It really comes down to having great support staff and really good assistant coaches. There are so many people behind the scenes who support these guys and allow them to chase their dreams on the field."
The Hornets entered the 2019 season with a young team, following the departures of three of the team's leaders to the MLB draft following last season. In the fall, 10 freshmen came to the team, bringing a new, younger presence.
RELATED: Three Sacramento State baseball players selected in MLB Draft
"We've got some good chemistry," Smith said. "Especially coming from as far away as our kids have from Canada and all over the United States. We've come together and built a little family here. Everyone gets along great on and off the field and it really shows."
Sac State will now be tested as the team go on a season-long nine-game road trip and will not return home to John Smith Field until April 26 against New Mexico State.