OPINION: Tiger Woods pulls off greatest comeback in sports history
Arguably the greatest golfer of all time, Tiger Woods, has pulled off the greatest comeback ever after winning the 2019 Masters Tournament Sunday.
Woods, who was two shots back at the beginning of the final round, is now a five-time champion of the event. His other victories were in 1997, 2001, 2002 and 2005.
As a 6-year-old child, I remember watching him chip in on the 16th hole at the Masters back in 2005.  His level of play and success inspired me to get involved in a sport that I had never played before.
I have followed Woods ever since and even went on to play competitive golf from 2009 until 2016.
While this win marks his 15th major championship, many golf fans know that the journey to this moment was nowhere near short or simple.
The last time Woods won a major was the 2008 U.S. Open Championship where he played on two stress fractures and a torn ACL in his left knee. This was only the start of a long list of injuries over the next several years.
Between December 2008 and March 2012 Woods encountered multiple issues with his neck and his achilles tendon in both legs, but this would end up being the least of his concerns.
Tiger had a string of problems with his lower back between August 2013 and April 2017, undergoing four surgeries during that time. He would make only 19 starts on the PGA Tour during that stretch.
On November 30, 2017, Woods made his return to golf at the Hero World Challenge, an event he hosts every year as a benefit to the Tiger Woods Foundation.
Story continues below tweet.
Time to go to work. #M2driver @TaylorMadeGolf pic.twitter.com/esXjSZ28fP

— Tiger Woods (@TigerWoods) November 30, 2017
Since then, he has had 10 top 10 finishes, including wins at the 2018 Tour Championship and Sunday's win at the Masters.
What makes this story greater than any other isn't just the physical health aspect, but the time length aspect as well.
In February 1949, golfer Ben Hogan survived a head-on car collision that ended with a double-fracture of the pelvis, a fractured collarbone, fractured left ankle, chipped ribs and near fatal blood clots.
Story continues below photo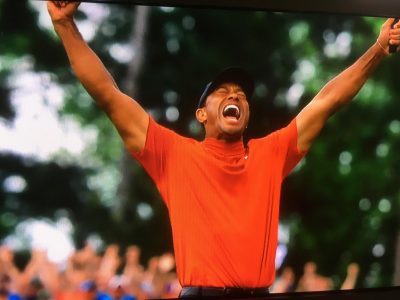 He would go on to win the 1950 U.S. Open Championship. While it was amazing he even lived through his injuries, his comeback story lasted 16 months. Woods' lasted over a decade.
Sure there are other great stories such as Pelé coming back to help Brazil win the World Cup in 1970 or Magic Johnson coming back to play with the Lakers four years after testing positive for HIV, but to me nothing matches Woods' comeback.
For everything Woods has gone through on and off the course over the last decade, it's hard to find a better feel-good moment in any sport at any time.
null