Town hall shifts to address Stephon Clark through performance art
Powerful imagery and calls for inclusion highlight event
Sacramento State replaced its spring town hall with an event in the University Union Monday to address issues stemming from recent news surrounding Stephon Clark's death.
On Saturday, the Sacramento County District Attorney Anne Marie Schubert announced her decision not to charge the officers involved in the fatal shooting of unarmed 22-year-old Stephon Clark.
"The weight and pain of this weekend's decision regarding the police shooting of Stephon Clark is too heavy to ignore," President Robert Nelsen said at the event.
RELATED: No charges filed against officers who shot and killed Stephon Clark
Nelsen's speech was accompanied by two students who stood in front of him holding a sign which read, "No harm, disarm."
Story continues below tweet.
President Nelsen announcing the performances for today's town hall meeting @TheStateHornet pic.twitter.com/xALutgC2A4

— Jonathan Nack (@jonathanjnack) March 4, 2019

Former Sac State student Italia Rodriguez said she was pleased by the university's response to the decision.
"Being able to see all these different faces remind us to be kind and serves as a reminder that we are a hornet family," Rodriguez said.
Prior to Schubert's announcement, President Nelsen announced Thursday that the Stephon Clark event would replace the spring town hall meeting, which was originally intended to address questions submitted by the community.
RELATED: President Nelsen's town hall meeting replaced with Stephon Clark event
"We started planning to do something different for the town hall about three weeks ago. We didn't know what we were going to do," Nelsen said. "We knew the decision was coming forward. We thought it might be around this time, so we thought we had to directly address this decision."
Throughout his address, Nelsen spoke about the university's role in confronting hate and discrimination, while citing resources available through the Multicultural Center and the MLK Center.    
Sac State biological chemistry major Yahaira Victorino expressed skepticism at this suggestion.
"MLK center does not really help," Victorino said. "It's a bandaid. We want to make sure underrepresented students get the resources they need."
The event began with a "Coffee and Conversations" breakfast at 9 a.m. and was followed by a brief address by Nelsen at 10 a.m. The event concluded with performances by former and current Sac State students.
Story continues below tweet.
A monologue in memory of Stephon Clark. @TheStateHornet pic.twitter.com/wyGpfGnyUq

— Jonathan Nack (@jonathanjnack) March 4, 2019
The gathering drew many administrators, but few students.
The event included a performance by Sac State alumni Dewayne Ewing Jr, a presentation of "A Memory, A Monologue, A Rant, and A Prayer," and a performance by Sacramento/Black Art of Dance (S/BAD).
RELATED: 'A Memory, A Monologue, A Rant, and A Prayer' seeks to represent marginalized voices
Clark's death was cited by artists as motivation for their engagement.
DeWayne Lemont, who goes by the stage name Consci8us, performed two tracks which dealt with subject matter that alluded to many of the questions surrounding Clark's death.
Story continues below tweet.
Sac State Alum DeWayne LaMont, who goes by the stage name Consci8us, opens the town hall performances. @TheStateHornet pic.twitter.com/Jma8UzUPuo

— Jonathan Nack (@jonathanjnack) March 4, 2019
"I think when you bring in artists and bring in different perspectives it brings the community in and it shows that there is a voice," Lemont said. "It addresses some of the things that really need to change. Any time there is a platform it helps."
Bernard J. Brown, choreographer and a dance professor at Sac State said, "I was really struck by this, his death. I was empathetic and I was worried about it being me."
The performances of S/BAD and 'A Memory, A Monologue, A Rant, and A Prayer' included heavy use of cellphones as props. Alluding to the circumstances of Clark's death.
Story continues below photo.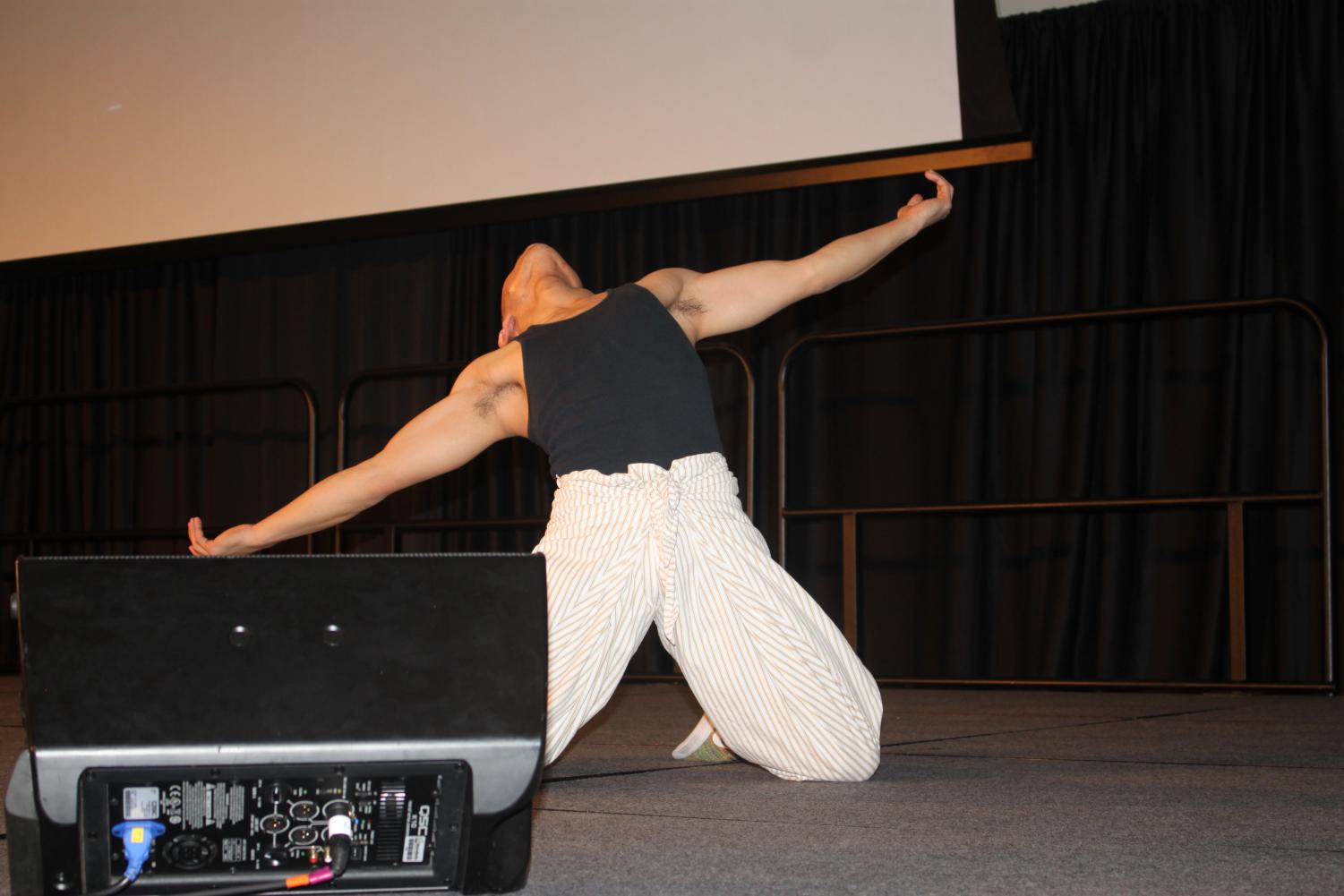 Sac State business major Jermaine Gregoire praised the school's initiative but expressed a need for change with regard to police conduct.
"What the school is doing is stepping up and opening people's eyes. I've seen this stuff my whole life," Gregoire said. "I was on my way to work last weekend and got pulled over for going six miles over the speed limit. The cop came to the car and looked at me. He had me sit there for 15 minutes and three more cop units pulled up."
In his closing statements, Nelsen expressed his hopes for the Sac State community to "come together to support one another during this painful time in our community."
Jordan Silva-Benham and Jonathan Nack contributed to this report.