Crowd gathers around Sac State Trump supporters protesting Stephon Clark coverage
Students wearing 'Make America Great Again' hats called The State Hornet 'fascist'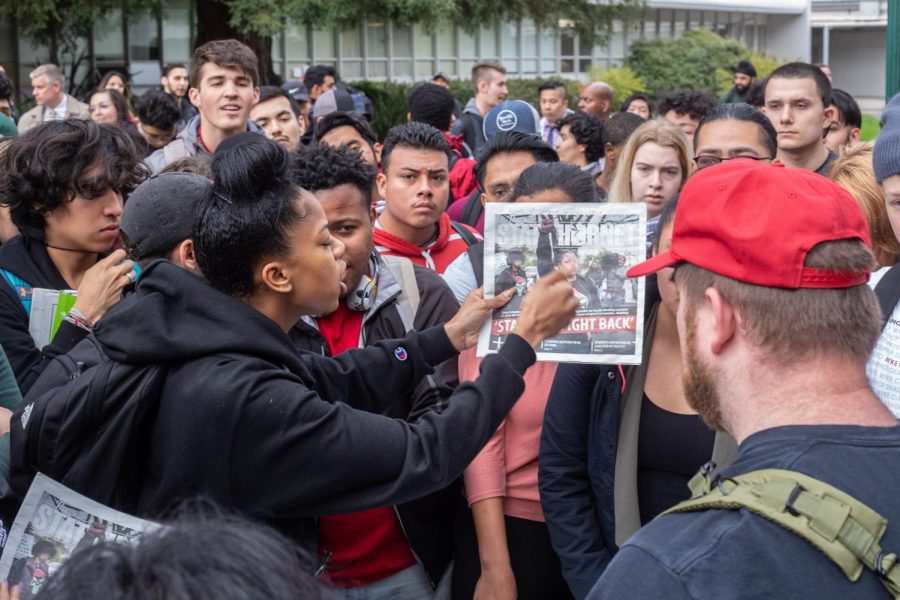 A fight among students at Sacramento State occurred Thursday as a group of men wearing red Make America Great Again hats with a Blue Lives Matter flag accused The State Hornet of inciting violence in its latest print issue.
The group, including Sac State mechanical engineering student and College Republicans member Philip Olding, set up a table next to several State Hornet staff members who were distributing the Wednesday's print edition in the Library Quad.
Story continues below tweet.
A group of students were distributing this week's issue of @TheStateHornet when this man came to protest its coverage. I introduced myself as the Editor-in-Chief and he said "fuck you." pic.twitter.com/OTaWU14YQE

— Claire Morgan (@jemapelleclaire) March 7, 2019
Olding said he opposed the "fascist claims" made by The State Hornet in its latest issue, which featured coverage of the protests surrounding the Sacramento district attorney's decision not to charge the officers who shot Stephon Clark.
The cover's text quoted the popular protest chant "Stand up, fight back," which Olding said encouraged violence against law enforcement. Olding also referenced that the design of the cover utilized the colors of Antifa, red and black.
The issue's cover also reads, "Since Saturday's announcement that the two officers responsible for fatally shooting unarmed 22-year-old Stephon Clark would not be charged, activists have occupied Sacramento, chanting: 'Stand up, fight back.'"
Story continues below image.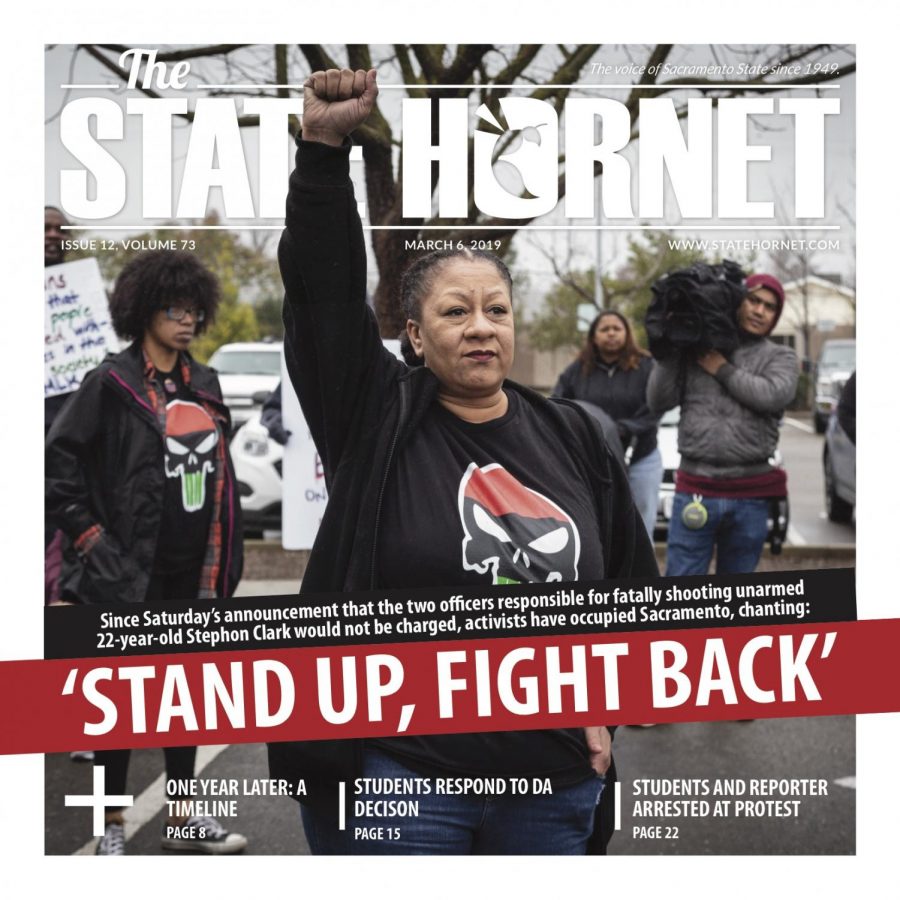 When The State Hornet's editor-in-chief, Claire Morgan, introduced herself to Olding, his response was, "Fuck you."
"It's your First Amendment right, but you're calling for violence," Olding later said to Morgan. "I'm not telling you men with machine guns should stop you from pushing your fascism, I'm telling you, you should stop pushing fascism. It's that simple."
Story continues below tweets.
Here's a video of the inciting protester, who we've now learned is @sacstate mechanical engineering major Philip Olding, after I tried to talk to him about his problems with @TheStateHornet's coverage pic.twitter.com/UwHK7rV593

— Claire Morgan (@jemapelleclaire) March 8, 2019
Two men wearing "Make America Great Again" hats are arguing with @sacstate students the definition of fascism after calling @TheStateHornet fascist. pic.twitter.com/U51XrephIg

— Cory T. Jaynes (@CT_Jaynes) March 7, 2019
At one point, a man in the crowd who had been arguing with Olding grabbed a rock and ran toward him before he was held back. The man then got into a separate fight with another man and left after Sac State College Republicans president Floyd Johnson helped break up the altercation.
Sac State Police Department officers and community service officers, who were in attendance, did not step in.
Story continues below tweets.
A man has grabbed a rock and ran towards the man who started the protest. @TheStateHornet pic.twitter.com/Q73ylHNBg1

— Claire Morgan (@jemapelleclaire) March 7, 2019
David Haug, who helped break up a previous confrontation with the protesters explains why he stepped in. @TheStateHornet pic.twitter.com/FctfnB1HWr

— Cory T. Jaynes (@CT_Jaynes) March 8, 2019
Student Organizations & Leadership assistant director Josh Mandel-Sonner made the group of men move farther away from The State Hornet's table while still remaining in the Library Quad.
At its peak size, a crowd of around 200 students surrounded Olding and another student who only identified himself as Stephen, both of whom were wearing red MAGA hats.
Story continues below tweet.
If the two people wearing MAGA hats set up shop at Sac State today in hope of conversation, then it's been a rousing success. If they're looking for friends, uh oh pic.twitter.com/5O2SSwNVaN

— Kameron Schmid (@KameronSchmid) March 7, 2019
"We have to fight with our voices instead of anything else. Freedom of speech, which is what you are promoting, is what this paper is promoting," Sac State student Laura Pulido said to Olding.
Though Olding is a member of the Sac State College Republicans, Johnson said the event was not sanctioned by his group.
"It is not in the opinion of the College Republicans at Sacramento State that the issue of calling the school newspaper a fascist organization is true," Johnson said in a text message. "We also believe that the use of profanity is not conducive to a fruitful discussion of current issues in the public sphere or any sphere for that matter."
Story continues below photo gallery.
Multiple university officials tried to maintain control of the crowd, including SO&L's Associate Vice President for Students Affairs, Dean of Students Beth Lesen, SO&L's Interim Director Nicki Croly and Director of the Center for Diversity and Inclusion John Johnson.
According to Lesen, it's still unclear if the group reserved space next to The State Hornet's tabling area.
"They're not free to drop a table, but they're free, within reason, to do what they want," Lesen said.
While groups are asked to make reservations for tabling, the university allows any individual to come onto campus to exercise their free speech without permit or form requirement, provided disruptions to the student body's education do not occur.
Ashton Byers, Jordyn Dollarhide, Claire Morgan and Cory Jaynes contributed to this report.