Student's passion for theater lands her position of assistant director
Katelyn Arata starts directing debut with 'Peter and the Starcatcher'
An array of blue light covered the stage as high school students entered the dimly-lit theater ready to see the production "Peter and the Starcatcher," at Sacramento State.
For some, it would be their first time ever seeing a play, and for Sac State theater major Katelyn Arata, it would be her first time directing.
Arata's first experience with theater was in her freshman year at Linden High School in Linden Calif. At the encouragement of a friend, she auditioned for the musical "Guys and Dolls."
"I just very quickly fell in love with it," Arata said. "There was nothing else that gave me that sense of community and that sort of rush that theater gives me. It just kind of fell into my life, and I never questioned it. I just kept going."
After high school, Arata attended San Joaquin Delta College in Stockton, California.
"I didn't declare [my major] right away, but I knew what I wanted," Arata said.
After working with Michelle Felten, a guest director at Delta College and Sac State professor, Arata said she decided to pursue a bachelor's in theater at Sac State.
Arata first became interested in directing when she enrolled in acting classes at Sac State. Arata mentioned that Felten really encourages peer review.
"I really loved when I would give somebody a suggestion and watch them interpret that in their own way," Arata said. "So, I decided I would try to assistant direct while I'm here."
After Arata persisted on assisting with a play multiple times, Felten finally accepted Arata as her assistant director for "Peter and the Starcatcher," which ran in October at Sac State. The play was a prequel to the story of Peter Pan.
RELATED: Theater department ready to share the magic of 'Peter and the Starcatcher'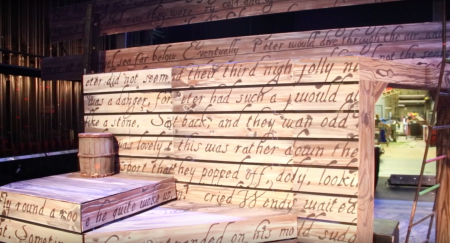 "[It's a] surprise that someone is interested on being on this side of the fence," Felten said. "I thought she had a lot of talent, she was the right person, at the right time, for the right show."
The storyline of the play also correlated with Arata's life in terms of her graduating.  "It's the story of an ending and a new beginning," Arata said. "I've come to that crux in my life, so it felt very symbolic as a whole."
Arata will be graduating this fall, making "Peter and the Starcatcher" her last production as a student.
"It's bittersweet, but I'm excited to move forward," Arata said.
"I learned so much about being a performer," Arata said. "Not only from watching [Felten's] passion for this story, but our cast's passion."
Months before Felten and Arata began to meet and plan production, Arata was already preparing for the show on her own.
"I wanted to be ready, so I did a lot of analysis on the characters," Arata said.
Arata would go to The Mill on I Street, put on headphones and put herself in the headspace of the characters. "I remember writing that Peter ultimately wanted to be a boy more than anything else," Arata said.
While taking notes during her research, Arata said she remembers taking less-serious notes on the players as well.  "I remember writing that the character of Alf would be a Hufflepuff if we were in the Harry Potter Universe," Arata said.
Arata said she plans on staying in the Sacramento area after she graduates to audition for local plays.
"We have such a growing community," Arata said. "There are great opportunities for recent graduates. There's a lot of great theater here.
"The biggest lesson I'm going to take from this department is that the learning never stops. People perceive talent as the key, but it's about passion and hard work."