Preview: Graves and Patton lead a now-healthy men's basketball team
After a disappointing season, Hornets return 10 players
The Sacramento State men's basketball program looks to rebound off the disappointing record of 7-25 in the 2017-18 injury-filled season.
The team is bringing back 10 players and head coach Brian Katz, who is entering his 11th season with the Hornets, believes the team has room for improvement after last year's struggles.
"Number one: We are healthy," Katz said. "Four of our five top guards [were] out last year, so being healthy will make a huge difference, we have a ton of experience and everybody back."
Katz believes if the team is healthy, they can bring energy for the fans.
"Our deal is we always want great energy, we want to be the most aggressive team," Katz said. "We want to be invested in each other, fans should come away and say, 'Wow, those guys have a lot of energy.'"
The team lost forward Justin Strings, who led the team in points as a senior last season, but brought back fifth year senior point guard Marcus Graves, who missed all of last season after suffering a back surgery.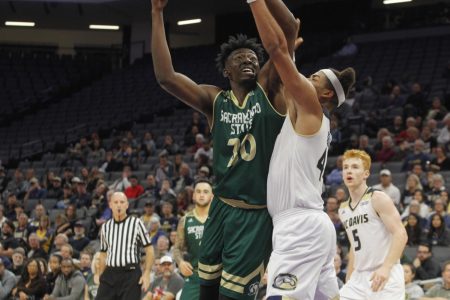 Graves said this team is more confident than last season.
"We had a lot of new guys last year and with the injuries, we had a lot of guys playing out of position and doing things that they wouldn't usually do," Graves said. "Everyone is comfortable now. Everybody knows the offense and everybody knows the defense."
RELATED: Men's basketball team plagued by injuries entering Big Sky Tournament
In the 2016-17 season, Graves averaged 14.2 points and 5.8 assists per game and led the conference in assists.
"My main challenge was getting back in shape. You lose all your muscle and that so quick," Graves said. "Then just getting my skill set back, getting in the gym everyday, you know the coaches do a great job and the managers do a great job."
Junior center Joshua Patton was second on the team in scoring with 10.9 points per game and 1.8 blocks per game.
RELATED: Chris Webber delivers speech at Sac State
"My goal is to do whatever the team needs," Patton said. "If that's me scoring a lot on one night, that is what I'll do. If it's me just playing good defense and rebounding and blocking shots, that is what I'm going to do. I'm just going to do whatever I can to help us win a game."
Patton believes the team has learned from now-graduated forward Strings.
"He just taught me to be very aggressive when I had the opportunity and just to play hard all the time, because he always played hard day in and day out, at practice or games he always played hard," Patton said.
The Hornets' basketball season begins tonight at home in The Nest against Simpson University.