One woman arrested following 30 vehicle break-in at Sac State
Three other women are still at large, campus police say
One woman was arrested Tuesday in connection to the 30 vehicle break-ins at Sacramento State that occurred Monday morning, according to a crime alert sent by campus police.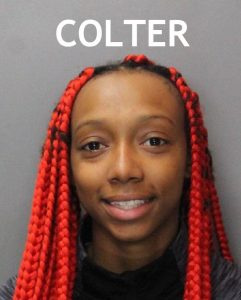 Cherridy Colter, 18, was arrested on charges connected to the thefts and for an outstanding warrant, according to the alert. Campus police said she was arrested when they located and stopped the olive-green jeep that was identified in a surveillance video taken Monday.
Colter was booked into the Sacramento County Jail on Tuesday. She was released the same day, according to Sacramento County inmate information logs.
RELATED: 30 vehicles broken into early Monday at Sac State
Campus police said they are still looking for additional suspects involved in Monday morning's vehicle window smash thefts.
Witnesses and other individuals who may have information about the incident are encouraged to contact the Sacramento Valley Crime Stoppers tip line at (916) 443-HELP or the Sac State Police Department at (916) 278-6000.