Sophomore brings experience, excitement and expectations to the pitch
An insight to the mindset of Sac State's dynamic forward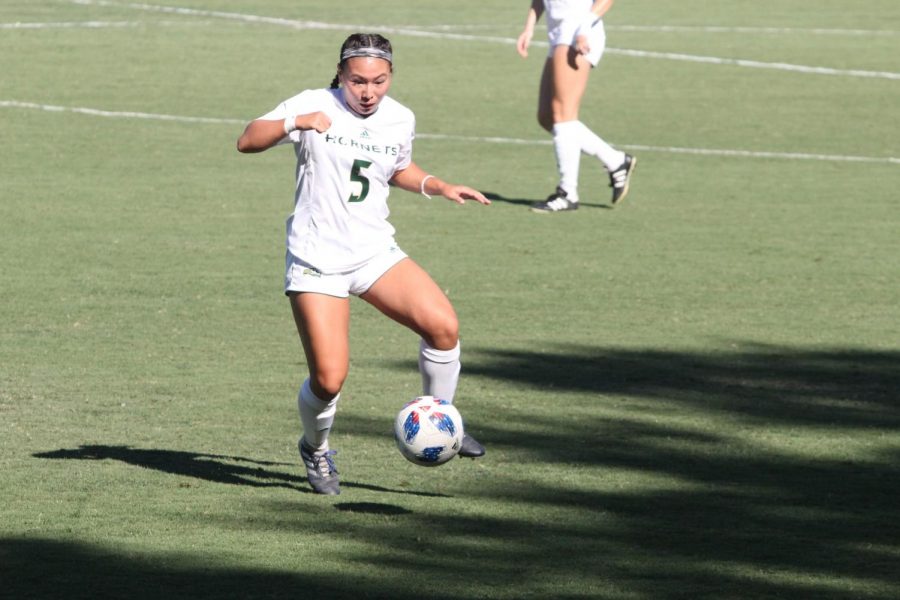 Controlling the pass from a teammate, dribbling past two defenders and slotting it past the keeper, Sacramento State sophomore forward Kylee Kim-Bustillos scored her first goal of the season.
With her opening goal of the game against California State University, Northridge on Sunday, Kim-Bustillos showed she is a force to be reckoned with.
Head coach Randy Dedini said that it was no surprise that Kim-Bustillos was able to compose herself to earn the goal.
"She, in my opinion, is the most dangerous attacking player in the entire Big Sky Conference," Dedini said.
Following her goal, Kim-Bustillos' turned up the intensity through her efforts to win possession of the ball every time the opponent passed it to the full backs.
Kim-Bustillos' effort became a catalyst that teammates would feed off of, and with every ball possession won back, Sac State played more quality soccer with an increase in frequent shots and more attacking chances created.
Kim-Bustillos' says her style of play revolves around her mentality of working hard. Listed on the team's website as 5-foot-2-inches, she finds ways to be an effective forward and a clinical part of the team.
"I'm not the biggest player; I had to work really hard to get to where I am," Kim-Bustillos said. "I need to always work harder and figure out what I can do better to play my best game."
She said playing youth soccer back home in Hawaii has molded her style of play.
"In Hawaii, a lot of kids are really small and fast, and Hawaii kids have a lot of heart in sports," Kim-Bustillos said. "We will put a lot of emotion and hard work into our play. I take it very seriously and to heart when we lose, a lot of emotions go into the game when I play."
After scoring her first goal of the season eight minutes into the game, Kim-Bustillos kept up strong play on defense and disrupted CSUN's style of playing out the back, according to Dedini.
Kim-Bustillos said she prides herself on being an unselfish teammate, even though her position demands her to take the extra dribble, she said she would rather put her teammates in a better position.
In her freshman year, she had the second most points earned as an individual player in the Big Sky Conference. Kim-Bustillos said that she finds the competition more difficult now that she has made a name for herself.
"People know how I play now, so it's just a lot harder to score, but I'm just trying to get involved in plays and do my best to help the team get a win," Kim-Bustillos said.
Dedini says Kim-Bustillos' personality off the field is what makes her an outstanding teammate.
"She's fantastic, she's a total sweetheart," Dedini said. "Her teammates love her because she's very flamboyant. But she's just as good, if not better, off the field as on."
Parallels can be drawn from Kim-Bustillos' unselfish style of play to her aspirations off the field in her major of kinesiology and, after graduation, to be a K-9 physical therapist.
It is Kim-Bustillos' personality and mentality that separated her from the rest of her peers back in Hawaii. Her mother, Keri Kim-Bustillos, believed in her daughter enough to support her throughout her youth soccer career, and can vouch for all the hard work she has put in.
"She is an extremely hard worker. She puts in the extra time," Keri Kim-Bustillos said. "She is so small, so she has to work for it. A lot of her coaches will say that she is a super hard worker. She knows how to persevere through hardships."
When asked how it felt to see her daughter receive a scholarship from Sac State, she said, "I am extremely proud of her, it's extremely hard to receive a scholarship. She fell in love with the school when she went there."
Kim-Bustillos' mother, similar to Dedini, described her daughter's personality as being outgoing and intense.
"She has a big personality," Keri Kim-Bustillos' said. "People kind of are gravitated towards her. She's like a firecracker."
Following Kim-Bustillos' goal on Sunday, she turned the intensity up through her efforts to win possession of the ball every time the opponent passed it to the full backs.
Kim-Bustillos also had a creative attempt at a back heel goal received from a cross outside of the box in the 68th minute, but did not connect with the ball enough to find the back of the net.
Dedini recalls the attempt and said, "Her soccer IQ is really high, sometimes she's thinking the game a little faster than others."
Kim-Bustillos says she plans to uphold the team's focus word for the season "relentless" in preparation for the upcoming conference games starting Sept. 21 against Eastern Washington University.