Second cyclist hit by car near campus in single day
Ambulance transported injured rider from the scene
For the second time in a day, a vehicle struck and injured a male cyclist at an intersection near Sacramento State on Tuesday.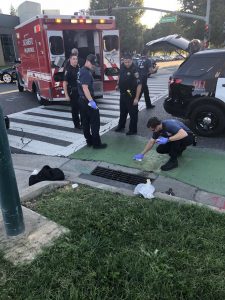 The second incident happened at the College Town Drive and State University Drive on the east side of campus.
Lt. Christina Lofthouse of the Sac State Police Department said that it appeared the cyclist was crossing the crosswalk while the vehicle was making a turn onto State University Drive, but said how the accident occurred is still under investigation.
The driver, who said he was not a Sac State student and refused to give his name, said that a glare from the sun had obstructed his vision while making the turn onto State University Drive. The driver said that he hoped the cyclist recovered.
It is not confirmed if the cyclist was a Sac State student.
The cyclist was taken away in an ambulance, but Lofthouse would not confirm the extent of his injuries, although confirmed he was injured.
Police have not determined if either party was at fault.