Memorial held for deputy killed in Rancho Cordova shootout
Sacramento County Sheriff's deputy and Sac State alumnus Mark Stasyuk remembered
California peace officers and community members gathered to commemorate the life of Sacramento County Sheriff's deputy Mark Stasyuk at Bayside Church in Roseville on Saturday.
Stasyuk died in a shootout Sept. 17 after responding to a disturbance at a Pep Boys Auto Shop in Rancho Cordova. He attended classes in 2016 at Sacramento State as a criminal justice major.
Shaun Hampton, a spokesman for the sheriff's department said there were around 1,200 officers in attendance from different police departments that came to honor Stasyuk.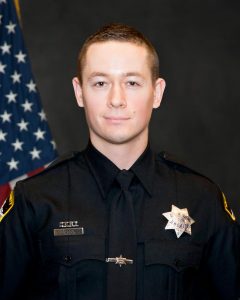 RELATED: Sheriff's deputy killed in Rancho Cordova shooting attended Sac State
The memorial was conducted in both English and Russian, often times with translators, and bagpipes were provided and played by the Sacramento Fire Fighters Pipes and Drums.
After the memorial, a procession traveled from Bayside Church to Highway 80 and ended at East Lawn Memorial Parks and Mortuaries in Sacramento where a second private service was held to lay Stasyuk to rest.
Sacramento State President Robert Nelsen was in attendance and gave his condolences to Stasyuk's family. Nelsen said he plans to find a way to honor him at the spring graduation ceremony.
"Today's a very sad day for the hornet family," Nelsen said. "It's been a sad two weeks but Mark represents the best of the hornet family. I'm very proud of him. He sacrificed his life so that we have a better world. We feel for his family and they'll always be a part of the hornet family."
Through a translator, Alex Shevehenko, Stasyuk's church pastor, spoke well of the fallen officer and recounted a story that a woman who worked with Stasyuk at a Walmart many years ago told him.
"His coworkers; he always helped," Shevehenko said. "[And] for his coworkers who didn't speak English, he would always translate. For the old women, he would always lift heavy objects."
Stasyuk started as a deputy sheriff in 2014 and worked in the Sacramento County Main Jail where he was then transferred to the Rancho Cordova Police Department.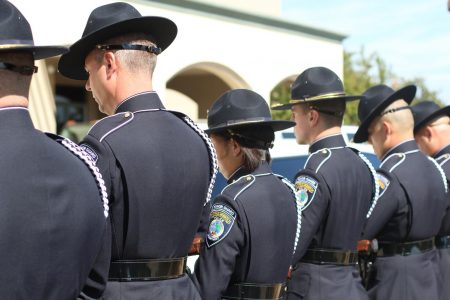 Sheriff Scott Jones recalls swearing in Stasyuk in 2014 and how eager the new deputy was to start his career in law enforcement
"I remember reading the bio and thinking there's no way in hell that I'm going to properly pronounce that name," Jones said, adding that he sent an assistant to verify the pronunciation and Stasyuk had replied, "You can pronounce it anyway you want."
Stasyuk's supervisor Frank Fermer recalls how Stasyuk could easily diffuse tough situations.
"As a new supervisor, Mark was everything I could have asked for in a team," Fermer said. "Mark could diffuse these situations in a joke. He had a calmness and professionalism that belied his relatively short time on the force."
Stasyuk's father, Vyacheslav Stasyuk was very proud of his accomplishments and remembers his son as, "a cheerful son, who his parents were never ashamed but were extremely proud."
Oleg Manzyuk, the translator for deputy Stasyuk's father, also commented on the officer's impact on the Slavic community.
"My brother in-law said he couldn't remember the last time he saw a Russian name in the newspaper and it wasn't for some crime or some fraud," Manzyuk said. "Mark was a pride not just for the law enforcement, but for the Slavic community."