Senior gymnast conquers overthinking, years of foot injuries en route to postseason
All that stood between a trip to the NCAA Regional in front of more than 15,000 fans and Sacramento State senior Annie Juarez's career ending was a score of 9.150 or above on the uneven bars in her last routine of the regular season — and a 45-minute wait.
Juarez's entire gymnastics career consumed her mind during the six-team meet, which meant that two teams sat out every rotation as four competed.
After the Hornets completed their vault event, they waited 45 minutes to finish. In the final rotation, Sac State would be competing on bars, the event Juarez said made her want to "hurl" before every meet.
But as long as Juarez — who said bars didn't come naturally to her growing up — didn't fall, she would easily eclipse the mark of 9.150. However, she said that bad thoughts kept creeping into her head as she remembered she had fallen during bars in four of 11 meets this season.
The 45-minute wait time was going more slowly for her than she thought it would go, and she thought about injuries that have prevented her from competing in a full season since she arrived on campus in 2015.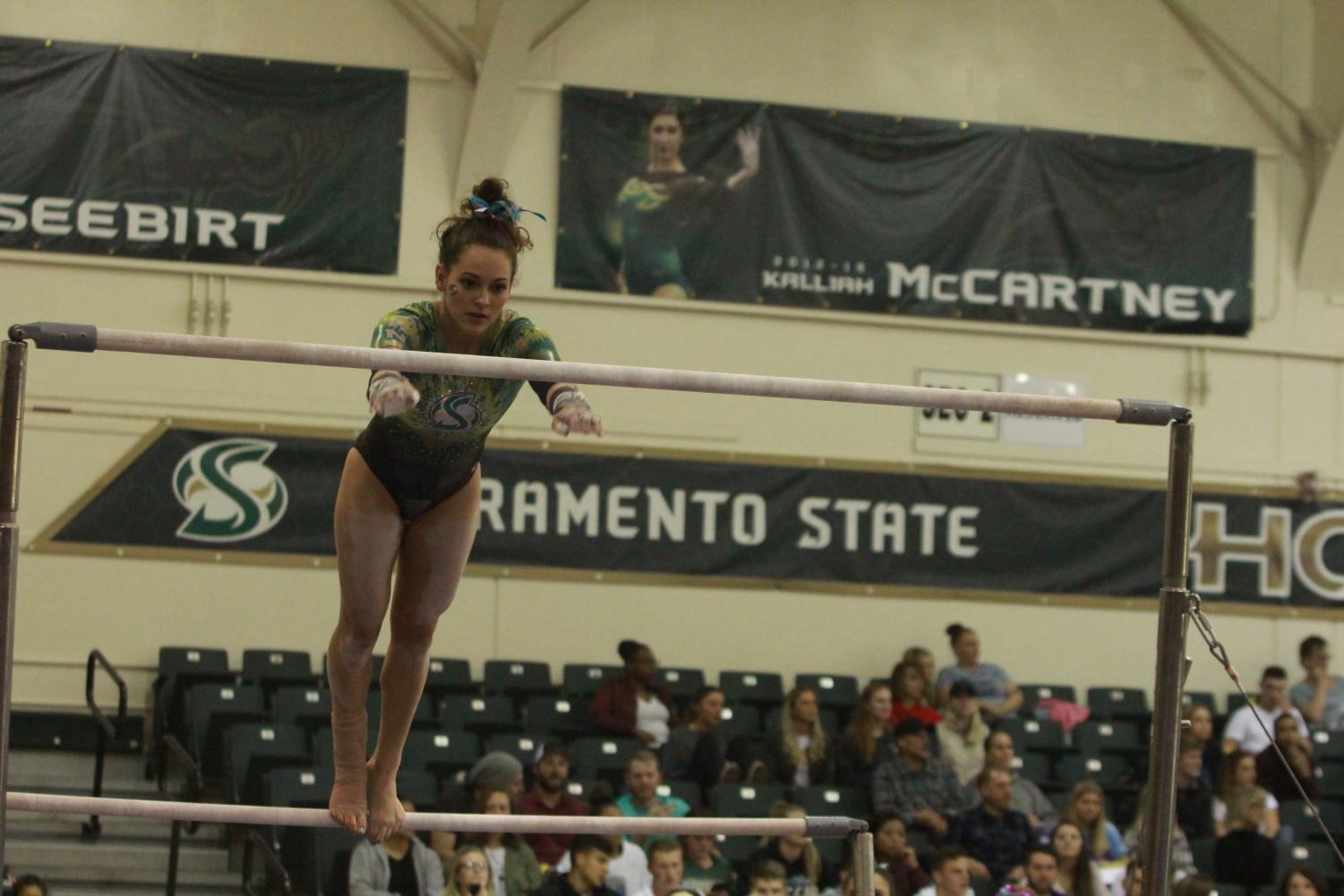 Her mind also wandered to how, as a child, she would constantly watch and rewind her copy of the 2007 NCAA women's gymnastics championship held at the very location — the University of Utah in Salt Lake City — that she had a chance to qualify for.
"I really did start to overthink it," Juarez said. "I knew I was just one event away from going to regionals, and bars have been hit or miss all year. It got to me a little.
"If I continued to overthink, I knew I'd go down a dark path and my mind would not be in the right place, so I joked to my teammates and tried to stay moving as much as possible to keep my mind off of the pressure."
The first half of her routine went as planned, and Juarez said she knew at that time her career would be extended until at least Saturday.
"I had to calm down and tell myself that my routine is not over," Juarez said.
The senior from Westfield, Indiana landed her bars routine cleanly and qualified for an NCAA Regional for the first time in her career as an all-arounder.
RELATED: Trio of Sac State gymnasts qualify for NCAA Regional
"If you had told me a year ago I would be here, I would say you're crazy," Juarez said.
Juarez has endured injuries her entire life, but it was never enough to keep her out for extended periods of time as a youth. Growing up, she competed in top meets and at times even had higher scores than gymnasts who would go on to elite gymnastics schools such as UCLA and the University of Denver.
She continued that pace from the first time she stepped on the mat in her first meet as a freshman in 2015 after she scored a 9.825 on floor and a 9.750 on the vault against Stanford and Cal in the NorCal Challenge.
She then competed at a high level for the next five meets before her season ended after doctors were afraid her foot would fracture.
Juarez then missed her sophomore season due to her foot, which doctors had to put a screw in.
"She was very positive, and she always helped out with music and cheering," said senior teammate Jennifer Brenner.
During her junior season, Juarez said she competed in six meets with what she thought was a major foot injury. After the season, her doctors confirmed that she had indeed fractured her foot. This left her considering an end to her collegiate career after missing 22 of 34 meets in her first three seasons at Sac State.
"I was nervous my foot would never heal," Juarez said.
Juarez had the surgery, and still, she didn't know whether she wanted to come back. She was on crutches for six weeks over the summer and then made the decision to come back and go through rehab.
"A lot of it was learning how to run properly and not put pressure on the wrong parts of my foot," Juarez said. "Everything in rehab this year was basically for survival because my foot is so messed up."
When the season began in the NorCal Classic at Stanford on Jan. 8, Juarez had been told by doctors that her foot wasn't fully healed. However, she was in a position to compete in three events for the first time in her career and decided to not pass up the opportunity.
Juarez then competed in four events during the following meet as an all-arounder for the first time in her career. During her first three meets in that spot, she counted at least one fall and failed to score above a 38.
Everything changed as the calendar rolled from January to February and the Hornets took a trip to the University of Alaska Anchorage on Feb. 3. She started the meet with a career-high on the balance beam and then hit an even higher score on floor before hitting a solid score on vault to set herself up on bars.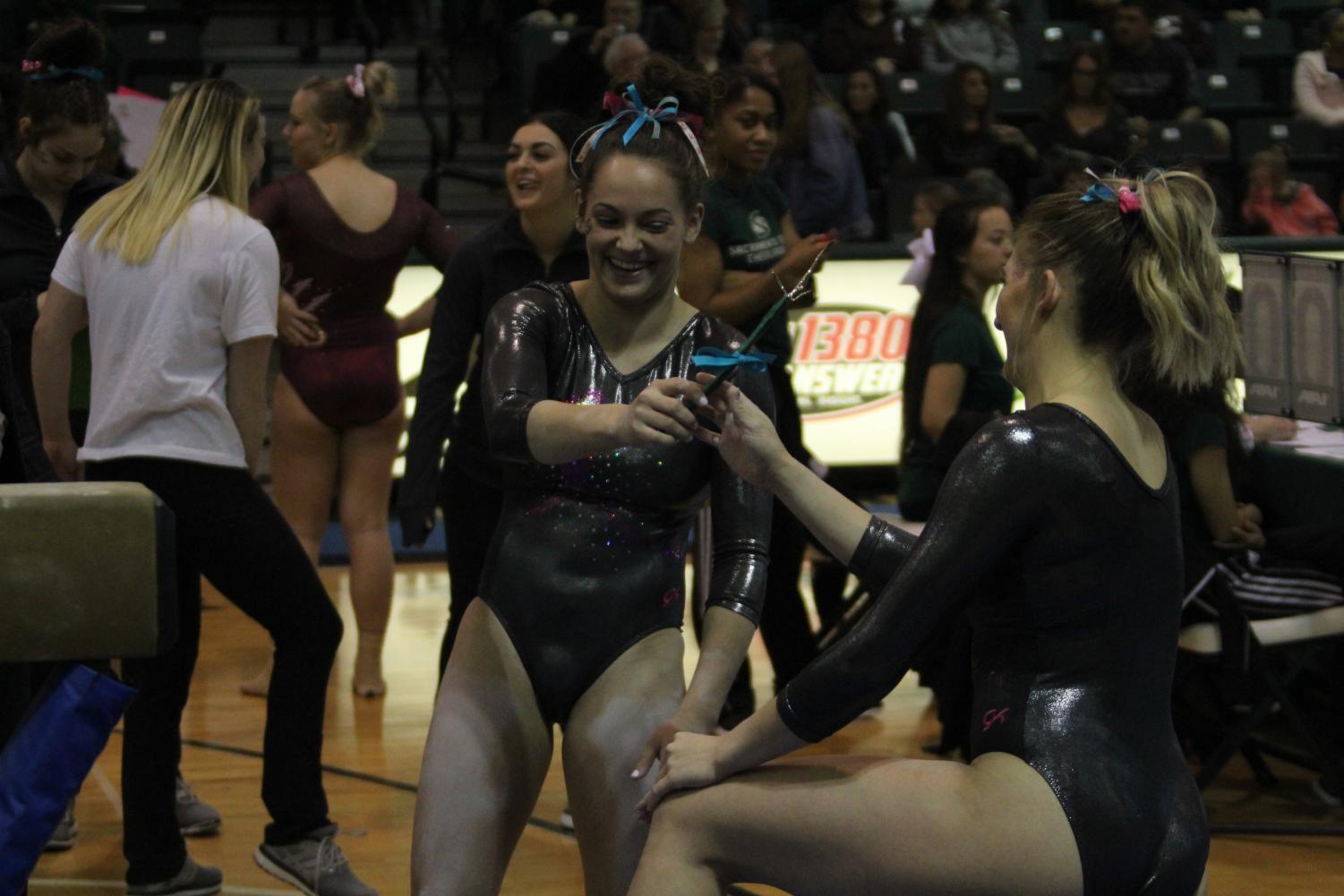 On bars, Juarez said everything clicked during her most challenging event and she nailed skill after skill before finishing with a perfect landing. After punching the air and jumping with excitement, she hugged and celebrated her teammates after earning a career-high score of 39.125 as an all-arounder.
"Those inconsistencies at the beginning of the season were growing pains," said coach Randy Solorio. "With her patience and her perseverance, all of a sudden her confidence was, 'Oh, I can do this.' "
She hit career highs in her next two meets and by the time the team reached its final meet of the season, Juarez had five meets with a score above 39. All she needed was a score of 38.575 to clinch a trip to an NCAA Regional.
Juarez experienced three strong routines on beam, floor and vault before qualifying for the postseason in the event she found the most difficult.
"For her to come back from all of her injuries is just an underdog story in itself," said senior Caitlin Soliwoda. "I've watched her all four years struggle; most people would just quit with the pain she is still in."