Trio of Sac State gymnasts qualify for NCAA Regional
Sacramento State senior gymnasts Annie Juarez, Caitlin Soliwoda and Courtney Soliwoda all qualified for a spot in an NCAA Regional after the regular season ended at the Mountain Pacific Sports Federation Championships on Saturday.
Juarez and Caitlin Soliwoda will be competing as all-arounders, while Courtney Soliwoda qualified as an event specialist for the meet in Salt Lake City.
Juarez came into the MPSF Championships needing a score greater than 38.575 in the all-around to pass San Jose State senior Kaitlin Won and qualify for an NCAA Regional. Juarez calmly knocked down routine after routine and shattered the score she needed with a 39.200.
"I'm feeling really excited and so thankful," Juarez said. "I've been waiting for my opportunity to show what I can do for a long time and I'm so happy I have proven myself. I can't wait."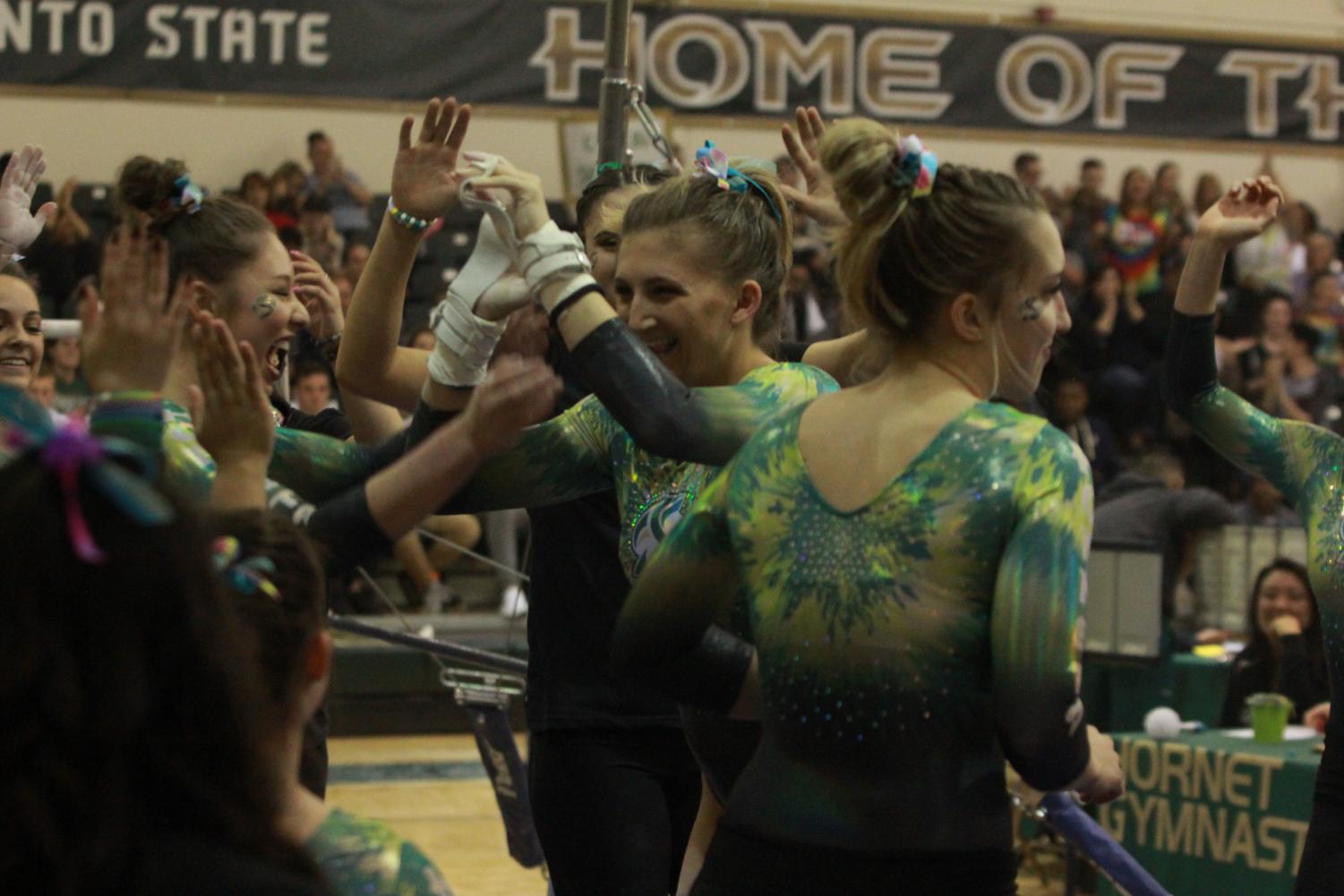 Sacramento State senior gymnast Caitlin Soliwoda celebrates after competing on the uneven bars at the Nest on Friday, March 9, 2018. Soliwoda was one of three Hornets to qualify for an NCAA Regional.Caitlin Soliwoda qualified for the postseason for a second consecutive season after scoring a 39.000 as an all-arounder in the meet.
"Not a lot of people can say they qualified to regionals," Caitlin Soliwoda said. "It's super exciting, and I'm extremely humbled by it. It's going to be my last meet ever, so I'm going to go all out and have an absolute blast."
Courtney Soliwoda qualified on beam for a second consecutive season and tied for the final spot on the uneven bars with Gabby Landess of UC Davis.
Each regional will consist of six teams and the individual qualifiers on April 7. The top two teams will qualify for nationals on April 20.
On top of that, the top two all-arounders who aren't on national qualifying teams will advance to the championships.
Last season, Caitlin Soliwoda finished with a score of 39.025 in the regional which was shy of the 39.300 that was needed to qualify for nationals.