High-powered offense leads softball team to success
The Sacramento State softball team has built off its record-breaking season last year with a high-powered offense in 2018.
The Hornets (20-11, 6-3 Big Sky Conference) are coming off a 2017 campaign where they broke a program record for home runs in a single season with 45. Despite only hitting 18 home runs this year, Sac State has hit .300 as team which ranks 38th in the nation.
One of the main reasons the Hornets have been successful at hitting this season has been due to  the play of sophomore outfielder Suzy Brookshire.
Brookshire — who broke the program record for home runs in a single season with 15 last year — is second on the team with a .402 batting average in addition to leading the team with 11 home runs and 40 RBIs.
"From last year to this year, I have been more aware of my opportunities to have more productive at-bats," Brookshire said. "Looking back from last year, I know I could've done better in a lot of situations.
"Even talking to my coaches and my parents, I knew there were times where I had an at-bat get away from me. This year, I have been really trying to take advantage of opportunities I have that I might have missed last year."
Brookshire, who had a 17-game hitting streak prior to going 0-for-2 against Portland State on Thursday, said it makes her happy to have a higher batting average (.358) than last season.
"It takes a little pressure off of me because I know walking into this year I felt like there was a lot on my shoulders," Brookshire said. "Even if it was just unspoken, I just felt it.
"I might've been putting the pressure on myself, but it is nice to know that I have more dimensions than it may seem to some people on the outside. I like knowing I am a threat in a lot more cases than just one."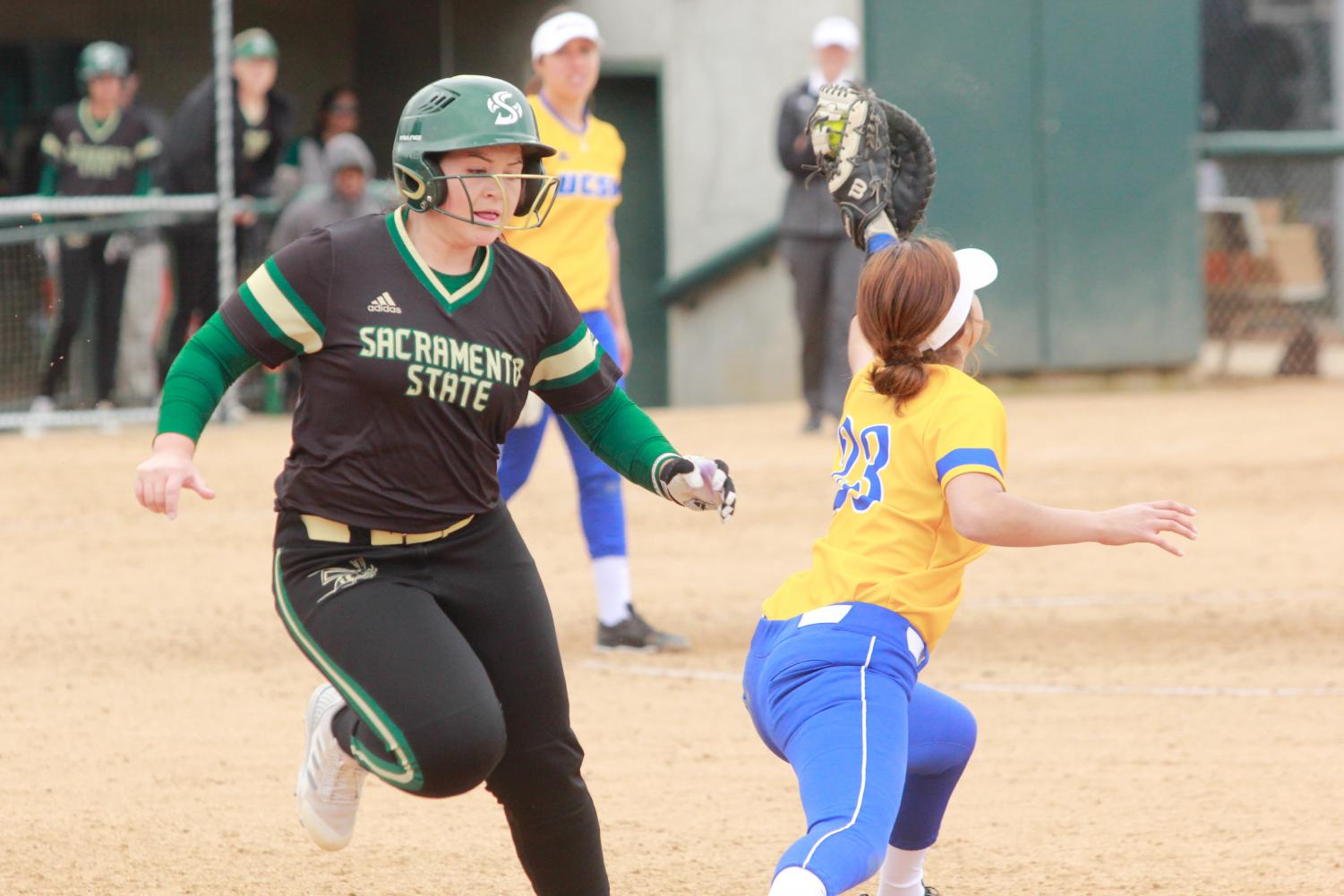 Senior second baseman Zamari Hinton and junior outfielder Nene Alas have also helped lead the charge, in addition to Brookshire, at the top of the lineup.
Hinton, who has not striked out in 112 at-bats this season, has a team-leading batting average of .411 with 13 RBIs in addition to having a 19-game hitting streak, which is two games away from tying the Division I program record for Sac State.
Alas, who had a batting average of .207 last year, has a batting average of .352 with seven RBIs. This batting average increase has come as no shock to Sac State coach Lori Perez.
"We felt as a staff that this was going to be the year that Nene would take off," Perez said. "We made some systematic changes to what she does at the plate just to simplify things a bit and made some mechanical changes that have really helped her."
Perez said the mix of having more experience and assistant coaches Vicky Rios, Danielle Kaminaka and Jim Wetzel have allowed the Hornets production to take off in the batter's box.
"The three of them have done a great job working with the team, preparation wise, for every scenario they might face," Perez said. "Breaking down (the players') swings and making sure that they are efficient, balanced and powerful.
"So when we hit a ground ball, it is hit hard and not just an easy out. What we do in the box, we want to have command of what we are doing and ultimately drive the ball hard and make the (opposing) defense make plays."
In addition to the offense, the Sac State pitchers — which have combined for a 3.19 ERA in 210.1 innings pitched with 168 strikeouts — have held their own throughout the season. Senior pitcher Celina Matthias, who earned Big Sky Pitcher of the Week honors after her performance against Portland State over the weekend on April 9, said she thinks her and the staff are doing well despite only having three pitchers.
RELATED: Sac State softball team sweeps Portland State
"We're used to having four or five so everyone gets enough time for rest, but I think we have been really nailing it down with just the three of us," Matthias said. "I think it is really good also that we have connected, not just on the field but off the field (and) I have a lot of respect for what (sophomore pitcher) Danielle (Sperry) and (junior pitcher) Savanna (Corr) do on the field."
Matthias, who has a 2.10 ERA in 120 innings pitched with 120 strikeouts this season, has been the anchor for the pitching staff and Perez said she has been proud of the three pitchers' performances thus far.
"We're a staff that has had to grind it out all year," Perez said. "We have had to rely on our defense in key moments. To me, it doesn't all fall on them; we have to set a tone.
"We're going to take it as it goes and continue to throw punches (and) all I can ask is that (the pitching staff) come out, work and be hungry, and they have been doing that."
Sac State will continue Big Sky play against Idaho State — which has eliminated the Hornets in the Big Sky Tournament in back-to-back seasons — on Friday and Saturday at Miller Ranch Stadium in Pocatello, Idaho.