Sac State softball team sweeps Portland State
The Sacramento State softball team swept the Portland State Vikings in a three-game series on Thursday and Saturday at Shea Stadium.
The Hornets (20-11, 6-3 Big Sky Conference) were originally supposed to play the Vikings (10-27, 3-6 Big Sky) in a doubleheader on Friday and one game on Saturday, but rain forced the series to be rescheduled, with one game on Thursday and the doubleheader on Saturday.
The first game of the series, which went into extra innings, saw Sac State senior pitcher Celina Matthias throw eight innings of work with nine strikeouts and two hits allowed.
The Hornets' offense, which left 10 runners stranded on base, was unable to score any runs until the eighth inning when sophomore designated player Alexxiss Diaz hit a solo walk-off home run to give Sac State a 1-0 victory.
"The (pitches) before weren't really what I wanted," said Diaz after hitting her second home run of the season. "I didn't even realize how many outs (there were when I hit the home run)."
The Hornets then took game two of the series with a 4-1 victory off the arm of Matthias who threw another complete game. Matthias — who struck out eight batters and gave up one run and three hits — also became the third Sac State player in Division I softball history to win 50 games.
"I was looking at the record book a couple days ago with my boyfriend," Matthias said. "I am really fascinated by that kind of stuff. It's like looking back in history into what Sac State did, and I think that's really cool.
"Ever since I was little, I was like, 'I want to be in a record book. I want to be that person that people remember.' It's a really good feeling to have that on your shoulders, but at the same time, you can't get a big head about it."
Matthias said she could not have gotten those wins without her defense, especially from sophomore catcher Jessica Scott.
"She's getting beat up every single game, and she doesn't get as much appreciation because she's a catcher," Matthias said. "But I appreciate her so much more when she's back there with me because she's like, 'Hey, I'm with you. Let's get this done.' "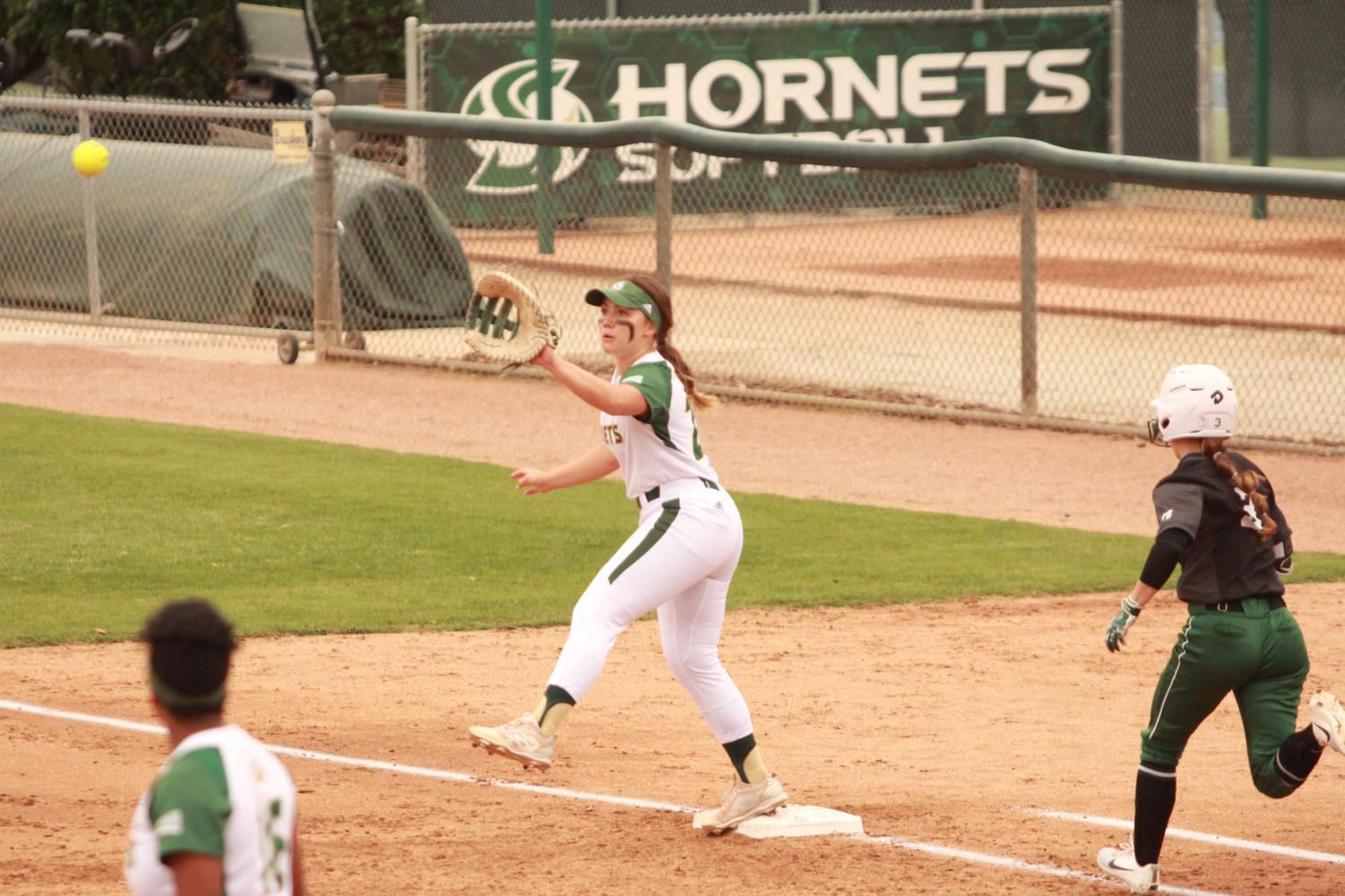 Senior third baseman Marissa Maligad went 1-for-3 with two RBIs, while sophomore first baseman Mo Spieth and senior second baseman Zamari Hinton each had an RBI.
The Hornets then completed the sweep with a 4-2 victory in game three of the series.
Sophomore outfielder Suzy Brookshire went 2-for-3 with three RBIs including a two-run home run in the third inning which was her 11th of the season. Spieth also added an RBi in her 1-for-2 performance.
Junior pitcher Savanna Corr allowed two runs, nine hits and struck out four batters in six innings of work. Matthias, who pitched the final inning with one hit allowed and two strikeouts, earned the save.
Sac State coach Lori Perez said she was proud of her team for winning games without scoring a high number of runs.
"We work, offensively, maturfracturing runs, drawing walks, short game and obviously power," Perez said. "We have really been trying to teach (them that) as long as they stay creative, open-minded, bring together quality at-bats and make each at-bat count, then it develops into more. The fun part about it is that anybody in our lineup can get it done."
The Hornets will next take on Santa Clara University, which Sac State is 3-0 against this season, on Wednesday at Shea Stadium.