UTAPS plans to bring self-driving electric shuttle to Sac State
The commute to and from Sacramento State may become much more cutting-edge as University Transportation and Parking Services (UTAPS) is looking into bringing a self-driving electric shuttle to campus.
The shuttle, which would take commuters from the 65th Street Light Rail Station to campus, is currently in the planning stages by the Sacramento Area Council of Governments (SACOG) — an organization that focuses on transportation funding and planning — UTAPS, the City of Sacramento and Regional Transit.
UTAPS Director Tony Lucas said the ultimate goal of the project is to ease commute times for students who use the light rail.  He said that a dedicated track operating from the station to campus, without having to go through rush-hour traffic on Folsom Boulevard, will help accomplish that goal.
"(The Hornet shuttles are) not hovercrafts," Lucas said. "They just sit right in there with the rest of the traffic, and so what is ordinarily a 12-15 minute loop can be 30-45 minute loop from the station to campus."
According to SACOG Senior Analyst Raef Porter, among the considerations for the self-driving shuttles are where and how the shuttles will run, companies to provide the actual vehicles, safety concerns, legislative hurdles and raising capital.
So far, both Lucas and Porter named the Hornet Tunnel near the football practice field and Folsom Boulevard as potential routes for the self-driving shuttle.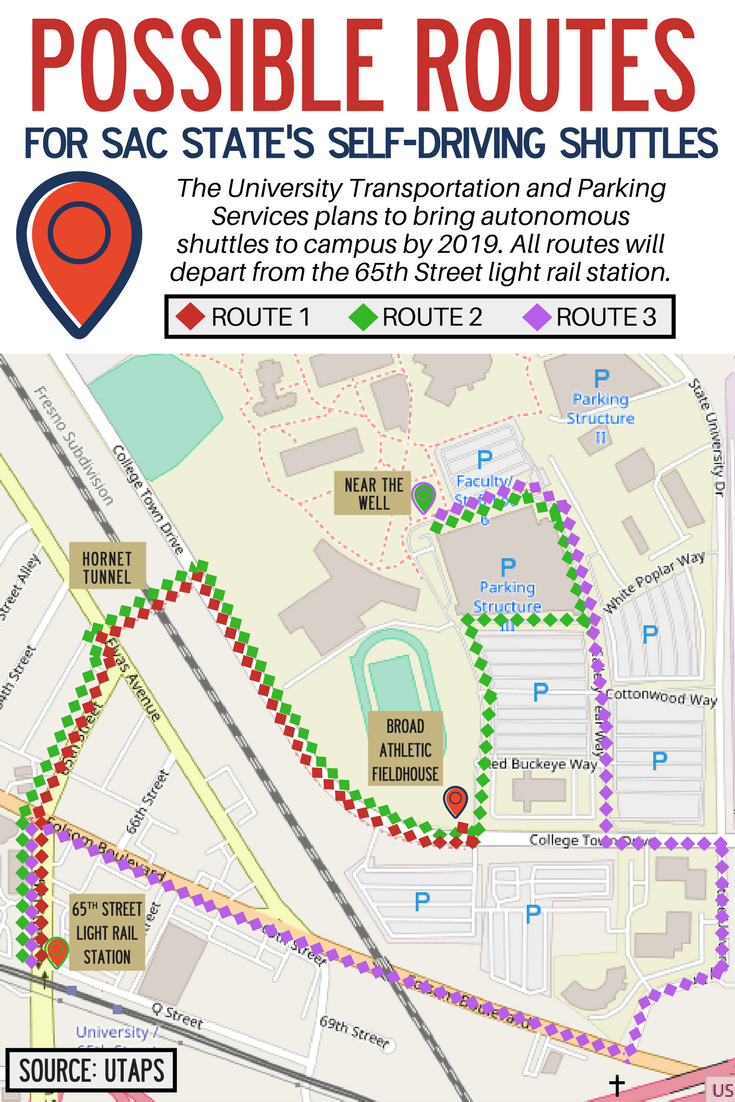 Lucas said that the shuttle should only take up half of the tunnel, if that is chosen as the official route, leaving the rest of the space for pedestrians and bicyclists.
Drake Mather, a junior history major who walks between the Upper Eastside Lofts and campus multiple times a day, said that having the shuttle taking up half of the tunnel isn't ideal.
"It'd suck for people walking and biking through because the shuttle would take up half the road," Mather said.
Despite that, Mather said the general self-driving concept of the shuttle is "pretty cool" and could save him time and energy, as well as provide a sense of security during his commutes.
"It's a long walk," Mather said. "Sometimes, when I'm studying late at night, like for midterms or something, and when I walk here, there's homeless people sleeping or urinating under the bridge."
Like Mather, junior family and consumer sciences major Jessica Ayau said that the self-driving shuttle would also make her feel safer, as she walks through the tunnel after her night class, which typically ends at 8 p.m.
"It's safe because it's faster," Ayau said. "(The tunnel) is kinda sketchy during the day (too)."
The shuttle would be relatively small compared to the current Hornet Shuttle and may seat between eight and 10 passengers, according to Porter and the proposal UTAPS submitted to SACOG's Civic Lab — a group that helps with local development of new and innovative transportation ideas and technologies.
Currently, the city of Sacramento prohibits self-driving vehicles on its public streets. To help make the vehicle a reality for Sac State, Porter said SACOG would provide legislative assistance, such as the possibility of drafting legislation that allows autonomous shuttles to go on public right-of-way,
Porter said talks with self-driving vehicle vendors have already taken place, but the vendors cannot be named due to proprietary reasons, such as specific technological features.
Potential methods for how the self-driving shuttle would navigate roads include GPS and sensors, which would allow the shuttles to communicate with traffic signals.
Porter said major infrastructure changes would not need to be made in order for the shuttle to operate in Sacramento.
Funding for the project would come from state and federal resources, such as Caltrans, with the assistance of SACOG.
(Story continues below this video of an autonomous shuttle demo on campus in March 2016)
For students who wish to use the self-driving shuttle, Lucas said that the cost of the service would be included in the tuition for students and similar to that of the existing Hornet Shuttle.
As for safety, both Lucas and Porter said that the new and unproven technology of self-driving vehicles, however,  makes it difficult to predict future problems.
However, Porter said that safety, both on and off campus will be taken into serious consideration during the planning period, especially when it comes to the tunnel route.
"How do you ensure the safety of not only the people on the shuttle, but anyone else that might be using the tunnel at the exact same time? Do you close access down for that?" Porter said. "I think (an even) bigger question is around on-road safety, and that's not to say that these things are unsafe. It's just those are some of the things we need to be looking at when we choose that route."
Justin Thao, a junior business major, posed the same question. He said that while the self-driving shuttle "seems cool," he does not know whether he could trust a vehicle without any driver. For him, it would also be faster to walk than wait for the shuttle.
Unlike Thao, junior health care administration major Kazoua Yang said commuting with the self-driving shuttle could provide her with a more punctual mode of transportation.  She said she relies on the Hornet Shuttle to get to campus from the light rail station daily, but the shuttle can sometimes be 10-15 minute late.
"One time, I waited 45 minutes until a student passed by and said it stopped at 3 p.m.," Yang said.
In the meantime, Porter said the project will be in the planning stage for the next six months, with a pilot program set to follow once funding, contracts and compliances with regulations are in place — predicted to be in between June and December 2019.
Porter and Lucas said that they hope a self-driving shuttle will provide long-term parking and traffic relief for students, as well as the entire campus community.
"I've seen those parking lots, it's heavily impacted," Porter said. "I think that this particular pilot is really interesting with its connection to not only a large employer, but also a place that all the students are going. You can have a huge impact on parking there, as well as congestion on nearby streets, and that's in everyone's best interest."