Driverless shuttle being displayed at Sac State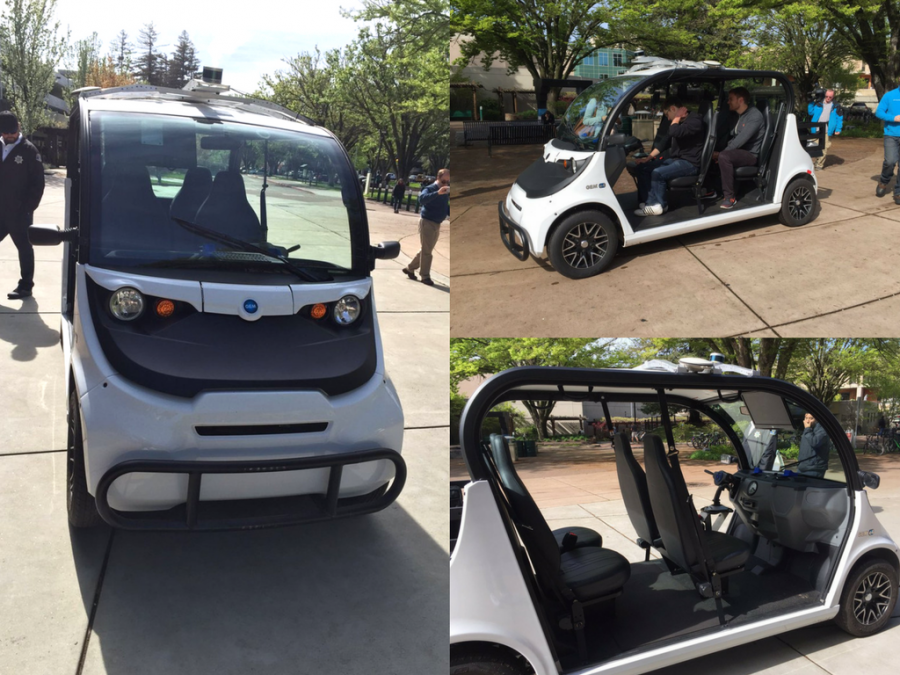 This week, the Sacramento State campus community will get to ride in a golf cart-sized driverless shuttle between Serna Plaza and the steps in front of the Guy West Bridge on Monday, March 14 and Tuesday, March 15, from 10 a.m. to 5 p.m.
The all-electric shuttle is an invention of Varden Labs, a Canadian-turned-American company, based in the Bay Area.
The two-day demonstration will allow students to observe how the driverless vehicle is operated as well as to gain a better perspective of what could be the future of transportation.
Mike Reid, general manager of Varden Labs, said that bringing the vehicle to Sac State would help them test its reactions to different scenarios.
"We think that this shuttle can really help some of the mobility challenges on university campuses," Reid said. "The great thing about these shuttles is that they can operate 24/7. They don't need coffee breaks and they end up being a lot cheaper than what's already out there."
Varden Labs also brought their invention to campus to help reduce the stigma that has plagued autonomous vehicles since the first time the idea was ever mentioned.
"I think the stigma around autonomous transportation is that it's still something of science fiction," Reid said. "So we want to show people that [autonomous transportation] is a solution that's not too farfetched at all."
Anthony Maalouf, senior economics major and student representative of the Transportation Advisory Committee, said the autonomous vehicle is a product of the type of technological path society is heading on.
"This is a huge step forward," Maalouf said. "I just literally took a ride on something that was not being driven by anyone but GPS Satellites."
Junior communication studies major Waleed Safi is also impressed with the invention. He thinks that the driverless shuttle might even be safer than human-operated ones.
"With human drivers, especially when they're in a rush, they'll make quick decisions and that could be dangerous," Safi said. "With a computer, it would think 'wait, [pedestrians] need to get their way and then I can go.' Even though it's slower, at least it can reduce the risk of injury."
Reid mentioned that since the vehicle is still in its early stages of development, a safety driver must be on board when operating to prevent any technical difficulties from happening.
"There's only so many things that you can test in a lab," Reid said. "At a certain point, you just get the technology out in the real world to see how it interacts with scenarios you might not have thought of."