White nationalist group posts propaganda on campus
Flyers and stickers displaying a turquoise and white triangle were found across campus recently in promotion of the white nationalist group, Identity Evropa.
Mariana*, a psychology major at Sac State, saw the flyers and stickers around campus on Oct. 1 and quickly took action, biking around campus and tearing them down.
"I spoke to a couple different student organizations, including MECHA and Brown Issues, just letting them be aware that this," Mariana said. "Right now, students of color might be in danger."
Mariana said she was concerned because posting stickers or gluing posters around campus that belong to a campus organization that hasn't been approved by Student Organizations and Leadership is a violation of university policy. She reported the postings to the Serna Center and the campus police.
Identity Evropa was founded in 2016 by Nathan Damigo, a former student at California State University, Stanislaus.
The group has attended several political forums, including the Berkeley protests in February where anti-Trump protesters and counter-protesters collided. A video of Damigo punching a 19-year-old counter-protester during the brawl went viral, leading to his expulsion from CSU Stanislaus.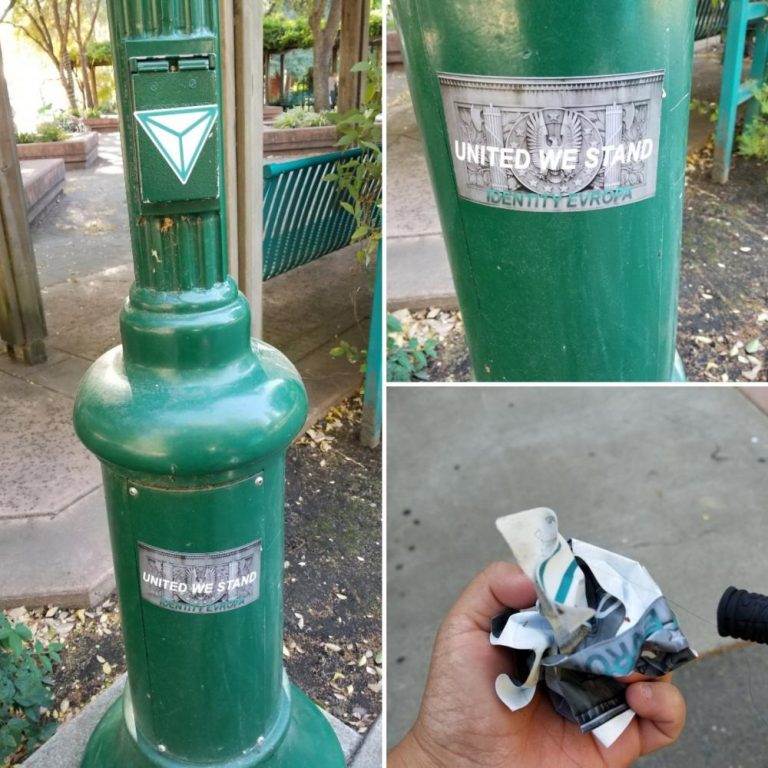 Flyers have been located on campuses all around the country, including Arizona State University, New York University and Ohio State University. The sudden spur of flyers is a part of the group's recruitment push called 'Project Siege.'
"I've seen these (postings) around campus," said graphic design major Cheryl Padlan. "I think, regardless if they were posted with permission or not, they shouldn't be up."
According to Identity Evropa's website, the group has sent activists to over two dozen schools to speak with students. The list does not currently include Sacramento State.
Beth Lesen, the associate vice president of Student Affairs, says the school is aware of the flyers. A team of three to four administrators walk around campus daily, taking down postings that have not been approved.
"You can't just put something up on a random wall — that's not cool to do," Lesen said.
Placing flyers around campus requires approval from Student Organizations and Leadership. SOAL does not look at the content of the flyer as much as if the time, place and manner policy is being followed.
Identity Evropa flyers have been seen around campus previously, and though the team of administrators work diligently to monitor the campus postings, about 50% of postings on campus are illegal.  
Lesen advises that people who are concerned about the posters displayed around campus to report them to SOAL instead of taking them down themselves. Although students, including Mariana, will continue to stand against it.
"We'll be tearing them down no matter what," Mariana said. "There's no room for hate speech, for white nationalism, for scaring students. There's no room for that."
The State Hornet reached out to Identity Evropa for comment, but a response was not received as of press time.
*Mariana asked that her last name not be published due to fear of retaliation
Additional reporting by Barbara Harvey