Transfer quarterback makes Sac State history after surgery
Sacramento State junior quarterback Kevin Thomson was vying for his first snap of college football while playing through pain in his throwing elbow during practices at the University of Las Vegas, Nevada.
Less than one year after signing his letter of intent to the Rebels, Thomson was informed he had torn his ulnar collateral ligament and needed UCL reconstruction, or Tommy John surgery.
"I felt like I injured (my elbow) my freshman year but tried to push through it just being a competitor," Thomson said. "But as time went on, it started to get a little worse."
Thomson played three years of varsity football and baseball at Auburn Riverside High School, 14 miles outside of Tacoma, Washington. During his senior year in 2013 under new head coach Bryant Thomas, he helped lead the Ravens from 1-9 the previous season to 7-3 and a co-league championship.
Following the first four games that season, Thomson threw for 635 yards and seven touchdowns and rushed for 273 yards and five scores as the Ravens started 4-0. A few days later, Thomas received a call from UNLV coach and former NFL quarterback Timm Rosenbach with an offer to join the Rebels.
After finishing his senior season with 2,132 yards of total offense, 24 touchdowns and a commitment to sign with UNLV, Thomson would never get a chance to play one minute for the Rebels.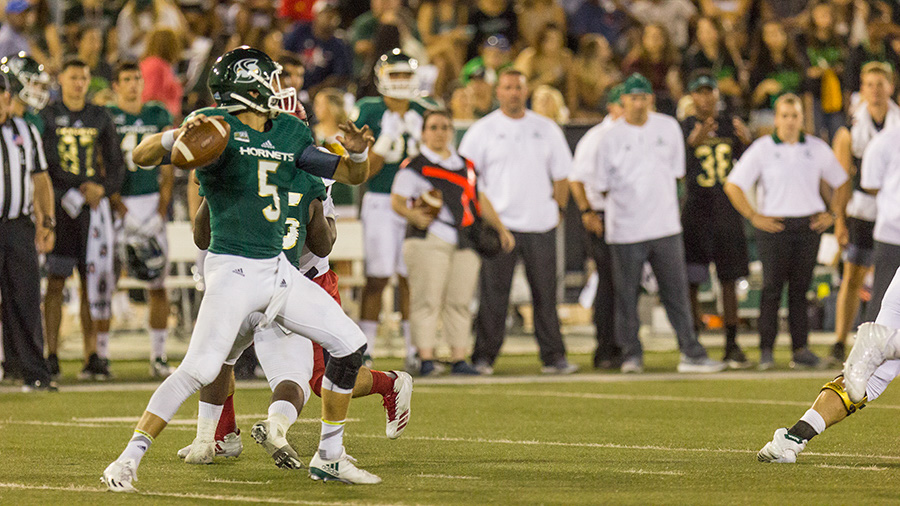 Thomson redshirted his first NCAA season, and after nearly two years rehabilitating from surgery, he spent the 2015 season as a reserve quarterback. He said his father, Jim, was instrumental in his recovery.
"He was the guy that kept me motivated," Thomson said. "I went through some setbacks and had some times when I doubted myself and he just told me 'I believe in you, I've seen (and you know) what you can do and just keep working every day — if you do that, I'll be proud of you.' (That) stuck with me."
After signing with Sac State in January and beating out senior Kolney Cassel for the starting job during the Hornets August training camp, Thomson played his first collegiate game against the University of Idaho Vandals at the ASUI Kibbie Dome and lost 28-6.
"Knowing that he hadn't played in a game since 2013, I knew that first game was going to be a challenge," said Luke Huard, the Hornets co-offensive coordinator and quarterbacks coach. "Kevin (can) scramble and use his feet, but there are a few instances where I want him to use his feet more in the pocket to create throwing lanes."
Following the loss to Idaho, Sac State went 2-1 over a three-game homestand and won as many games as the Hornets had in 2015 and 2016 (2-9 overall). Through four games, Thomson has completed 41-of-87 passes for 798 yards with nine touchdowns and two interceptions. He has also tacked on 216 rushing yards and four touchdowns.
Thomson, who is majoring in business administration, earned Big Sky and STATS Football Championship Subdivision Offensive Player of the Week honors Sept. 25 after Sac State's 54-27 win over Southern Utah Sept. 23. Thomson completed 14-of-26 passes for 253 yards and rushed for 149 yards.
He scored seven touchdowns total — with three in the air and four on the ground — including a 59-yard rushing touchdown in the third quarter. Thomson rushed for more yards and touchdowns in one game than any quarterback in Sac State history.
Sacramento State QB Kevin Thomson on his 7 TD performance in the team's 54-27 win over Southern Utah and his Player of the Week accolades. pic.twitter.com/ZlLxEuyBcW

— Will Moon (@MoonMan0305) September 26, 2017
"He definitely earned (the awards)," said Isiah Hennie, the Hornets senior wide receiver. "He's being smart with the ball (and) doesn't have a bunch of turnovers — he's playing beyond our expectations."
Huard said Thomson started the season reserved as a teammate but has performed consistently as a player in practices.
"As a coach you never know how he's feeling because he's the same every single day (and) he doesn't have a lot of emotional characteristics," Huard said. "He's never going to be a loud guy, but he's starting (to) communicate more with his players about certain routes or techniques or defenses that we're seeing, so you start seeing him verbalizing and get more comfortable and confident."
Thomson's confidence will be put to the test come Saturday when the Hornets play Eastern Washington at 1:35 p.m. Saturday at Roos Field in Cheney, Washington.