Hornets narrowing down quarterback competition
With one week before the season opener, the Sacramento State football team has yet to announce who will start at quarterback Aug. 31 against the University of Idaho.
Following the departure of Nate Ketteringham — the former Hornet starter who transferred to North Dakota last spring — Sac State has considered multiple candidates for a replacement. After two seasons and 15 starts, Ketteringham ranked 11th in program history in passing yards (3,391), eighth in completions (293), fourth in yards per game (199.5) and fourth in 300-plus yard passing games (five), while averaging 15.7 rushing yards per game from 2015-2016.
At the Big Sky Conference media day in July, head coach Jody Sears said the team would select a starter among four contenders — senior Kolney Cassel, junior transfers Kevin Thomson and Wyatt Clapper and freshman Roman Ale.
Cassel, the only quarterback with experience playing for Sac State, appeared in six games over the last two years — including one relief stint in 2016 against Weber State. Since transferring from Southern Methodist University in January 2015, Cassel has undergone three shoulder surgeries that have sidelined him from numerous events, including the Hornets 2017 spring camp.
Through five appearances in 2015, Cassel completed 48 of 80 pass attempts for 521 yards with three touchdowns and zero interceptions.
"He's a really fine passer and I don't think there's any question about that," Sears said. "Obviously, it's the health thing — he's battled it his whole career and lord willing he'll be able to finish out the next couple of days and finish with some consistency."
During his first redshirt season and one year as a reserve quarterback at the University of Las Vegas, Nevada, Thomson suffered injuries and underwent Tommy John surgery — preventing him from playing a snap of NCAA football. Thomson, who drew attention from Sac State with his speed and athleticism, practiced with the team during the Hornets spring camp and said he is excited for a chance to play behind this year's offensive line.
"I think our lines made some really good strides from spring up until now," Thomson said. "I know we're bringing back a lot of guys from last year, so that's kind of encouraging as a quarterback when you have a line with some experience."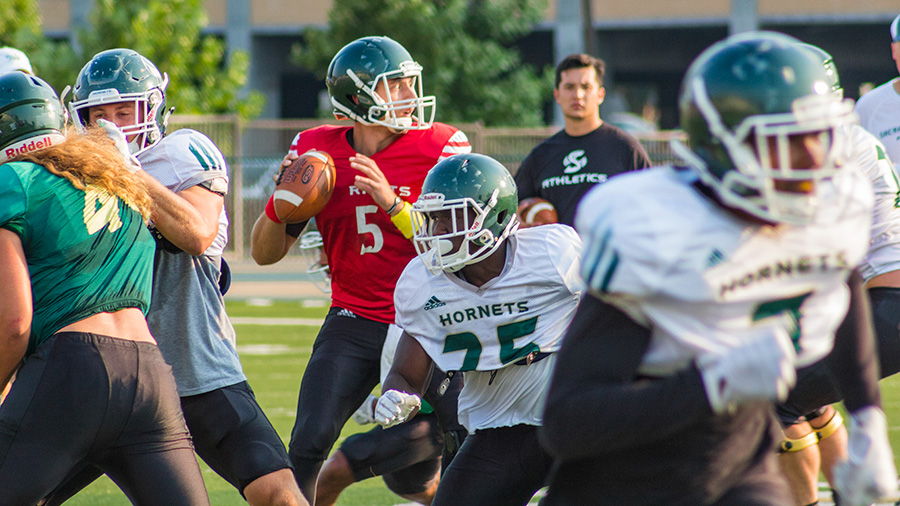 Clapper, the tallest passing contender at 6-foot-3, is also approaching his first season with the Hornets after playing two years at Modesto Junior College. In 2016, Clapper started most of the season, and threw for 2,078 yards and 17 touchdowns with five interceptions. He also ran for seven touchdowns en route to earning all-Valley Conference honors.
After redshirting last season at Sac State, Ale is the only freshman listed among the team's quarterback contenders by Sears. The Southern California native arrived to Sacramento after being named City Player of the Year by the Los Angeles Times in 2016.
In his senior year at Narbonne High School, Ale helped lead his team to a California State Division I-A championship. That same year, he broke a school record with 3,558 passing yards and 45 touchdowns with six interceptions.
Though the winner of the quarterback battle will be expected to help resurrect a program in the wake of two consecutive 2-9 seasons, Cassel said the team has embodied an optimistic outlook, and the quarterbacks have enjoyed the training camp.
"We're making plays in practice and our confidence is up," Cassel said."We're all just having fun — it's a good competition. (We're) all friendly about it and we like watching each other succeed."
It remains unclear whether Sac State will select a lone starter or return to the rotating quarterback strategy used last year. Regardless, sources with the team said they foresee Cassel and Thomson as the two frontrunners. Senior wide receiver Isiah Hennie, who has played with Cassel since 2015, spoke on both players.
"I've caught plenty of passes from Cassel. We've been friends for a long time," Hennie said. "They're both competitors, (Kevin Thomson) and Kolney (Cassel) — so (they're) both going to put us into a position to win."
Additional reporting by Angel Guerrero
RELATED: Five sporting events you may have missed this summer