Hornets subdue Southern Utah 54-27 in Big Sky football opener
Sacramento State opened Big Sky Conference football play with a 54-27 victory over the visiting Southern Utah Thunderbirds Saturday night at Hornet Stadium.
This lopsided win was powered by Sac State junior quarterback Kevin Thomson's historic performance. He finished 14-of-26 for 256 passing yards, three touchdowns and one interception. However, it was his rushing totals — 14 carries for 149 yards and four touchdowns — that helped him tie the school record for most touchdowns (seven) in a single game.
"I think someone asked me about (tying the touchdown record) on the field and it feels good, but regardless of the stat line, we won the game," Thomson said after posting the second most rushing touchdowns in a single game in program history. "So as long as we win the game, I'm happy."
It took less than a minute for the Hornets (2-2, 1-0 Big Sky) to make a big play as junior safety Austin Clark began the game with an interception on an errant pass from Southern Utah sophomore quarterback Aaron Zwahlen. Seven plays later, Thomson hit junior receiver Andre Lindsey for a six-yard touchdown pass to take a 7-0 lead with 11:47 remaining in the first quarter.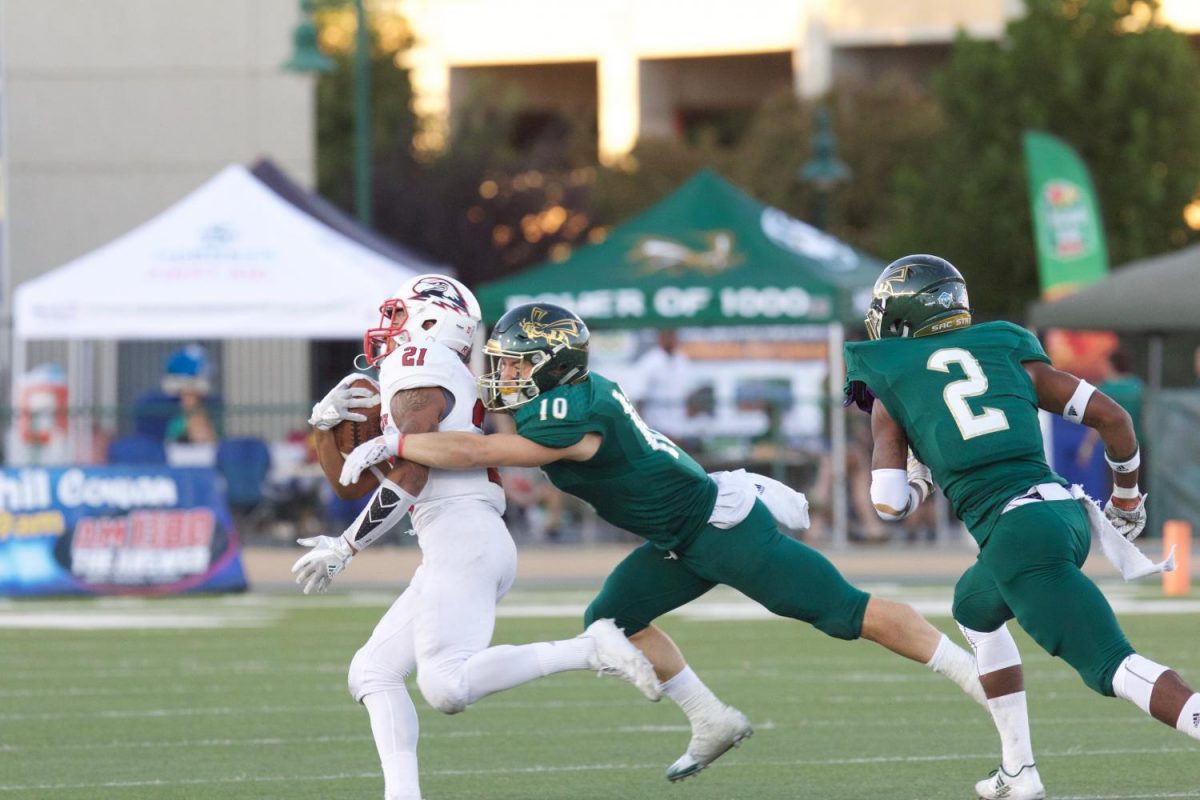 "I know (Southern Utah was) in a really physical game last week and I thought we jumped on them early," said Jody Sears, the Hornets head coach. "I thought we looked fresh, they didn't and the numbers show."
Southern Utah (2-2, 0-1 Big Sky) — which defeated the then-No. 18 FCS ranked Northern Iowa Panthers 24-21 on Sept. 16 — struggled to get its offense going early in the game. However, an interception by senior cornerback Jarmaine Doubs Jr. set up the Thunderbirds with a one-yard touchdown rush by sophomore running back Janiero Green Jr. to tie the game at 7-7.
The Hornets responded with a five-yard touchdown connection in the corner of the end zone from Thomson to sophomore receiver Johnnie Rucker for a 13-7 lead with 13:32 left in the second quarter. This score was set up by way of a 45-yard pass from Thomson to Lindsey — who finished with four receptions for 100 yards and two touchdowns.
A little over five minutes later, Sac State junior linebacker Malcolm Thomas snatched a Zwahlen pass for his second interception of the season. This interception made it 10 on the year for the Hornets, which leads the Big Sky.
"That's our emphasis," Clark said after leading Sac State with 12 total tackles. "You create turnovers and when you create turnovers, you give a great offense the ball more and you put yourself in a position to win games, so we're going to keep on stressing that."
Thomson then threw a 33-yard pass to senior tight end Stone Sander to set himself up for a one-yard rushing touchdown. However, Thomson wasn't finished as he threw a 36-yard touchdown pass to a wide open Lindsey to take a 27-7 lead with 4:08 left in the first half of play.
"He's long, he's fast and he can catch the ball," Thomson said, referring to Lindsey's knack for getting open. "That's a weapon right there. We've been connecting, so far, this year and we hope to continue to do that."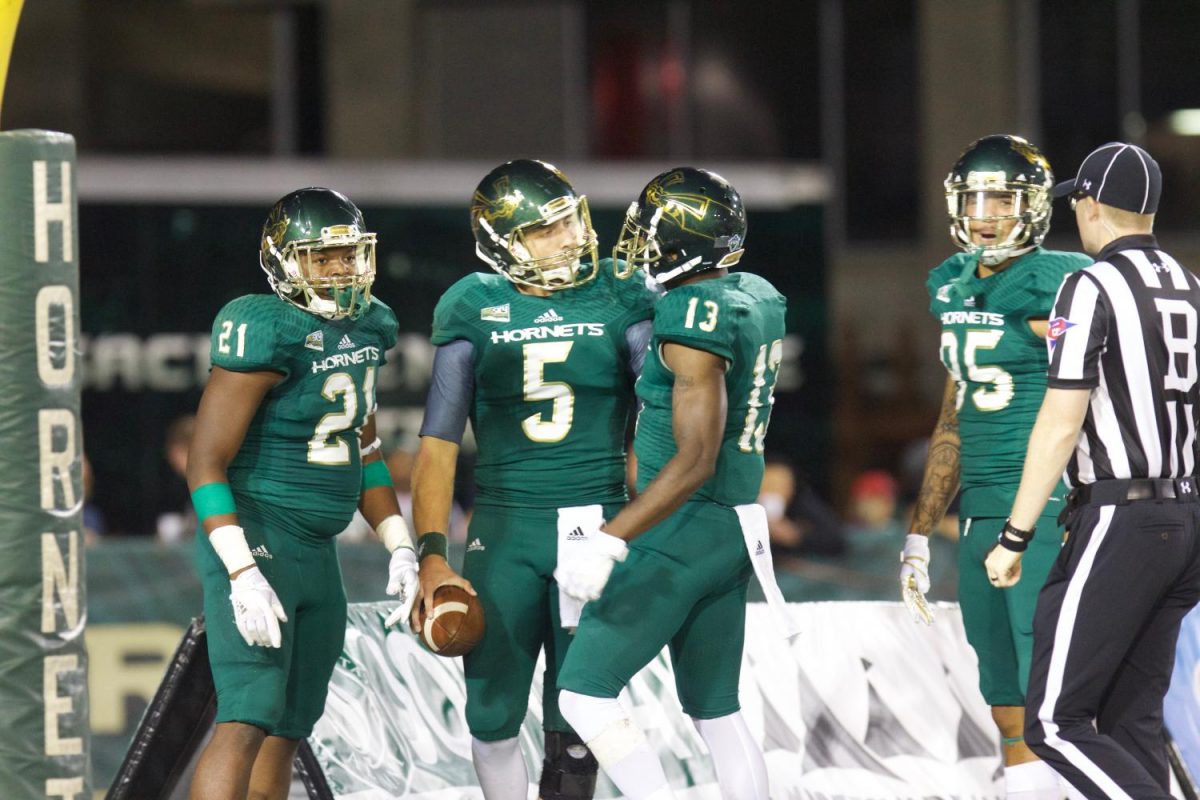 Zwahlen, who finished 24-of-38 for 188 yards with one touchdown and three interceptions, answered right back with a 25-yard scoring pass to sophomore receiver Isaiah Diego-Williams to reduce the Hornets lead to 27-14.
After adding a pair of Sac State field goals to the scoreboard on the leg of junior kicker Devon Medeiros, Thomson decided to use his own feet for a 59-yard rushing touchdown to bring the lead to 40-14 with 6:09 left in the third quarter.
Southern Utah added two straight rushing touchdowns of its own with scores from sophomore running back James Felila to help bring the Thunderbirds deficit to 40-27 with 10 minutes remaining in the game. However, Thomson responded with his legs again on two back-to-back rushing touchdowns to down the Thunderbirds 54-27.
"I'd like to think that he can be the (FCS) National Player of the Week; the Big Sky Player of the Week," Sears said, referring to Thomson's historic performance. "He's a good player, he's a great kid and we had to knock a little bit of the rust off of him in the first couple of weeks and now he's really starting to show up."
The Hornets offense, which entered the game last in the Big Sky with an average of 315 yards per game, finished with 586 yards of total offense with a balance of 253 passing yards and 333 rushing yards. Southern Utah ended the game with 318 total yards of offense while throwing three interceptions and allowing three sacks.
Sac State will continue conference play against Eastern Washington — which defeated Montana 48-41 on Saturday — at 1:35 p.m. Sept. 30 at Roos Field in Cheney, Washington.