Former Sac State stars sign to professional basketball programs overseas
After securing the third-most rebounds in Sacramento State men's basketball history, forward and three-year starter Nick Hornsby will play in Germany for the Giessen 46ers beginning Sept. 24.
Hornsby is among four former Sac State men's basketball players to sign with professional teams outside of the United States this year, including forward Duro Bjegovic (Italy), forward John Dickson (Argentina) and guard Mikh McKinney (Philippines).
After moving to Giessen, a town 33 miles north of Frankfurt with a population of 83,701, Hornsby said his stay in Europe will be his first time living outside of the U.S. — aside from the Hornets nine-day trip to Taiwan in July 2016.
In the weeks before the season debut, Hornsby said he learned to drive stick shift and has spent time outside of practice exploring Giessen and other parts of the country, including the Autobahn, a highway with no speed limit.
"I think at one point we were going like 85, 90 miles per hour," Hornsby said. "We were moving, and people were going faster than we were. It's wild, they just do whatever they want."
Hornsby, who was one of three Hornets to start all 31 games in 2016-17 for Sac State, statistically ranks among the top 20 players in school history in 12 categories: second in games played (123), seventh in steals (133) and fifth in starts (89) and minutes played (2,997).
In August, Dickson signed with the Union de Santa Fe club in Argentina after one season with Club Deportivo Universidad Catolica in the Chilean National League. He averaged 26.6 points per game through 27 games and earned an All-CNL Honorable Mention from Latinbasket.com.
Since graduating from Sac State in 2013 and becoming the second player in school history to be drafted into the NBA D-League (now G-League) by the Phoenix Suns affiliate Bakersfield Jam in 2015, Dickson has also played professionally in Luxembourg, Germany and Australia.
After playing professionally in Belgium, former All-American McKinney followed Dickson to become the third Hornet ever drafted to the G-League and played 31 games in 2016-17 with the Delaware 87ers, the Philadelphia 76ers affiliate. McKinney averaged 5.4 points and 2.5 assists per game and played alongside former NBA veteran Nate Robinson.
McKinney wasn't the only Sac State alumnus to play with an NBA Slam Dunk Contest champion this year. Center Eric Stuteville played with the Sacramento Kings in the 2017 NBA Summer League in Las Vegas, Nevada, where he met eight-time All-Star Vince Carter — who signed a one-year contract with the Kings in July.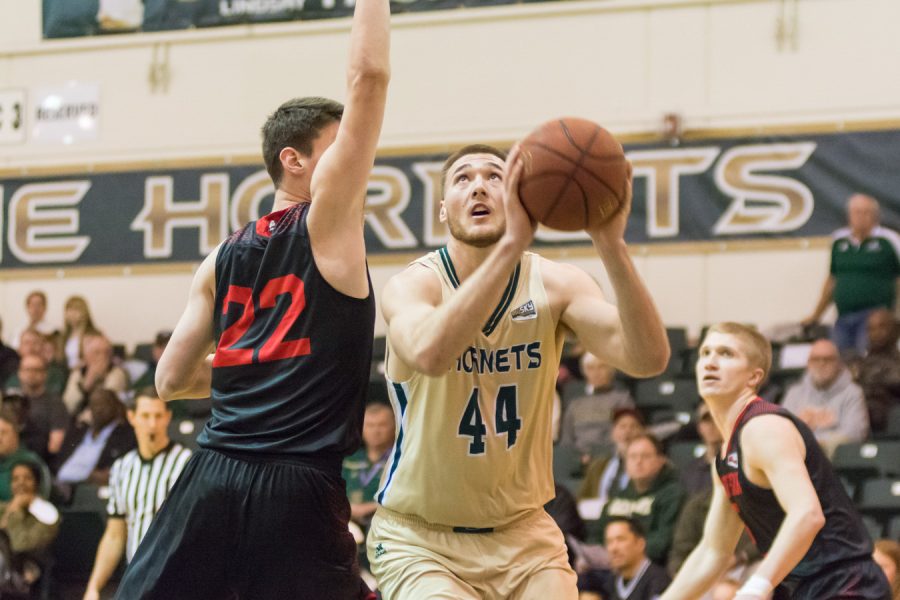 "You see faces that you've seen on TV for a long time and you actually get to be in front of them and talk to them," Stuteville said. "In a sense you want to be starstruck but then again you don't want to because this is the level you're trying to aspire to be at — in the Summer League you don't know when you're going to play so you've just got to be into the game and actually focus rather than getting all your attention onto all the stars."
Stuteville started alongside Hornsby in all 31 games for the Hornets in 2016-17, and holds the school record for most games played (125). Stuteville also became the first center in Sac State history to score 1,000 career points and blocked the most shots (149) in the program's Division I history.
While playing in Las Vegas and practicing with the Kings in Sacramento, Stuteville said he talked to NBA veterans about ways to navigate the league alongside more experienced and robust players.
"Me not being the most athletic person, (they talked about) following some things that you can do to either beat more athletic people or find other ways around to score and rebound," Stuteville said. "Some of the vets playing the game for 10-plus years — they know the little things in the game that translate to (success)."
Stuteville also joined Sac State coach Brian Katz, Hornsby and 14 other former teammates in Livermore, California at McKinney's wedding in June.
Congratulations to former All-American @M_McKinney10 who got married tonight. Many of his Hornet teammates were in attendance. #StingersUp pic.twitter.com/6HoLmVwWbB

— SacHornetsMBB (@SacHornetsMBB) July 1, 2017
Bjegovic, a native of Croatia who played for Sac State in 2010-11 and has since played professionally in five European countries: Austria, Germany, Slovenia and his home country.
According to a Steemit blog post on Sept. 5, Bjegovic said he had planned to retire from basketball this year and move to Newport Beach, California to live with his friend and former Sac State tennis player Blake Emery, who helped found an organic juicing company.
However, delays with the business led Bjegovic to sign for one season with Bim Bum Basket Rende — a lower-tier professional club in province of Reggio di Calabria in the south of Italy. Bjegovic said in the post that he expects this season to be his last, after playing through a series of knee injuries last season with Reyer Venezia Mestre, a professional Italian club outside of Venice.
One former Hornet who did retire from professional basketball this year was Joel Jones, whose 15-year career ended after he was diagnosed with hypertrophic cardiomyopathy, a life-threatening heart condition. Jones underwent surgery to insert a Implantable Cardioverter Defibrillator — a device that helps prevent cardiac arrest — into his heart.
Jones said when doctors explained his condition, they brought up former players Reggie Lewis (Boston Celtics) and Hank Gathers (USC, Loyola Marymount), who were diagnosed with the same condition and both refused the ICD surgery. Gathers died on the court during a game and Lewis died during a practice. 
"It was a no-brainer," Jones said about getting the surgery. "I was upset that I had to stop playing but I was fortunate that they caught it in time."
After signing his first professional contract while playing at Sac State in 2002, Jones played primarily in Puerto Rico, as well as China and Argentina.
In 2004, he was a member of the Puerto Rican National team that upset Team USA in the Athens Olympics, but sprained his knee during the pre-Olympic qualifying tournament. He also played on the national team in the 2007 Pan-American games, when Puerto Rico won the silver medal.
Since he "can't even play a pick-up game" with his heart condition, Jones said he lives with his wife and daughter in Puerto Rico and developed an eight-week preseason skill development program coaching aspiring professionals.
"Be a student of the game and listen to the coach and ask them as many questions as possible about different situations at their position because everybody has a shot, no matter what kind of player you are," Jones said. "If you want to make money, you've got to make it your life during your college career, because when you're done with college, the demand for discipline and dedication overseas — it gets very extreme, and a lot of people can't take it."