5 biggest questions headed into football season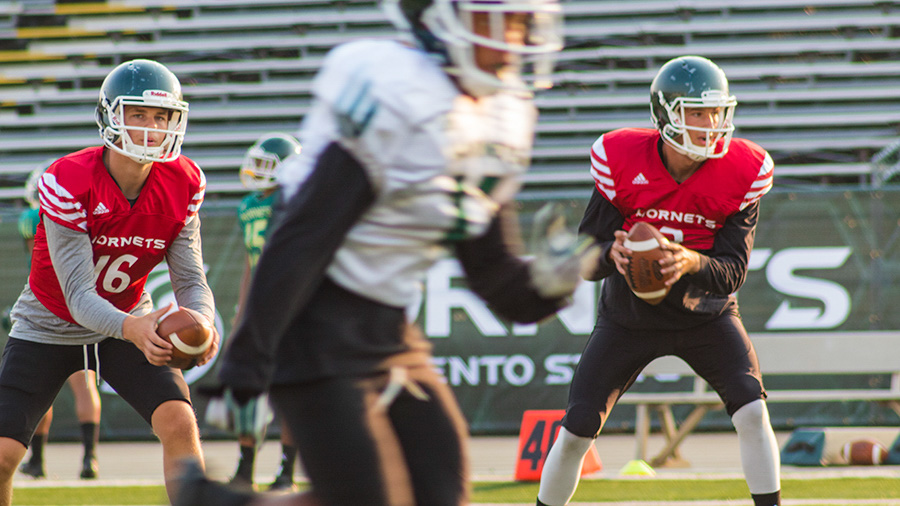 As the Sacramento State football team travels to Idaho for its season opener Aug. 31, it will do so with only four wins in the past two years and five important question marks throughout its roster.
The Big Sky Conference media and coaches' preseason poll on July 18 selected the Hornets to finish in 12th place out of 13 teams in the division, so championship hopes aren't exactly on the horizon. But an improvement on the back-to-back 2-9 finishes in 2015 and 2016 is still in play.
In order to do so, Sac State must be able to answer these five TV-inspired questions during its 2017 campaign:
1. Whose quarterback is it anyway?
One of the most important athletic positions on any college campus is the quarterback spot, which is still unfilled after former starter and junior Nate Ketteringham transferred to Big Sky rival North Dakota in May.
Sac State has had a quarterback competition over the last four months — between freshman Roman Ale, juniors Kevin Thomson, Wyatt Clapper and senior Kolney Cassel — and the frontrunners appear to be either Thomson or Cassel.
In terms of experience, Cassel — who transferred from Southern Methodist University in 2015 — leads the way with eight games played, 637 passing yards and three touchdowns total. However, he has been held back by three shoulder surgeries throughout his career.
"Sometimes I'll feel good and then other days I won't," Cassel said. "It's really frustrating because I'll feel like I'm getting better and better and sometimes I'll just plateau because of my shoulder."
Despite not having taken a snap at the collegiate level, Thomson — who transferred to Sac State from the University of Nevada, Las Vegas — has impressed senior offensive lineman Pailake Aiono and head coach Jody Sears with his leadership qualities.
"I think each one of them brings something different to the table, but right now it's a dead heat," Sears said. "We're going to keep evaluating here in the next few days before Thursday and then we'll start ironing stuff out with personnel and game plan."
2. Leave it to Ajeigbe?
The Hornets lost a combined total of 1,499 rushing yards, 15 rushing touchdowns and 40 percent of their total offensive production when running backs Jordan Robinson and Demetrius Warren graduated last year.
To try and fill the void, Sac State recruited graduate-student transfer Joseph Ajeigbe. In three seasons at Duke, Ajeigbe rushed for 319 yards and scored one touchdown. But questions remain on if he's "in shape yet," so freshmen BJ Perkinson, Elijah Dotson and Isaiah Gable will be relied on as well, Sears said.
"They're very capable backs, but it's not highschool anymore," Sears said. "You're not sure what's going to happen when they get hit in the mouth, but I've been pleased with all three of our young guys."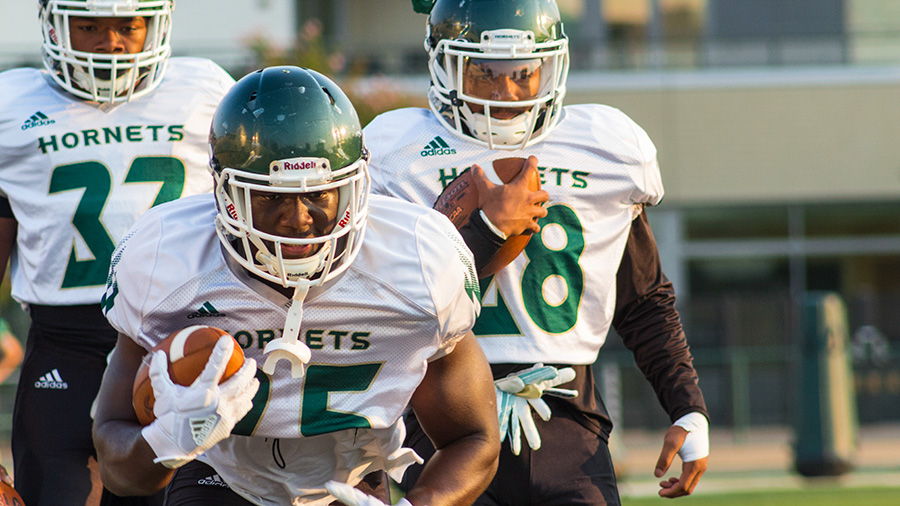 3. Full house of production at wide receiver?
One of Sac State's strongest position groups could turn out to be at the receiver position which is headed by honorable mention all-Big Sky honoree Isiah Hennie. The senior led the team with five touchdowns and 49 receptions for 594 yards in 2016.
The list also includes junior Jaelin Ratliff (five touchdowns, 26 receptions for 405 yards) and sophomore Johnnie Rucker (two touchdowns, 20 receptions for 301 yards) — alongside junior Andre Lindsey who caught five passes for 149 yards against Idaho State on Sept. 24.
"Right now, we have a really good core group of guys," Hennie said. "When it comes to play making, (we) can take a hitch route and take it 90 (yards). Any single one of us, so I think we're legit there."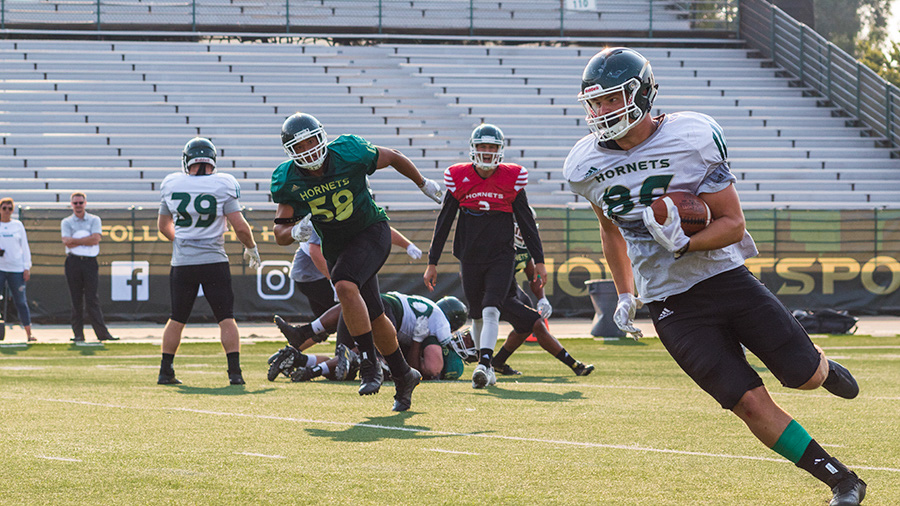 4. Everybody loves defense, right?
Another question mark for the Hornets will be whether or not they'll be able to keep up with opposing offenses.
Sac State finished 12th out of 13 teams in the Big Sky in both interceptions (four) and points allowed per game (40.0), while giving up the most amount of total yards in the conference with 526.7 a game.
"My biggest concern is our run defense and lack of consistency during camp," Sears said. "We just gave up too many big, long runs last year. And we're giving up too many in camp, so that's going to be the big tell-all is how's our run defense? We're going to find out in (9) days."
5. Who's the boss next year?
Sears was elevated from defensive coordinator to head coach in 2014, but has since posted an 11-23 record in his three seasons at Sac State. He is currently coaching under a one-year contract which means another below .500 finish could leave him without a job after the season.
This will undoubtedly lead assistant coaches and players alike to wonder about their futures in the green and gold as well.  
"That's completely and totally out of my control in terms of what six months is going to look like from now," Sears said. "I was hired to get this football team to a championship level and that's all I'm going to do — day-by-day make sure we're raising these guys to be men of character and good leaders and good people and get them a game plan where they can be successful — put them in a position to make plays."

Sears and Sac State will see if these plays can be made come Aug. 31 when the Hornets kickoff the season at Kibbie Dome in Moscow, Idaho at 6 p.m.
Additional reporting by Will Moon
RELATED: Five sporting events you may have missed this summer