ICYMI: 5 sporting events you may have missed this summer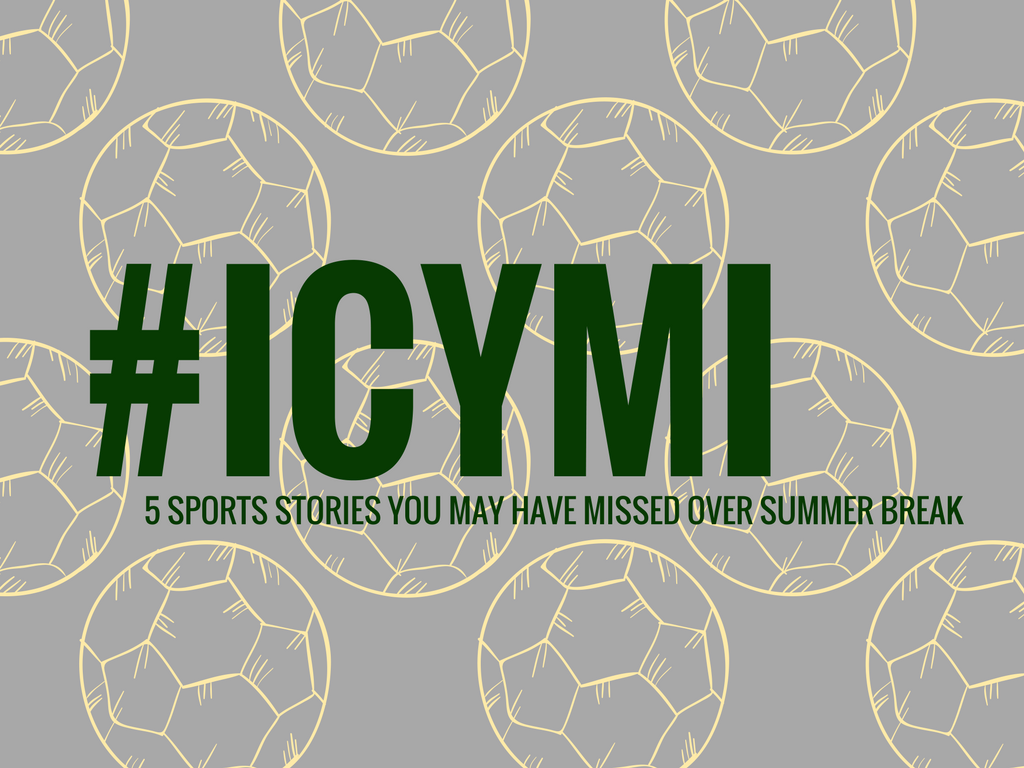 While a majority of Sacramento State students took a break during the summer, the university's athletes and alumni continued in their respective sports. These athletic endeavors occurred on a college, professional and global scale. Here's a list of five sporting things you might've missed over the past three months:
Sac State hosts USATF Nationals, sophomore finishes in 5th place:


Emily Infeld (far left) begins the women's 10,000-meter run with fellow competitors Thursday at Sacramento State's Hornet Stadium. Infeld finished in second place with an overall time of 31:22.67. (Photo by Nicole Fowler)


From June 22-25, Sacramento State hosted the USA Track and Field Junior and Senior Nationals at Hornet Stadium. The Hornets were represented by sophomore triple jumper Jah Strange who placed fifth out of 10 athletes in the final round of competition with a leap of 49-08.50.


---




Former Sac State big man plays for Sacramento Kings:


Sacramento State senior center Eric Stuteville spins past Ivan Madunic of Southern Utah for a layup at the Nest on Saturday, Feb. 25. (Photo by Matthew Dyer)


Eric Stuteville — who played center for the Sacramento State basketball team from 2013-2017 — became the first Hornet to play in the NBA Summer League. Stuteville played five minutes while scoring one point and grabbing two offensive rebounds with the Sacramento Kings on July 9 against the Memphis Grizzlies.


---




Former Hornet slugger makes MLB debut:


(Photo courtesy of Miles Kennedy/Philadelphia Phillies)


Rhys Hoskins — who played at first base for Sacramento State from 2012-2014 — made his MLB debut with the Philadelphia Phillies on Aug. 10 against the New York Mets. Since then, Hoskins has become the first player in MLB history to hit 10 home runs in their first 17 career games as of press time. During his time at Sac State, Hoskins was the Western Athletic Conference Player of the Year and a Louisville Slugger All-American as a junior.


---




Gymnast turned weightlifter qualifies for Pan American Championships:


(Photo by Lance Goyke / Flickr)


Former Sacramento State gymnast Mary Peck qualified for the 2017 Pan American Senior USA team. The event took place in Miami, Florida where Peck finished fifth overall in the 63kg weight class and was the only American to compete in her weight division. After graduating from Sac State in 2013, Peck decided to change directions in her athletic career and begin weightlifting. Peck had previously competed for a spot in the 2016 Rio Olympics but was unable to land a position with Team USA.


---




Former Sac State student becomes 49ers QB coach:


(Photo by Michael Zhang)


Rich Scangarello, who graduated from Sac State in 1996 with a business administration degree, was the newest addition to the San Francisco 49ers coaching staff as the quarterbacks' coach. Scangarello has coached at several NCAA universities such as UC Davis and Northern Arizona. Scangarello first began his NFL coaching career with the Oakland Raiders in 2009.