Sac State alumnus Rhys Hoskins competes for spot on MLB roster
After receiving the Philadelphia Phillies minor league co-Player of the Year award in 2016, Sacramento State alumnus Rhys Hoskins is swinging for a spot on its MLB roster this season.
Hoskins, 23, was drafted in the fifth round by the Phillies after playing three seasons for the Hornets from 2012-14. Since then, Hoskins has advanced through single-A and double-A and was invited to the Phillies spring training camp to work alongside veteran players and coaches.
"The biggest thing for me is to gain as much insight as I can from the big leaguers while at camp," Hoskins said. "I think picking up little tidbits here and there that I can add to my routine will be beneficial for me down the road."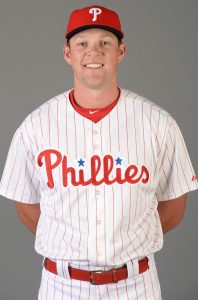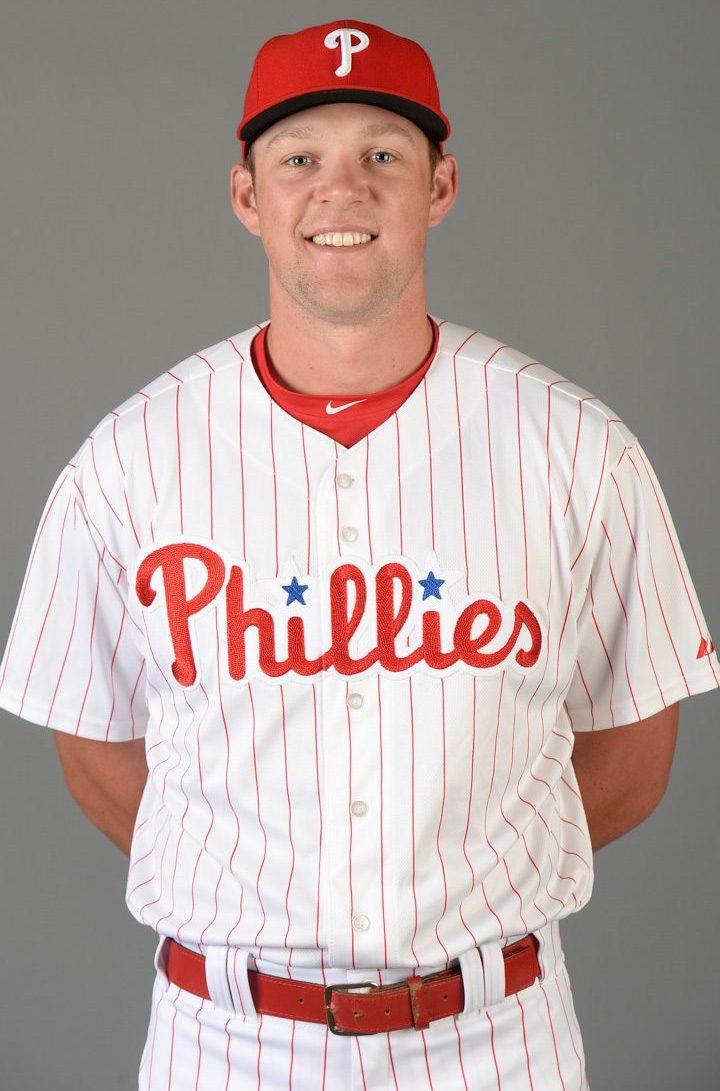 In double-A last year, Hoskins had a .281 batting average, hit 38 home runs and drove in 116 runs in 135 games for the Reading Fightin' Phils.
Hoskins is currently the organization's 13th ranked prospect according MLBpipeline.com, and has benefitted from playing under the Phillies' coaching staff this spring.
"I think experience in this game is something that's invaluable, especially for a guy like (Phillies hitting coach) Matt Stairs," Hoskins said. "(Stairs) has a great baseball mind — he's seen a lot of pitches, had a lot of great at-bats and knows what he is talking about when it comes to hitting."
So far in spring training, Hoskins is hitting .278 with two home runs, four runs scored and an on base percentage of .458 for the Phillies. He was reassigned to a minor league camp Monday and will open the season as the starting first baseman for the triple-A affiliate Lehigh Valley Ironpigs, but has a chance to be called up to the majors if Phillies' projected starting first baseman Tommy Joseph gets off to a slow start.
Before his professional career, Hoskins put up similar numbers during his three years at Sac State under coach Reggie Christiansen. Hoskins finished his career with a .319 batting average, 128 RBIs (the fourth most in program history), 49 doubles (the third most in program history) and the sixth most home runs in program history with 25.
"He was a three-sport athlete in high school so he didn't play in the summer showcases that most kids do nowadays," Christiansen said. "A lot of other colleges hadn't seen him before so we were fortunate to land him."
Hoskins started his college career by hitting .353, 10 home runs and 53 RBIs — while being named the Western Athletic Conference's Freshman of the Year and first team freshman All-American by the National Collegiate Baseball Writers, Baseball America and Collegiate Baseball Newspaper.
During his sophomore season, Hoskins experienced a drop in production as he finished with a .283 batting average, three home runs and 22 RBIs in 53 games.
"He was hard on himself — he spent a lot of time in the cages tinkering and working on the little things to grow as a hitter," Christiansen said. "He's a very bright kid and an excellent student of the game."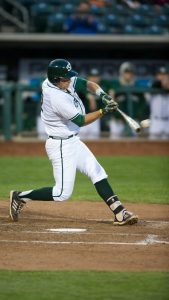 Hoskins rebounded in 2014 by hitting 12 home runs and 53 RBIs with a .319 batting average in 59 games for the Hornets. He also earned WAC Player of the Year, first team All-WAC, second team All-West Region by Rawlings and was named third team All-American by Collegiate Baseball.
That season, Hoskins' bat carried the Hornets into the postseason and Sac State won the WAC Tournament and advanced to the NCAA regional tournament for the first time in program history.
"That 2014 season definitely sticks out to me as one of my favorite memories," Hoskins said. "To be a part of that history with some of the guys I came in with freshman year is something I will always remember."
Hornets' starting third baseman Brandon Hunley is the only remaining position player from that team and remembers the impact Hoskins had that year.
"His presence was felt on the field and that inspired everyone to work harder," Hunley said. "He made us all confident. We knew if we could get him up to the plate, we would have a good shot at getting a run or getting someone on base."
As a professional, Hoskins still makes time to keep in contact with his coaches and give advice to the younger players at Sac State during the offseason.
Christiansen  — who was on vacation last summer and went to watch Hoskins play in Reading, Pennsylvania — said he talks to Hoskins a couple times a week during the season through text or phone call.
"When he walked on our campus, his goal was not to just get drafted, but to play in the big leagues," Christiansen said. "He's certainly chasing that dream right now."