Friends remember beloved student at campus tribute
Members of the campus community came together Wednesday evening to pay tribute to one of their own, Isaiah Alexander, who died Saturday of renal medullary carcinoma.
Alexander was diagnosed with the rare form of cancer and doctors estimated that he had two years to live. Cancer did not stop Alexander from pursuing his education, however. He attended Sacramento State as a full-time student where he majored in communication studies and was vice president of the Black Student Union.
Family members, friends, colleagues and faculty filled every seat in the Orchard Suite of the University Union. More people arrived and had to stand against the wall. They came together to join hands in a prayer led by BSU president Christine Hunter.
"Lord, we are gathered here to ask you for the strength," Hunter said. "Our hearts are so heavy right now. May we never forget who 'Saiah was, who he is, who he always will be. All the light and all the love that he constantly poured into our lives … whether you knew him for a minute or for years — he was family."
All eyes were on a slideshow video that gave a glimpse of Alexander's life. He was seen skating at a roller skating rink, roaming around campus on his hoverboard and dancing with friends.
Some other images included photos of Alexander as a child, when he was in the hospital and on outings with friends. The video brought tears to the eyes of some viewers, but also some laughs as they remembered their friend.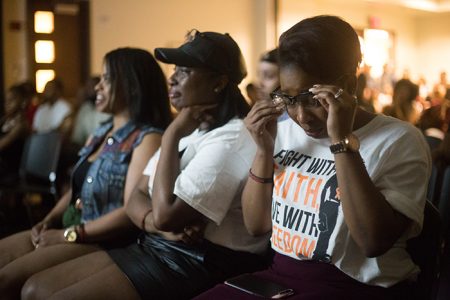 One by one, a total of 18 people went up to the front of the room to share stories of how they met Alexander, how he inspired them and the work that he accomplished during his lifetime. Light sniffling and finger snapping could be heard as each person spoke.
Andrea Moore, an ethnic studies assistant professor, was the first to volunteer to speak.
Moore said she came to know Alexander when he took her class on black images in popular culture.
Even after he was no longer her student, Moore said that Alexander would still come talk to her about things that were going on in his life such as the trips that he went on and how much his family meant to him.
"Every time I was in Isaiah's presence, it was like I was standing in front of a gift from God," Moore said to the audience. "Isaiah came to teach us so much, and all the conversations and moments that you have shared with him will live on forever in your hearts. He is a gift, he is an angel that we all have embraced being in the presence of."
Moore said that she plans on dedicating every class she teaches this semester to Alexander. She wants students to know that they can persevere, even when things do not work out in their academics or in life. No matter what obstacles he faced, Moore said, Alexander pushed forward and openly welcomed what life gave him.
Antoine Johnson, a history alumnus and friend of Alexander, credited Alexander for stabilizing the BSU after the club would disband on and off. He said that Alexander helped him find new officers when they restarted BSU in 2015 and that he set up elections for new officers to help get the work load off of senior members.
"When we started the BSU, I had just completed my first year of grad school and I knew I wasn't going to be able to give as much time and energy to the BSU," Johnson said. "Isaiah always told me, 'I got you, baby,' (it was his) favorite saying."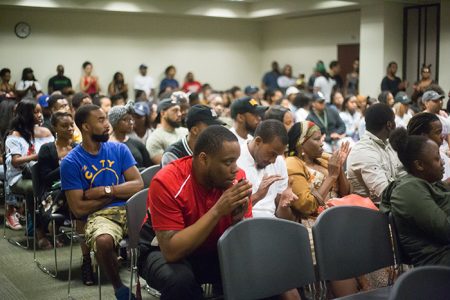 Rikka Venturanza helped Alexander establish BSU as the cultural clubs adviser for Student Organizations and Leadership. Beyond BSU, Venturanza said that they talked about his vision for the campus community and his philosophy about activism and youth.
"After (Isaiah) found out (about his illness), my conversations with him were all-encompassing, about hope, about dreams, about perseverance," Venturanza said in an email. "He was always in high spirits and spoke about his journey as if it would never end."
When senior Jorge Quintana heard of the news that Alexander had passed, the first thing he did that morning was write a poem.
"I remember I would have conversations with (Isaiah) and I told him that I was going to write about him," Quintana said. "He just laughed it off, but I would always tell him that he was someone that deserves to be remembered."
At the tribute, Quintana read that poem dedicated to Isaiah, who he described as an important person in his life.
"A year ago I met a young man with revolution in his heartbeat — his name was Isaiah Alexander," Quintana said. "I remember he was telling us all about his cancer diagnosis. He said, 'They told me I have two years to live, I said hold on wait a minute, I got two years 'til I graduate' and I always wondered which one would come first. Well, on April 29 we all found out … I won't talk about how he left, how I imagine him looking back at his family and his friends with a smile full of breath
"Through it all he still gave the warmest hugs, and he never gave up."
RELATED: