KSSU hosts slam poetry event on campus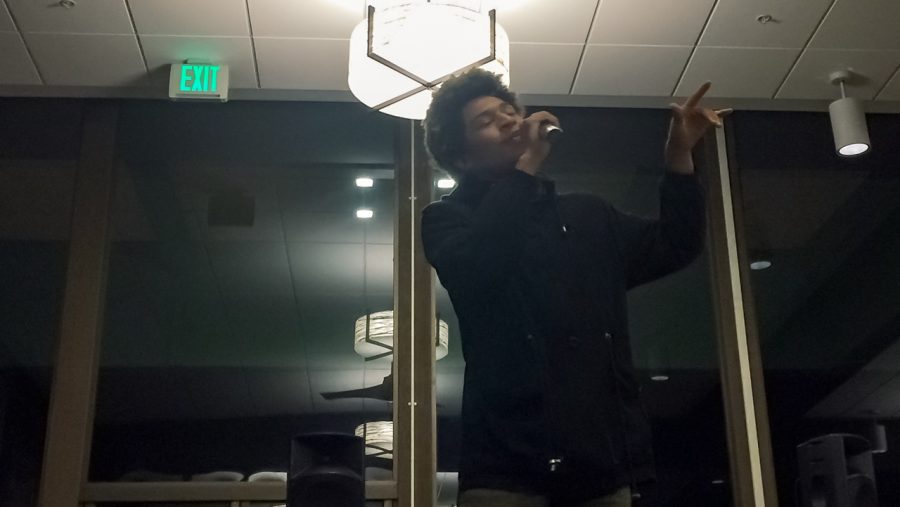 Sacramento State students gathered together in the Dining Commons on Friday night to listen to their fellow classmates express themselves at a slam poetry night hosted by KSSU, Sac State's student-run radio station.
This was the first time that KSSU has hosted a spoken word event for students to take the stage and tell their life stories the way that they want to tell it. However, only half of the anticipated 20 student participants showed up.
"I thought that it went really well — only half of the people showed up, but that's OK because it worked out great with time," said KSSU Director of Promotions Alex Wilson. "I thought that all of the poets were great."
As well as the students who came to see their friends, there were students who just so happened to be at the Dining Commons, unaware of the poetry about to take place, but even after they were done eating, they stayed to watch all of the students recite their poems. (Story continues below)
According to Wilson, that was ultimately the best part of the night.
There were poems of all types, including a story about a bad first date while using the Tinder app from freshman Johanna Bulaong.
Bulaong was the winner of the spoken word competition and received a $100 first place prize.
The poem, titled "Exotic," told Bulaong's story about how her first date with a guy she matched with did not go as planned, but her story also had a very strong message about equal rights.
"Tell me that you think of me when you are in class and when you're driving when people are driving past," the poem reads. "Tell me about my culture and my world and that inequality makes your fist curl." (Story continues below)
Bulaong used her poem to express how she would rather be respected not only as a woman, but as a woman of color, instead of being talked about as "exotic."
"Poetry is something that I have been doing for a long time, but I've been slacking a little but because I am a biology major and poetry has nothing to do with that," said Bulaong. "But lately I have been trying to get back into it because it's definitely an outlet for emotions and how you are feeling."
Another poem came from freshman Gianni Pina as he took the listeners through a journey of heartbreak.
"I was trying to express a lot of the feelings I feel when it comes to that trust and love in someone when it's broken," Pina said. "You commonly hear about getting cheated on from the female's perspective, so that's where this poem came from. There was a lot of energy behind this and anger because that's what it feels like to go through heartbreak." (Story continues below)
This was Pina's fourth time performing in front of a slam poetry crowd; usually he performs spoken word.
"When it comes to spoken word, I never like to go into there and not feel like I can go on stage and speak my heart out to people," he said. "That's what is tough about spoken word because it's your personal mind frame and emotions, giving it on the stage and being able to express that through the anguish that it took to make those words possible."
KSSU will be hosting Trivia Night for its next event. Trivia Night will take place on Tuesday, April 18 from 7-9 p.m. in the Redwood Room in the University Union.
Follow Andre Newell and Thomas Frey's Twitter profiles for more videos from the night.
Update: Monday, April 10, 10:54 a.m.

An earlier version of this story incorrectly identified KSSU as an AM radio station. In fact, KSSU has not been an AM station since 2005