Injuries, presence of painkillers a reality for NCAA student-athletes
In the game of football, the presence of injury is not just a risk — it is a statistical probability for anyone who puts on the pads.
There are more than 20,000 injuries per year at the collegiate level, according to reports from the College Football Assistance Fund.
With the battle of injuries and the physical grind of the season, Sacramento State senior football player Lennard Cowans has seen players use opiates to fight pain and maintain peak performance.
"With major injuries, players receive painkillers," Cowans said about physicians prescribing opiates to athletes. "But after you heal up, there's always the nagging injuries. You have to play through those — we don't sit out. If you play football, you are going to play injured."
The dangers of dependency and overdose with painkillers have raised concerns about their accessibility, and their impact on the health of those who use them.
While the NCAA has a list of banned substances that include marijuana, cocaine and anabolic steroids, opiate painkillers such as OxyContin and Vicodin are permitted when prescribed by a physician.
Despite being used for pain relief among student-athletes, recent statistics regarding opiates have been cause for increasing concern among medical experts. The Centers for Disease Control and Prevention reported that 17,536 Americans died of overdose due to prescription painkillers in 2016.
The CDC also reported that over 2 million Americans have developed a dependency on painkillers, and the difficulty of quitting is high.
In terms of precaution, Cowans said that Sac State coaches and trainers are persistent in drug testing, even monitoring and reprimanding players who test positive for opiates without a prescription. Trainers do not give out painkillers to players either; only over-the-counter pain relievers such as ibuprofen come from the staff.
However, players can receive prescriptions from their own physicians outside of campus. With the types of injuries that football players often sustain — such as ligament tears or back injuries — obtaining prescriptions is no more difficult than for anyone outside of athletics, according to Cowans.
Cowans said that he has observed players who manage to hold onto their prescriptions and save them for when they return to action.
"When guys are recovering, some can grind through the pain," Cowans said about players who hold onto the pills. "They save them, that way they can be used when they actually need them. It's about getting back on the field, that way we can earn our scholarship."
While the frequent use of pain pills can lead to dangerous health problems reported by the CDC, the removal of opiates from locker rooms would leave players searching for an alternative for tolerating pain.
Marijuana, which has no reported overdose deaths according to the CDC, has been championed by former NFL running back Arian Foster as an alternative to painkillers for football players.
In addition to having no recorded overdoses, researchers from the Johns Hopkins Bloomberg School of Public Health have found that states that have legalized medical marijuana have seen a 25 percent drop in opiate overdose.
However, not everyone is on board with cannabis in college sports. The NCAA has eased on mandatory suspension lengths for positive marijuana tests, but the substance is still banned as long as it remains federally illegal in the United States.
Sac State junior football player Isiah Hennie said that the Sac State football program has a firm stance on keeping marijuana away from the team.
"People are going to do what they want to do," Hennie said about drugs in college football. "But on this team, we take it out of our game. We know we won't be at our peak performance if players use marijuana, so we remove it completely. If players do it, they (test positive), but older players and leaders try our best to make sure it doesn't get to that point."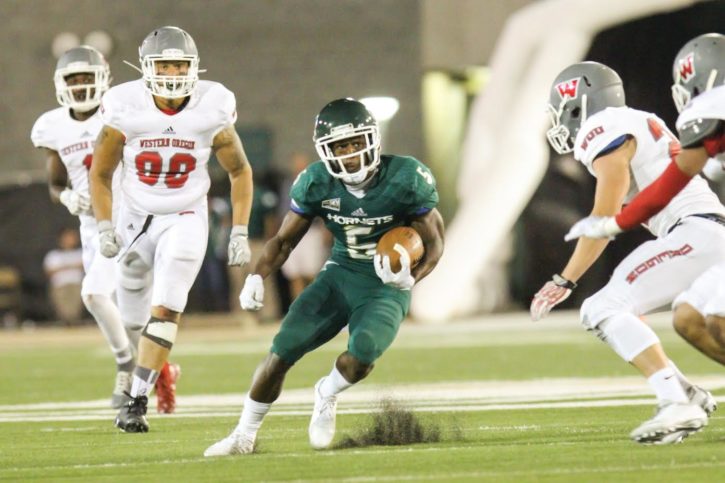 Cowans, who has seen the problems with addiction that stem from opiate use, does not believe that cannabis is a sufficient alternative for pain relief among student-athletes.
"The problem with marijuana isn't the dependency, the problem with it is the user getting high," Cowans said about his stance on marijuana in football. "If the ban on it is removed, there is no way to control how often players use. While there are individuals who can control how much they use, as a group I don't see it being productive."
While some debate the proper method of treating pain in athletics — specifically contact sports such as football — others argue the solution may be found in making sure athletes are not asked to push their limits to put their health in jeopardy.
Newly hired Sac State Athletic Director Mark Orr, who played football at Cal from 1994 to1998, explained how the health of the athlete should be regulated at the administrative level.
"We have to do a good job at the institutional level," Orr said. "If a student-athlete gets injured, we need measures in place to make sure we take proper precautions to return him or her back to the field. That means we need to be staffed appropriately in sports medicine and proper coverage at practices and competitions.
"As a former Division-I football player, I understand that at this level they want to return to the field as soon as possible. At times, our staff have to be the responsible ones and tell them they aren't ready to play."