A student government guide for the apathetic or uninformed voter
If you've been near The WELL or the Library Quad in recent weeks, chances are you've seen signs advertising students who are running to hold positions in Associated Students, Inc. next academic year.
But with a budget of over $8.9 million and as a provider of several campus programs such as the Children's Center and the Food Pantry, ASI elections can affect a lot more than resumes.

So before you vote in next week's ASI elections, The State Hornet has prepared this guide to what ASI does and how it operates.
WHAT IS ASI?
ASI is a nonprofit benefit corporation that every Sacramento State student is a part of by virtue of their enrollment at the school.
ASI's decisions are, therefore, taken as the will of the entire student body. It is run by a board of directors that is composed mostly of student representatives, but on which some university administration representatives also vote.
ASI collected $8.5 million in revenue this academic year and plans to spend $8.9 million.
WHAT DOES ASI DO?
ASI oversees several campus organizations and provides money to many more. It is directly in charge of Peak Adventures, the Sac State Aquatic Center on Lake Natoma in Gold River, the KSSU-AM radio station, a children's center where students can have their kids taken care of during classes and a pantry for students facing food insecurity.
ASI also oversees Safe Rides, which provides free transportation on Wednesday-Saturday nights from 10 p.m. to 2 a.m. for students, staff and faculty. The service area for Safe Rides extends from Sunrise Boulevard in the east to West Sacramento, and from McClellan Airfield in the north to just south of Cosumnes River College in the south.
The Board of Directors also supplies funding to other programs and clubs on campus. The three highest totals this academic year were for the Dreamer Resource Center (which received $25,000), UNIQUE Cultural Affairs ($30,000) and the Peer Assisted Learning program ($40,000), which provides tutoring in math and science.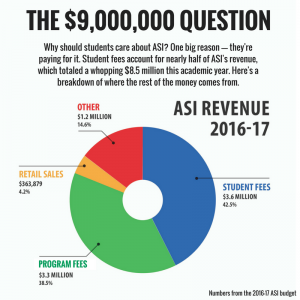 WHO'S IN CHARGE?
This money is overseen by the ASI Board of Directors, which acts as Sac State's student government. Those are the positions up for election next week.
Meetings are held every other Wednesday in the Foothill Suite of the University Union. The next meeting will be at 2 p.m. on April 12.
There are 16 voting members on the board — 14 of which are students and two of which are representatives of Sac State's president and chief financial officer, respectively. The top official is the ASI President, who is currently Patrick Dorsey.
"ASI must meet our campus presidents' conditions for us to be recognized and sanctioned as an auxiliary to the campus," said Patricia Worley, who has been the executive director of ASI since 2001. "Changes to the California Corporations Code in recent years mandated that all 'directors' of the board must have equal responsibility and equal rights."
Even though the ASI Board of Directors oversees a corporation, it still must comply with the Romero Open Meetings Act because it acts as a student government. The law was designed to ensure that student government meetings are open and transparent.
After this academic year, Dorsey's term will end and he will be replaced by either Nyree Hall or Mia Kagianas.
According to ASI's Operating Rules, the president has 60 percent of their "estimated cost of attendance" at Sac State paid for by a scholarship administered by the ASI Business Office. Other ASI positions, such as executive vice president, vice president of finance, vice president of university affairs and vice president of academic affairs, have 50 percent of their college attendance cost paid for.
Other board members, such as the directors of various colleges and for undeclared and graduate students, get 25 percent of their attendance cost paid for.
WHO PAYS FOR IT?
If you're a Sac State student, you do.
Every student pays a $64 fee to ASI when they pay for classes. This accounted for $3.6 million of ASI's 2016-17 revenue.
$3.3 million came from fees for participating in ASI programs. For example, people who want to leave their children at the ASI Children's Center pay a fee based on how long their child will be staying there.
Together, these two sources account for 81 percent of ASI's revenue. The rest come primarily from grants and retail sales, such as at the ASI Student Shop on the third floor of Sequoia Hall.
In spite of the money students spend to fund ASI, only 15.5 percent of the student body (4,462 students) voted in the 2016 ASI elections. This number was only a 0.4 percent increase over the previous year.
RELATED: #SacStateSays: Are you going to vote in the ASI elections? Why or why not?