Weekly condom cart has got you covered
Student Health and Counseling Services at Sacramento State are pushing forward the condom cart, a mobile service that provides students with the education and resources needed to engage in safer sex practices.
Merill Lavezzo, a healthy relationships educator at Student Health and Counseling Services, has started rolling out the condom cart every Thursday since the start of the spring semester.
The cart can be found in the lobby of The WELL from 5 to 7 p.m., and is distinguished by a rainbow umbrella and round string lights wrapped around the cart.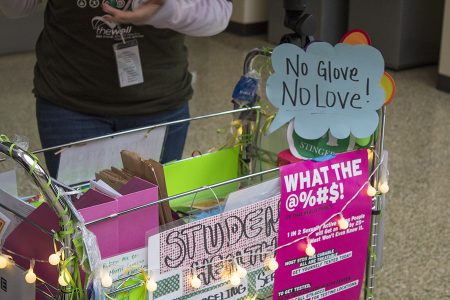 Peer health educators are stationed at the cart to give demonstrations on proper condom use, inform students about safer sex practices and answer any questions students have about sex.
They often call students over by saying "Hi, would you like some free condoms?"
Students who approach the cart can take up to 10 condoms and two packets of lubrication, either by filling a small paper bag themselves with specific items or getting a premade one.
Educational pamphlets are included in each bag that have information on consent, contraception, sexually transmitted infections and other medical resources in the Sacramento area.
The cart carries different types of condoms, including flavored, ribbed, latex-free, internal and external varieties. There are also dental dams — square pieces of latex used as a barrier to cover a vagina or anus for oral sex, which can help prevent sexually transmitted infections.
Plastic and rubber models of a penis and vagina were in The WELL to use for demonstrations.
"We have that variety of condoms so that hopefully someone can find one that feels right for them and their partner so that they will continue to use it," Lavezzo said.
The National College Health Assessment II — conducted by the American College Health Association at Sac State in spring 2016 — reported that 40.1 percent of students "mostly" or "always" used a protective barrier during vaginal sex within the last 30 days, while 21.4 percent reported that they used a protective barrier during anal sex.
Bajha Jordan, a peer health educator and sophomore health science major, said that having the condom cart every week can help students build and manage their practices for when they engage in sexual activity.
"(With us) being able to come out each week, students are getting used to going out and getting condoms," Jordan said. "A lot of times, students don't use condoms when they have sex, but seeing that they can get it for free here will encourage them to want to use condoms when they practice sex."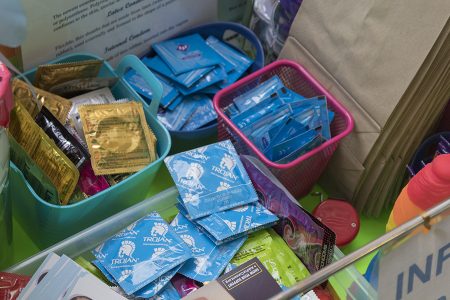 A popular demonstration that students asked for was how to put on an internal condom. Although they are commonly referred to as "female condoms," they are not limited to gender as they can also be used for anal sex.
Since internal condoms take longer to put on than external ones, they can be inserted into the vagina or anus up to eight hours prior to sex.
"Some people really don't have much experience at all with these products and they want to know more," Lavezzo said. "So (our conversations) can range from explaining what these products are (to) how to use them and ways to enhance pleasure while using them too."
Although the demonstrations show students how to put on a condom, the peer health educators remind students that the first step is not to rip the condom packet or even to check the expiration date — the first step of practicing safer sex is to make sure active consent is given between partners.
Ezri Loi, a senior recreation, parks and tourism administration major, stopped by the cart after leaving the gym. She said that she was drawn to the cute appearance of the cart. After watching a demonstration, Loi decided to take an internal condom.
"I think it's just very important (to have this service)," Loi said. "Many times, you don't know the information and could be afraid of, let's say, a female condom because you don't know how to use or insert it. It makes you less likely to use it but once you get the information it's pretty interesting and it seems more appealing to use."
Lavezzo estimates there to be about 100 to 150 condoms in the cart, with some extra kept at the lower rack of the cart to restock. The staff keeps track of how many visitors come to use the cart by using a clicker. The most visitors they had in one day since the semester started was 200.
Although Trojan brand condoms tend to be the first to run out of stock, Lavezzo said that other condoms are just as effective as a name-brand item.
"I know some people feel like a free condom might not be as high quality as something you would buy," Lavezzo said. "What not everyone knows is that all condoms in the United States undergo the same standard of testing and are regulated and approved by the Food and Drug Administration, so they're as effective as any other condom."
Lavezzo plans on conducting surveys to get feedback on how to better service students by finding out what other products and locations they would like to see from the cart.
"We know that students are sexually active on campus, not all of them, but we have some data that shows that most of them are," Lavezzo said. "So, there's a need there because it's relevant — and talking about it in a positive, approachable way will hopefully encourage people to seek out services in the future if they need it."