Sac State swept against Grand Canyon tennis team, 4-0
The Sacramento State men's tennis team fell to Grand Canyon on the second day of the Golden State Invite Saturday at the Sac State tennis courts.
Sac State (7-7, 5-2 Big Sky Conference) had close matches in four of the contests, but those were left unfinished due to Grand Canyon's (9-7) quick 4-0 sweep.
"They're a good team," Sac State assistant coach Kevin Kurtz said. "We had some chances in doubles and singles, and we didn't take advantage of them."
The Hornets' first-time pairing of freshman Hermont Legaspi and junior Christopher Clayton frequently sent the ball deep in attempt to throw off Mathieu Rajaonah and Mathieu Ounanian in doubles play, but fell short, 6-2. The No. 1 tandem of Mikus Losbergs and Kasparas Zemaitelis lost 6-4, which left the No. 3 doubles team of sophomores Donald Hall and Dom Miller unfinished (6-5) after the first set.
"We're trying to find some winning doubles combinations so we switch them around a little bit," Kurtz said. "They had lots of chances — the energy was good, they played some high level tennis."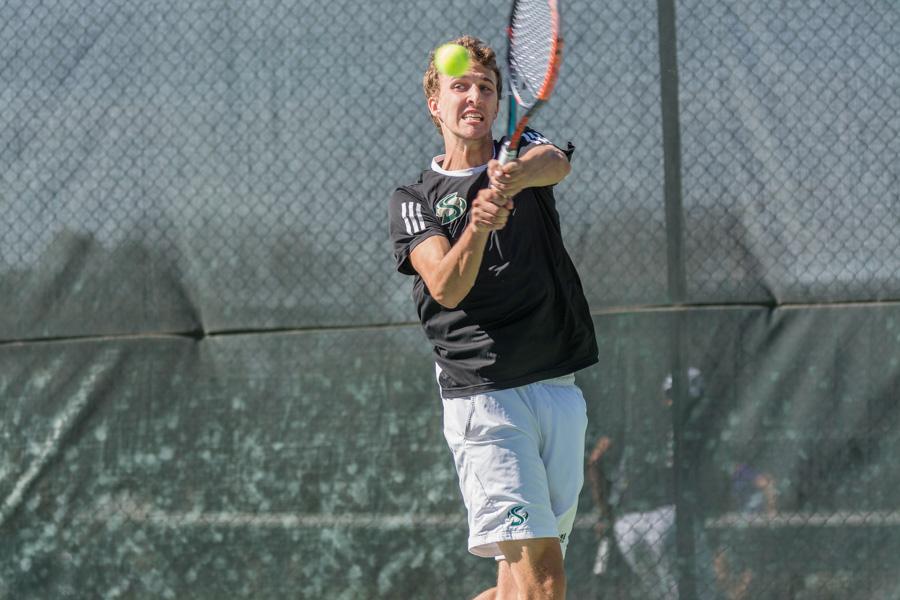 Sac State struggled throughout singles play, losing all three completed matches in two sets. Clayton won the first set in his No. 5 singles match (6-2) and was up 3-2 in the second before the game was stopped.
"It's always a bit disappointing when it's quite a long match and then you have to stop and there is no completion of the match," Clayton said. "That's the way it goes sometimes."
Zemaitelis was in the midst of a comeback in the second set at No. 3 against Grand Canyon's Adrian Legarreta, but fell short (7-2, 6-3) after the final match point ended with a short shot by Legarreta — causing Zemaitelis to send the ball into the net.
The use of a heavy topspin by Grand Canyon was a factor all throughout the matches, while Sac State freshman Louis Chabut was unable to execute his forehand "weapon shot" against Lorenzo Fucile during No. 4 singles competition.
"He played really well," Chabut said. "He played a lot on my backhand and it was a weird spin and it was kind of hard for me to reply."
The Hornets will take on either UC Davis or Portland State at 9 a.m. in the final day of the Golden State Invite Sunday at UC Davis. Sac State defeated Portland State (6-1) on Jan. 28 and lost to UC Davis (5-2) on Feb. 25.
"Regardless of the strength of a team — I think we'll come out fired up and ready to go and win every point," Clayton said. "And I think tomorrow, again we can expect some real tough and long points."