Sac State endures illness and darkness en route to doubleheader sweep
Despite one-third of its active roster fighting the flu and a mid-match venue change during the second game of the day, the Sacramento State women's tennis team swept Saturday's doubleheader over Weber State and Idaho State.
The day began at 10 a.m. on the Campus Tennis Courts and concluded at 7:52 p.m. in McKinley Park, where freshman Sofia Gulnova — who played both matches with nausea and a fever — sealed a comeback victory with a 7-0 tiebreaker to lift Sac State (6-9, 4-2 Big Sky) over Idaho State (4-6, 3-1 Big Sky).
"I didn't even know if I'm going to play today," Gulnova said. "I had (a) high temperature yesterday and I didn't sleep (last) night at all."
With freshman Karina Vyrlan sidelined due to flu-like symptoms — the Hornets only had six players to start against Weber State (1-10, 1-2 Big Sky), including senior Andie Mouzes, who also had the flu, and redshirt freshman Louisa Brunetti, who had not played a match this season prior to Saturday.
Sac State altered its lineup in Vyrlan's absence, with Mouzes and Brunetti playing in the No. 1 doubles spot and junior Ana Loaiza Esquivias paired with Gulnova at No. 2.
The Hornets opened competition with an early doubles advantage over the Wildcats, led by Loaiza and Gulnova, who defeated sophomores Morgan Dickason and Sara Parker 6-4. In the No. 3 spot, sophomore Sofia Wicker and redshirt freshman Carolina Chernyetsky rallied with junior Dominique Beauvais and Devi Hasan before Chernyetsky slapped a shot into the service box to secure a 6-3 match win and the doubles point for Sac State.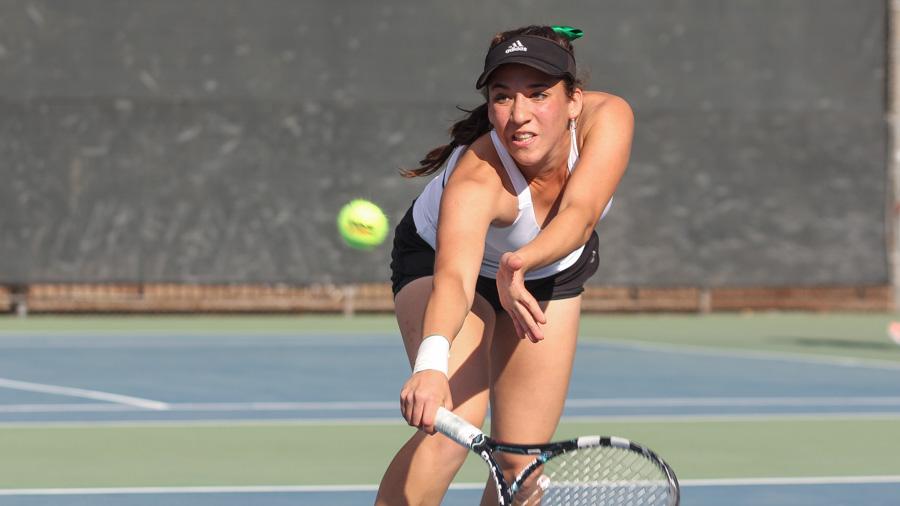 After winning together in doubles, Gulnova and Loaiza carried their momentum into singles competition. Gulnova defeated Parker 6-2, 6-2 while Loaiza won 6-4, 6-1 over Wildcat sophomore Caitlin Herb.
The only Hornet to lose in singles against Weber State was Brunetti, who lost her first match of the season (6-4, 6-0) to Hasan. Mouzes and Chernyetsky both forced third sets in No. 1 and No. 3, respectively, but were unable to secure wins after both matches were halted after Wicker guaranteed Sac State's 4-1 victory with a 6-3, 6-1 win over Dickason.
"It was super close and we just didn't play well enough to beat them today," Weber State coach Mark Roberts said. "We didn't kind of play as well as we needed to on positions one and five and that kind of let us down a little bit."
In the afternoon, Sac State took an early lead over the solely-freshmen Idaho State squad, claiming the doubles point once again behind its No. 2 and No. 3 pairs after Chernyetsky and Wicker topped Hristina Cvetkovic and Madison Fenske 6-2, Loaiza and Gulnova topped Melissa Coburn and Megan Poe 7-5.
After Loaiza defeated Cvetkovic in the No. 1 spot with a 6-1, 6-1 singles win, Idaho State secured three straight victories. Louise-Mare Botes battled Mouzes before ultimately winning 7-5, 6-3 in Mouzes' second No. 2 singles match of the season.
As the sun began to set over the Campus Tennis Courts at Sac State, the match was determined by the No. 5 singles match between Gulnova and Poe. After Poe won the first set 7-5, Gulnova claimed the second set by the same score. In three sets, the match featured five ties and four lead changes.
Four and a half hours after the game began, both teams have transferred to McKinley to finish the match under the lights. @SH_Sports pic.twitter.com/5CzpCWYOK9

— Will Moon (@MoonMan0305) March 19, 2017
With the third set tied 5-5 and daylight fading, the referees and coaches agreed to move the match three miles down H Street to finish the game under the lights at McKinley Park. After the third set finished 7-6, Gulnova took over and muscled a 7-0 set victory in the tiebreaker round — hoisting the Hornets 4-3 over the Bengals.
"I think it was — as I told the girls — one of the best experiences at the college (level)," Sac State coach Clarisse Baca said nearly five hours after the game had started. "We were just super excited and super nervous at the same time. For us to come up with a win is just unbelievable."
Sac State will play again tomorrow against Saint Mary's in Moraga at 12 p.m.