Four gymnasts qualify for NCAA Regional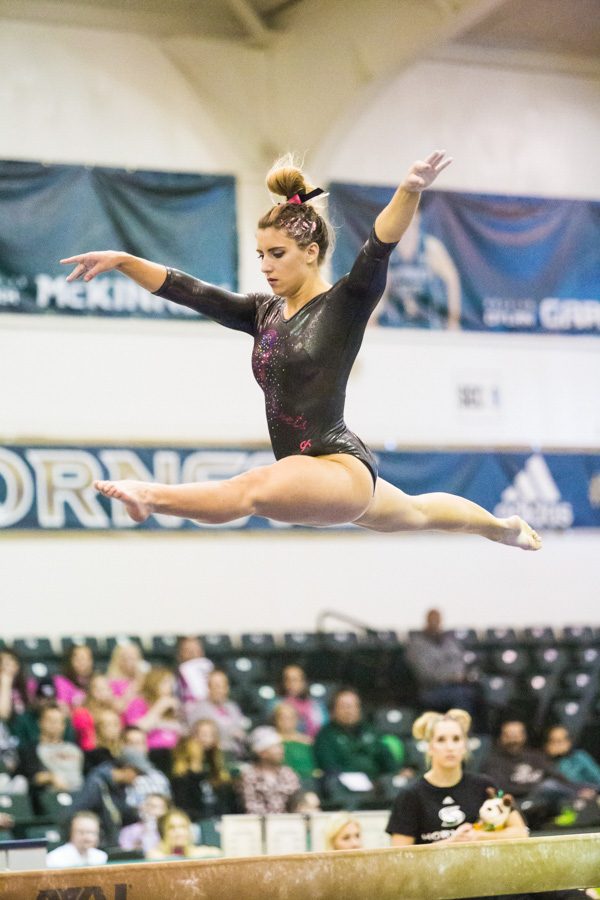 For the second year in a row, Sacramento State gymnasts Julia Konner and Lauren Rice have qualified for the NCAA Regional Saturday at the University of Washington in Seattle.
They will be joined by juniors Caitlin Soliwoda and Courtney Soliwoda.
For Konner (senior) and Rice (junior), this is a familiar stage, but for the Soliwoda twins, this will be the biggest stage they have competed on in nearly two decades of competing in organized gymnastics.
"To me, regionals, as of right now, is a huge accomplishment," Courtney Soliwoda said after qualifying for balance beam competition. "This is the biggest meet I have ever gone to —  nothing is compared to this."
Konner's third trip to regionals will be a return in more ways than one as she will compete in the Alaska Airlines Arena for the first time since her freshman season in 2014.
"I could definitely picture myself there and how everything is going to happen," Konner said. "I can picture myself on the equipment — that is definitely an advantage to me because it is an awesome arena. This is my last vault (and) my last 10 seconds of gymnastics ever, so I'm really just focusing on that."
As a freshman, Konner finished 23rd with a score of 9.800 and as a junior she recorded a 9.825, which positioned her in 12th place. However, to advance to the NCAA Championships in St. Louis, Missouri on April 14, she would need to win the vault event.
"That's not very likely, but of course I'm going to try," Konner said. "I don't put a lot of pressure on myself. Either way I'm happy to be there. The more pressure I put on myself the worse I usually do."
Rice and Caitlin Soliwoda — who are both competing in the all-around — will have a chance to qualify for nationals if they can place in the top two spots for all-around competitors.
The teams that qualified in the West region are Kentucky, Utah State, Washington, BYU, Stanford and the No. 1 ranked team in the country, Oklahoma. The Hornets didn't qualify as a team, but the foursome (Konner, Rice, Caitlin Soliwoda and Courtney Soliwoda) will represent Sac State as individuals.
Caitlin Soliwoda will be in rotation with Kentucky gymnasts, Rice will be in rotation with Washington, and Konner and Courtney Soliwoda will be in rotation with BYU. The pairing with BYU will reunite Courtney Soliwoda with former Gymcats Club teammate Cheyenne Hill.
"(From) watching past regionals, they act like your own teammates," Courtney Soliwoda said. "They will cheer for us and make us feel included. I feel like it will be totally normal."
Caitlin Soliwoda is coming off a second-place finish at the Mountain Pacific Sports Federation Championships, where she finished with a score of 39.350 on March 18. The vault winner — Alexis Brown of UC Davis — will also be competing in Seattle after she scored a 39.375 at the MPSF Championships.
"If I can get that landing down, I'm pretty confident that I can make nationals," Caitlin Soliwoda said. "Everything is the same, the beam is a beam (and) the floor is the floor. I'm not really to worried or nervous about the meet — I'm just really excited because this is my first time ever qualifying."
Rice finished third in the MPSF all-around with a score of 39.225. Last season at the NCAA Regionals in Salt Lake City, she finished seventh with a score of 39.150 and missed qualifying for the NCAA Championships by .125.
"For the four of them it's going well," Sac State gymnastics coach Randy Solorio said. "It is different when you only have four in the gym, (but) we have been very efficient."